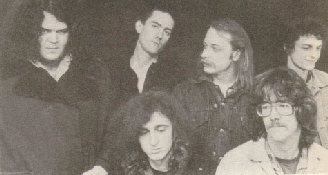 Photo By Tim Wright (bottom row- left)
UBU DANCE PARTY
This is intended as a supplement to the Pere Ubu web site. Thanks especially to David Thomas and Rhodri Marsden at Ubu Communex (pereubu@projex.demon.co.uk) for help with all of this.
---
TIM WRIGHT
If it wasn't enough that to play with the original Pere Ubu, Wright was also in no-wave legend DNA with Arto Lindsay. He'd written this piece (as well as designed the cover for) Ubu's single "Final Solution/Cloud 149."
As the droning in her ears performed its pre-ordained function as introductory soundtrack, she instinctively knew the future of the mirage forming itself in a blank field. for a second she sensed leaving something behind. refocussing, she found herself facing a dimly lit shed vibrating with the pulse of internal generators. at the door stood a large man flecked by shards of white light that escaped the shed to annihilation in the overhanging hemisphere of an industrial arc lamp. she followed him inside through a deafening squall of unnamed noises combining their extremities in a miasma of smoke and gases peopled with queer shapes. humans(?) shuffling about; machines waving their arms. she couldn't tell which was which. spaces between machines were narrow, each moving part barely missing another. distracted by a waver in her peripheral vision, she raised her eyes to see giant aluminoid cables where the ceiling should have been, stretching off to infinity, from whence they transmitted Life to the machines. the man shouted incomprehensible explanations, then genuflected to the colossal steel-spiked stamping machines with cast-iron flywheels and iron balls that lashed the air with each stamping while immense cogwheels squeaked and groaned, shining black with oil. her eyes had grown accustomed to the dark and she could see men swaying, hypnotized by the revolution of the cogwheels. as always, her gaze returned to where the ceiling should have been, the vast silent cables shielded her from the formless Void.
---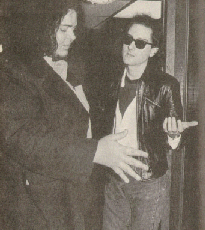 Photo by Roberta Bayley (David Thomas and Laughner)
PETER LAUGHNER
Along with David Thomas and Stiv Bators, Laughner formed Rocket From the Tombs, which would later become Pere Ubu (thankfully without Bators). After leaving Ubu, Laughner replaced Richard Lloyd very briefly in Television as well as having his writings published in a number of rock magazines. He had done some solo work (some of it just being released now) before his death in 1977.
These notes appeared in Ubu's single "30 Seconds Over Toyko"/"Heart of Darkness."
The big guy and myself had been huddled over bean soup and coffee long enough to watch two sets of customers come and go. It wasn't that we weren't hungry, and the food at the Kettle doesn't disappoint you even if you are looking for nothing more than ballast; we just took our time. He stubbed out Winstons in an ashtray that looked full of gray-white worms, sipped his double-creamed coffee, bringing it to his lips with pale, nubbed fingers that shook a little in the transit; he glanced around from time to time in a way that you wouldn't call nervous or expectant, but you could tell that there was something just under the surface waiting to find an outlet ... in fact, if you let the big guy's attitude get to you, you were liable to feel like maybe he wasn't such good company... making you edgy...acting like maybe the next customer to walk in the door of the Kettle would be the cue to get up and walk out. The big guy was facing the door, but I got this way of side-sitting in a booth that lets me keep a good view going if I want it, and all I saw come in were two overweight cops, Magnums hanging off their hips, looking for nothing more than a hot meal and a couple of stools to drape their fat rears on. They got their coffee and whatever while "Love Will Keep Us Together" scratched out of the jukebox, and the big guy lit another Winston. I swallowed some black coffee and gave up on the bean soup... it just wasn't riding right on a gut full of Jim Beam and beer, but I felt as wide awake as seemed possible on an after-hours morning like this. The big guy's nerves were infectious... I was wired, all of a sudden, on some organic frequency that seemed to take hold of my motor responses and transmit "you are not fatigued but simply passive...use your muscles, your brain, your tissues NOW! MAKE A MOVE!" It was such a strong signal to my system that I reached for my wallet automatically, pulled out a five, threw it on the table, gesturing frantically for the big guy to follow me up and out, which he did. The two cops at the counter didn't even notice as we moved through the door at a prett good pace and hit the street, not speaking or acknowledging looks at all. When we reched the car, it was lightly misted over with ice. We worked in silence, our breath misting, scraping the freeze-up from the windows with a plastic tool and the edge of a grade school ruler. With a few sober belches the machine started, and we were headed east on 90, into a vaporous dawn.
---
Fun Facts About Pere Ubu
Note: this section (provided by Ubu Projex) includes an interview with David Thomas
Who are the new people in the band (beyond their names, that is)?
David Thomas started Pere Ubu in August 1975. Clevelander.
Jim Jones joined Pere Ubu in 1987. In the 70s he played with The Mirrors, The Electric Eels, The Poli-Styrene Jass Band and Foreign Bodies. He was asked to join the tour party for the first Pere Ubu US & European tours in 1978. In the 80s he recorded with The Easter Monkeys, Home & Garden and David Thomas. Clevelander. Guitar player.
Michele Temple joined Pere Ubu in April 1993. She was a member of Scott Krauss' Home & Garden in the 80s and plays guitar in her own band, The Vivians. Her main instrument is lute. So she divides her time between the thrash metal Vivians, a medieval consort group and Pere Ubu. The Vivians album is produced by Jim Jones. Clevelander. Bass player
Robert Wheeler joined Pere Ubu in July 1994. He was a member of Scott Krauss' Home & Garden in the 80s. He is president of the Edison Birthplace Association. He farms and repairs mainframes. A protege of Allen Ravenstine. Childhood friend of David's brother. Clevelander. EML synthesizers, the theremin & things.
Scott Benedict played drums on the album but didn't join the band. He played in The Vivians. He retired from music almost immediately after recording RGS. No connection. Clevelander.
We recorded the album without a drummer. Used a click track. Figured something would work itself out. Decided on Benedict sight unseen. He listened to the tapes, came in over a weekend and recorded drum tracks to 10 of the tracks in something like 11 hours total. Which is marginally astonishing.
Be aware that there is now a new version of the band that will tour:
David Thomas
Tom Herman
Robert Wheeler
Michele Temple
Steve Mehlman

Steve Mehlman is the drummer in The Vivians. Never met him.
Jim Jones will continue to record but can no longer tour.
Is Michele Temple the woman who played bass with you on the tour for your last album?
Yes it's her. She is a guitar player normally. In Ubu she plays bass.
Has Scott Krauss left the band? He had such a good feel and a great presence. I'll miss seeing him play again. Did he, and before him Ravenstine, simply get tired of the band? Do you think you'll do things with these former members and Garo Yellin again? Yellin was great in the "wild card" role a few years ago.
Scott & I had a fundamental disagreement over direction. He is an honorable man. He withdrew. The future is undetermined. Allen Ravenstine wanted to be a pilot and didn't want to tour or be in a band anymore. Garo has a successful string quartet in NYC and the demands of that schedule were becoming too great. In theory Once Ubu Always Ubu but in practice Once Gone Always Gone. Ubu works on dibs. You retain dibs until the next project is underway and creativity is happening. Uniquely, Tom Herman is rejoining the group in some capacity after a 15 year absence. This will either be real cool or a disaster. We eagerly await the outcome. Clearly WE think it will be real cool. Tom and I have seen each other 3 times in the last 15 years, talked less than 20 minutes in that time, and have discussed in only the most cursory manner what we're gonna do in October. I did ask if he still played guitar. That's the way things work in Ubu.
We define Laissez Faire.
Is your back catalog out of print? I haven't seen an Ubu record in stock since the last album came out. Why has "The Modern Dance" never come out on CD (or has it)?
Yes, it's out of print. When Rough Trade went backrupt we bought up ALL the stocks. We still have them. The Geffen deal will sort things out.
Will the last Pere Ubu album be published on vinyl? I hope so and ask to do so.
(1) The album is very long, approx 62 minutes. To press it onto vinyl would mean having to take off some songs. I refuse to do that. Releasing it as 2 vinyl albums is not commercially viable.
(2) Some songs were mixed with a radical stereo pan that would make it difficult if not impossible to cut it onto vinyl.
Where do I get more info on Ubu's website?
The Avant Garage is Online! Check out Ubu Web and you can contact Bo at obo@hopf.dnai.com for additional info.
---
Go To Furious Green Thoughts