Surnames among the Ancestors:
Weigang
Lauffer (1)
Lauffer (2)
SILESIAN POLAND
The former Duchy of Glatz consists of a fertile plain completely surrounded by mountains suitable for skiing, but given over almost entirely to forests. Some small farms still dot the mountain slopes, but harvesting the woods of pine timber is the principal industry of the mountain area.
From the mountains rimming the Duchy -- all of which is now part of Poland -- flow clear streams that have cut sharp, narrow valleys in the woods just wide enough for a country road alongside the streambed. The roads from the southwestern mountains all lead to Habelschwerdt (Bystrzyca Klodzka) -- the second most prominent town, after the City of Glatz (Klodzko), of the Duchy.
Starting at the higher slopes, one road passes through the groups of homes that were the villages of Hammer (Mloty), then Voitsdorf (Wojtowice) and on further to the foothills where Habelschwerdt (Bystrzyca Klodzka) sits. Steep offroads, up valley slopes away from the stream, take one to Brand (Spalona) or Spätenwalde (Zalesie), all "significant" for the Weigang Family Tree that sent its sons and daughters to Texas.
A wonderfully conserved small wooden church stands at Spätenwalde, its interior preserving more than 70 ceiling paintings of Biblical stories. Dated 1717 -- not that old for European structures -- it must have been built with the help of some of the earliest ancestors in our records. There in the church cemetery are found family names, including that of a Weigang child. And just down the road is a family home and farm occupied until recently by Weigang's that are among the cousins remaining in Europe.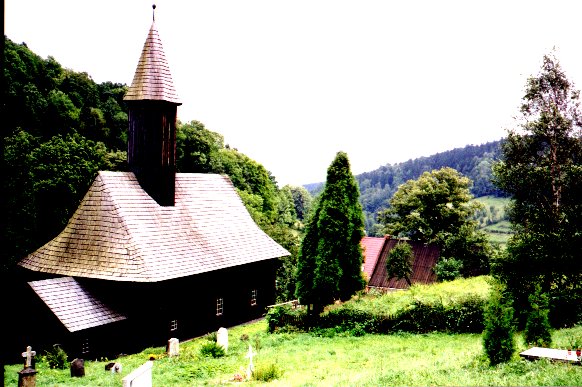 The old health spa nearby, Bad Langenau (Dlogopole Zdroj) , is served by a rail line that, shortly after its completion, carried at least some Weigang's, via Bremerhaven, away from their life in Glatz. It took them from a life mostly as Silesian "bauern" (peasant farmers) to their new life in Guadalupe County -- next to the farm of Uncle Anton Tschoepe there.
The family of the oldest known ancestors in this story, Casper and Rosina Weigang, shows an interesting fact. After at least seven other children came the ancestor Joseph Weigang, the last and born to aging parents; his father was 48 years of age. Upon such contingencies, even improbabilities, does this whole story hang.