Willing Suspension Films / Eunuch Records
He had bought a large map representing the sea,
Without the least vestige of land:
And the crew were much pleased when they found it to be
A map they could all understand.

"What's the good of Mercator's North Poles and Equators,
Tropics, Zones, and Meridian Lines?"
So the Bellman would cry: and the crew would reply
"They are merely conventional signs!

"Other maps are such shapes, with their islands and capes!
But we've got our good Captain to thank"
(So the crew would protest) "that he's bought us the best--
A perfect and absolute blank!"

--from The Hunting of the Snark
Lewis Carroll
Willing Suspension Films / Eunuch Records can be reached at patrick@interport.net
---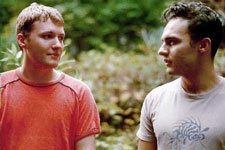 Soda Pop

Willing Suspension Films
Presents a film by Patrick McGuinn

Jamie, a young man living in a rural town, becomes fascinated by Norberto, a Spanish exchange student.
---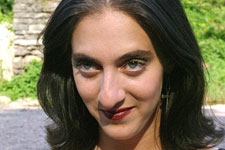 KILL ME TOMORROW

Filmmaker Patrick McGuinn has had a life-long obsession with ghosts, witches, and the supernatural. Recently inspired by visits to an old, historic house in the Catskill Mountains in New York, the idea of a ghost story involving a clan of teenagers was conceived. He asked playwright Jonathan Ceniceroz to write a screenplay involving murder, ghosts, supernatural explorations of the afterlife, and raw sexuality.

KILL ME TOMORROW is now a motion picture with humor, supernatural elements, and tender heart-felt moments. The film is an exploration of teenagers growing up in a small town with the frustration of desires that can't be fulfilled, and a modern parable of old values conflicting with youthful passions.
---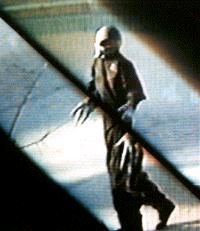 SUROH: Alien Hitchhiker
"Fueled with a perverse sexual intensity! An E.T. for adults!"

-Semigloss Magazine
Paul was a skeptic about life on another planets. Then late one night while driving on a lonely desert road, he encounters Suroh: The Alien Hitchhiker. Suroh, a complex being who has crash-landed from another World, gives Paul a new understanding of what life on Earth means. The two unite emotionally and spiritually, in an Alien/Human encounter of love. Transformed, Paul races against time to return Suroh to his interdimensional portal before Secret Government Agents succeed in destroying them both.

VIDEO CLIPS:
» Paul encounters Suroh on a desert road
» Suroh discourses on Love, Pleasure and the Infinite
» Ode to Galaxies and Cheap Motel Rooms
» Lizard's Lament


74 minutes, color; Sale/VHS: $ 29.95
A Willing Suspension Films release
---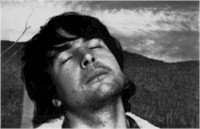 DESERT SPIRITS
An eerie experimental drama, Desert Spirits follows Chris and Gordon into the sphere of the supernatural. When their car breaks down in the middle of the desert, the two decide to take peyote to kill some time. Little do they realize that the cactus buttons they consume are tickets into another world where lizards talk, sensory overload prevails, and demonic spirits seek prey.

VIDEO CLIPS:
» Chris & Gordon discuss mysteries of the Universe
» Nori reveals them
» Desert Blues


35 minutes, b& sale/VHS: $19.95
A Willing Suspension Films release
---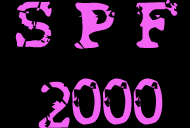 In this hilarious homage to 1970's Italian sexploitation films, Pucci and JJ sunbathe by a creek, bored, until they spot Gretchen and her delectable son, Kip. They all become quick friends and rub sun protection lotion on each other, when suddenly an alien named Suroh appears. This visitor offers a more potent sunscreen, SPF 2000, to be shared by the entire human race, in light of the earth's decreasing ozone layer. Suroh learns the sensual aspects of applying lotion to human bodies, starting with them...
"You'll keel over in laughter!" - New York Blade Part of the BOYS IN LOVE 2 shorts collection A First Run Features Release
---
Puppets and Demons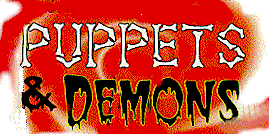 "If Jim Henson and David Lynch were genetically melded, these films might be the result!"


-GO! Magazine


"McGuinn's films are full of imagination."


-Time Out New York



Here's a peek at some early cinematic works of Patrick McGuinn. These ten award-winning short films use a blend of folkloric icons and modern dilemmas to tell their humorous, fresh, and unique stories. See the oddities, mysticisms, and boldness that would come to characterize McGuinn's later work.

VIDEO CLIPS:
» "Doris, I'm Not Like You"
» Slave To Love (Stella)
» CAROUSEL OF DEATH: "What Happens Next"



60 minutes, color/B&W; sale/VHS: $19.95
A Willing Suspension Films release



---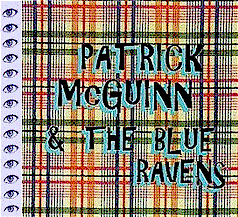 Patrick McGuinn formed the New York-based Blue Ravens from the ashes of the Cassandras, his former band. The outside of their new self-titled CD is indicative of the music inside. Bright, Silly plaids reflect a sense of whimsy and retro-wave sounds. Eyes, peering from inside the CD, beckon, as if to bestow you with some fragile, patient knowledge. Once the shrinkwrap is broken, however, an imprisoned Blue Raven violently seeks solace from his emotions -- and perhaps escape from his mate. This intricate, subtle symbolism is in keeping with the style and subject matter of the songs: Sensitive tales of Love Gone Wrong set to ironic, lively musical sounds, with a tempo that suggests an 80's style SLAM or POGO. Like SEA KELP floating in the WAVE is the spirit of the psychedelic '60s -- an undeniable musical presence.
58 minutes; sale/CD $11.98
A Eunuch Records release
---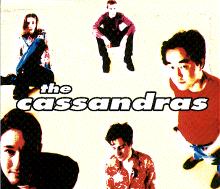 The Cassandras, known in New York as one of the premiere melodic alternative rock bands from Manhattan's gritty Lower East Side, released this, their debut CD. The CD's five songs run the gamut of the Cassandras unique sound: from abrasive powerful guitar rock ("Red Bug," "Rhythm of Heart"), to ear candy bottom heavy pop ("Lust For Me," "Tell You Something New"), to a remarkable hybrid of the two ("Inside") the Cassandras reveal astonishing musical complexity.

Ailsa Muir, favorite chanteuse of the Loser's Lounge in New York City, and Patrick McGuinn, son of legendary Byrd Roger, are both Libran and provide the CD with a lot of "balance."




26 minutes; sale/CD $6.99
A Eunuch Records release



---
This site was designed by John Harrington