The Blue Suede Shoes
The Blue Suede Shoes is a "Young Elvis" tribute band. We have been been backing up Stephen Connolly (a young Elvis impersonator) for the past 4 years. Steven is currently gigging in Las Vegas at the MGM Grand.
The Blue Suede Shoes consists of: bass, drums, guitar, keys and (optionally) a female B/U vocalist & tenor sax. We faithfully recreate the sound of Elvis's back-up band from the Sun/Early RCA recordings (Scotty Moore, Bill Black, DJ Fontana, Shorty Long). We include 3 B/U vocals, harmonizing a la "The Jordonaires". Our repertoire includes over 40 Elvis songs (most of which were originally recorded before 1965).


The King is Back!
2 Nights Only
The Blue Suede Shoes will be backing up Stephen Connolly for two nights in January, 1999.
Friday, January 8th (the King's birthday), at Dick's Last Resort, Prudential Center, Boston, MA.
Saturday, January 9th, at Cafe Abba, Main Street, Worcester, MA.
This is your chance to see the Blue Suede Shoes and Steve Connolly at a rare New England performance.
If you would like to hire the Blue Suede Shoes as your back-up band for special events, please contact us at the email address below. We are an experienced, tight, Elvis backup band who play the music with respect and authenticity. Karaoke sucks!
To contact the Blue Suede Shoes, click here:

rcp@ma.ultranet.com
To send us your press kit:

Rhythmically Correct Productions
P.O. Box 216
Boylston, MA 01505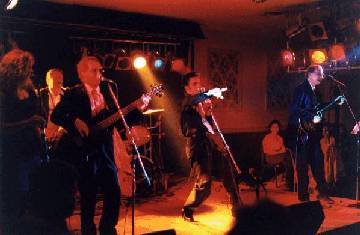 Live at the Black Orchid with Stephen Connolly

Recent performances:
Dick's Last Resort, Boston, MA
Cafe Abba, Worcester, MA
Mama Kin's, Boston, MA
Old Vienna Kaffeehaus, Westboro, MA
Guido Murphy's, Putnam, CT
Firehouse Cafe, Worcester, MA
Ralph's Chadwick Square Diner, Worcester, MA
Sh'Boom's, Worcester, MA
Plantation Club, Worcester, MA
Black Orchid, Shrewsbury, MA
Concert's on the Common, Worcester, MA
Feel free to contact us if you are an Elvis impersonator or know of one who is "Blue Suede Shoe-less".
For our complete song-list (including keys), click here:
---

Return to RCP homepage
Page created by: rcp@ma.ultranet.com
Changes last made on: Thu Jan 7th, 1999


Copyright (c) 1996 Rhythmically Correct Productions