"The Slocomb's of South Reading, Massachusetts"
---

They watch over me.
This little girl, Rosillar Trask Slocomb (died 7-12-1839 @ 4y 10m), got my attention many years ago while I was walking "Dutchess".
For some reason she is buried with the Parkers, some distance from her grand parents, uncles and aunts.
Rosillar Trask Slocomb is the daughter of Nathan Slocomb (son of James Sr.) and 1st wife Lydia Peters
The gravestones of Lydia Peters Slocomb and her daughter Elseyanna Slocomb are missing.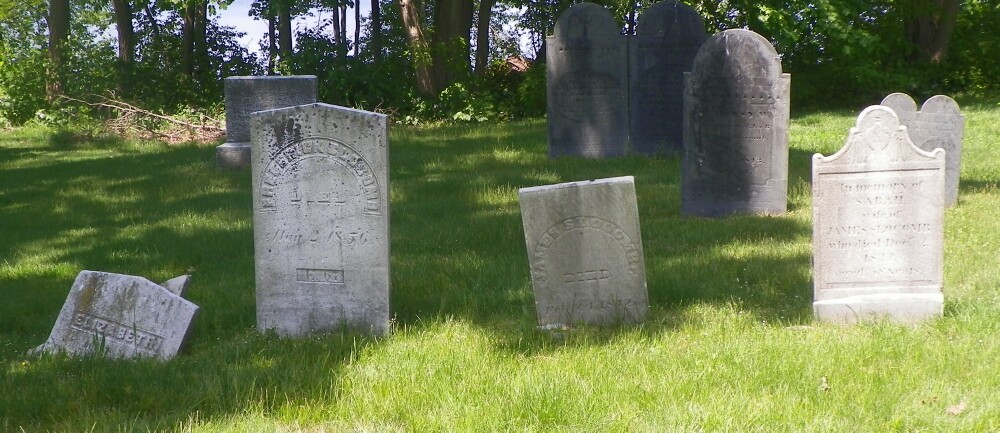 L-R; Frederick Slocomb and his wife Elizabeth Wiley, James Slocomb and his wife, Sarah (Trask) Slocomb, m. on 12-4-1783 in Templeton, MA.
Sarah Trask, b: 11-20-1764 Milton, MA, d: 12-2-1822 South Reading, is the daughter of William, William, William, Captain William Traske
Behind them is;
Three of the five children of Asa R. Slocomb and his wife, Betsey W. Leatherbee; Betsey W. Slocomb, Ebenezer Slocomb and John Slocomb
The grave stone of Asa Richardson Slocomb is missing.
For some reason, to the left of them, is the gravestone of Abigail H. Parker (d: 1-29-1832 @ 3y 7m), d/o William T. and Abigail (Haynes) Parker
I have yet to determine a relationship between Trasks, Slocombs and Parkers..

January 2015 via DNA she is my 5th cousin 4x removed. Abigail Haynes, William, Hananiah, Thomas, Ebenezer, Ebenezer, Hananiah (husband of 8th great grandmother), Thomas, John, John Parker
My 2nd great grand father, Jacob Trask, married Eleanor Clough. The Clough line goes to Browne, Haynes, Hercey, Poole, Putnam and Parker.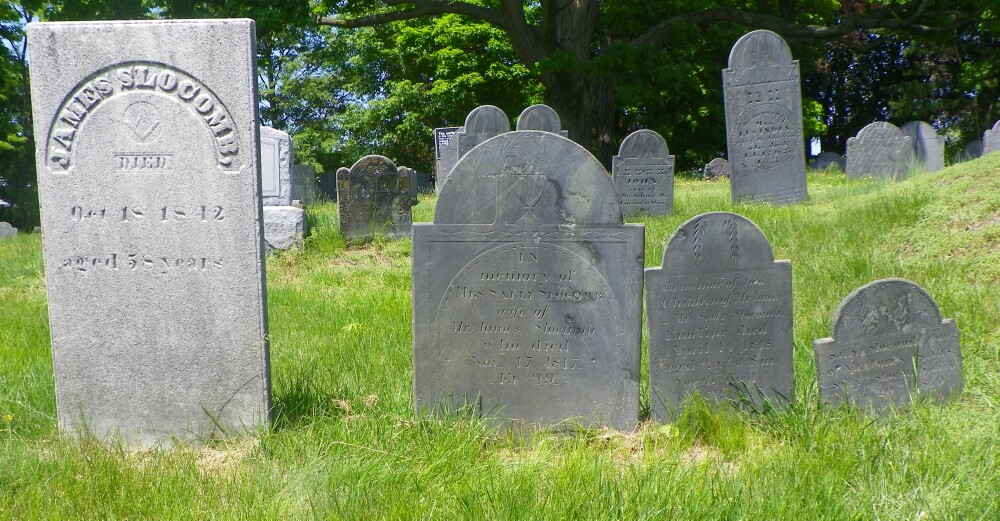 L-R; James Slocomb Jr. and his 1st wife Sally Ingols with three of their five children; Sally Slocomb, Sarah Slocomb and Emeline Slocomb.


"They watch over me".
These past ten years at the air port have been.... challenging.

While sitting outside with "Magic" and later "my little Anna", reflecting on one of the latest challenges, an image of Sarah Slocombís gravestone appears in my inner thoughts. Well, when that happens, it's like the return of a sunny warm day in June occurring on a grey cold day which occurred on January 22, 2012. After which, my thoughts return to appreciating the joy of the present.

In return for Sarah's assistance I told her that I would bring her existing family gravestones together at one location.
I have also recorded all of her immediate family to the present time.
Thanks for visiting
"The Trask Web Pages"


Most recent revision: by RWTs on Friday, January 09, 2015

http://users.rcn.com/rwtrask

© 9-15-1995 by R.W. Trask




rwtrask@rcn.com