Tuxedo Park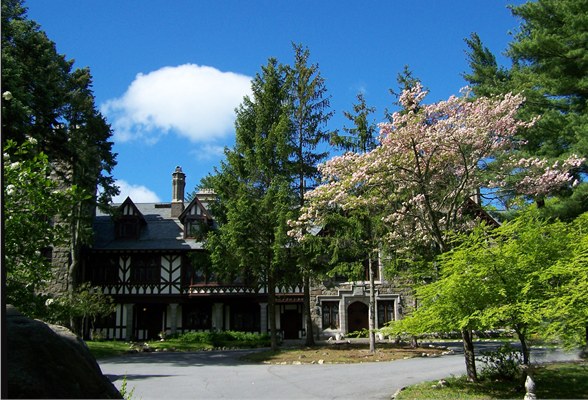 Built by wealthy social tycoon, Spencer Trask, President of New York Edison, founder of Spencer Trask & Company – the largest stock-broker in the country- on the highest hill available in Tuxedo Park. A lover of great art, he commissioned the renowned artist Richard Newton, Jr. to paint the mural in the ballroom set into the arched carved timbered ceiling in 1903. The phenomenal exterior architectural details are extraordinarily enhanced by their extension into the interior of this turn of the century 16,000 sq. ft. stone mansion on 2.6 secluded acres with 9 private apartments. The living rooms are spacious and all but one apartment has a fireplace. The tower was added in 1907 by Mr. Joseph Tuckerman Tower.






NOTICE
You may, freely, "cut and paste" our information into your word processor for personal use only.
You may extract specifically associated data into a non-commercial webpage if you link it to ours.
We would have serious objections with anyone attempting to sell any part of "our" passion for a profit.
All the bound books, formal papers, manuscripts and photocopied materials were submitted to us in "Good Faith".
We will diligently defend the contents of "The Trask Web Pages" from any exploitation for personal gain.

We have an additional 650 mb of Trask family information on hand.
Our Trask Library has well over three hundred donated items, i.e., books, periodicals and CDs.

If you did not find who your looking, need assistance or want to use "our" Trask family information - e-mail me.



Return to trask-4.



Thanks for visiting
"The Trask Web Pages"


Most recent revision: by RWT on Sunday, June 07, 2009

http://users.rcn.com/rwtrask

© 9-15-1995 by R.W. Trask




rwtrask@rcn.com