TST, Vol. 9, Issue No. 25/2001

America under attack - Poland offers sympathy, and solidarity (pictures)
America's tragedy is felt by all the world... (pictures)
America under attack
Poland offers sympathy, solidarity and assistance
by Robert Strybel
Poland has announced a day of "Solidarity with the American Nation" during which flags were flown at half-mast. Concerts were canceled and even the Poland's parliamentary election campaign was toned down. Special Masses were celebrated in churches around Poland, and Warsaw residents began placing flowers and lighting votive lamps outside the American Embassy. US Ambassador Christopher Hill came out to the people gathered there and told them in his somewhat broken Polish: "I am grateful that Poles are with us at this moment."
Minutes after news of the attack on Manhattan reached Poland, national chief of police Jan Michna set up a special crisis-management team. Law-enforcement, rescue and special services were put on alert and went to work on various fronts. Word of the tragedy quickly spread by word of mouth at workplaces, on streets and in streetcars. Upon returning home, Poles stayed glued to their TV sets. Polish radio and TV stations changed their normal programming and kept broadcasting the latest news coming from the US, mainly via CNN.
Scenes of the blazing and subsequently collapsing twin towers of the World Trade Center as well as the smoldering Pentagon were repeatedly shown. One Polish commentator saw fit to inform viewers who had just switched on their sets that what they were seeing was not part of a sci-fi thriller -- it was for real.
Although only a minority of citizens supported President Kwasniewski's public apology for Jedwabne, this time it seems that each and every Pole endorse the words he spoke at a specially convened news conference: "We sympathize and express solidarity with the American nation, with the US authorities and with President Bush in efforts against terrorism. Never and nowhere can there be agreement to such violation of basic rights. I wanted to state that in my own name but also in the name of my countrymen."
Although hospitalized, Prime Minister Jerzy Buzek interrupted his treatment for a circulatory ailment to meet with cabinet members and agency heads responsible for Poland's security and defense. Although there were no indications to suggest any threat to Poland, members of the crisis staff assured Poles that all precautions were being taken.
Two LOT passenger planes en route to the US were turned back to Poland, and other trans-Atlantic flights were canceled. The police, anti-terrorist units and firefighters were put on alert. Security was tightened around the embassies of the US, Israel and the Arab countries. American airlines offices and school are under particularly close surveillance. The Polish authorities have pledged Poland's readiness to provide humanitarian aid to American attack victims, and two rescue teams are prepared to leave for the US at any time. Polish secret services are working closely with the CIA. If the need arises, Poland, as a US ally, is ready to fulfill its commitments and place its armed forces at NATO's disposal.
The spokesman of the Szczecin-based Polish-Danish-German NATO Corps announced that several dozen Polish officers taking part in maneuvers in Virginia were not threatened. Polish Consul Agnieszka Madziak-Miszewska reported that although the Consulate in Manhattan had been cut off from the rest of the city, its employees as well as those working at LOT offices, Pekao and other Polish institutions in New York were alive and safe. But initially, nobody could say how many Poles had been among the attack victims. Both Poles and Polish Americans had worked at the World Trade Center in banks, brokerage firms and insurance companies as well as in elevator maintenance and office cleaning. Perhaps the first known Polish fatality was Agnieszka Janiszewska, a young Polish woman spending her honeymoon in New York with her husband who had survived but was reportedly fighting for his life in intensive care.
The tragedy that rocked America and the world is not likely to leave the front pages of Poland's press and the electronic media's top news slots any time soon. Various politicians and experts in Polish TV studios have debated the disaster's possible world and domestic repercussions. Within hours of its occurrence, the value of Poland's currency, the zloty, and share prices on the Warsaw Stock Exchange dropped. If there is a prolonged panic on world markets, Poland could be threatened by an exodus of capital to which the so-called "emerging markets" of the post-communist countries are particularly vulnerable. Any disruptions on the oil market would also hit Poland.
Polish scholars and commentators also wondered whether the tragedy could have been avoided. The general feeling, however, was that that had not been possible. A terrorist always tries to surprise his victim, and if he is properly financed, technically equipped and motivated by religious fanaticism, even the most powerful intelligence services may be helpless. Specialists were in agreement that, apart from the rebuilding and the capture and punishment of those responsible, the events of September 11th were likely to affect ordinary people's lives as well.
Already security has been tightened at Poland's airports and border crossings, and passengers and their luggage are being inspect more carefully. Such areas are now being conspicuously patrolled by armed and masked anti-terrorist commandos in bulletproof vests. It will now be more difficult to get political asylum in Poland. In the long run, the more time and labor-consuming luggage and passenger checks world-wide will prolong the waiting time at airports and may also raise airline fares. The same is true of providing plainclothes anti-terrorists abord each flight. The practice of checking the identities of people entering office towers and all big-city public buildings also cannot be ruled out.
Whether that really happens remains to be seen. But it is difficult not to agree with those who say that after September 11th, 2001, the world will never be quite the same. In Poland's political circles the general conviction is that this was not an attack on one country but on the whole civilized world. It was an attack by those who are ready for anything and for whom human life -- their own and that of others -- is something of very little value.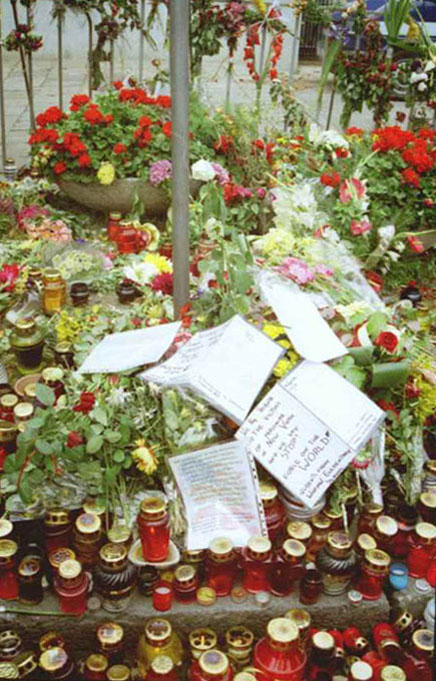 ---

The Summit Times
---

Salski@dnai.com
---
c Copyright 2001 by Andrzej M. Salski