SCANNERS
Lensless Digital Scanned Art Made With A
Desktop Flatbed Scanner
by Stewart Lewis Woodruff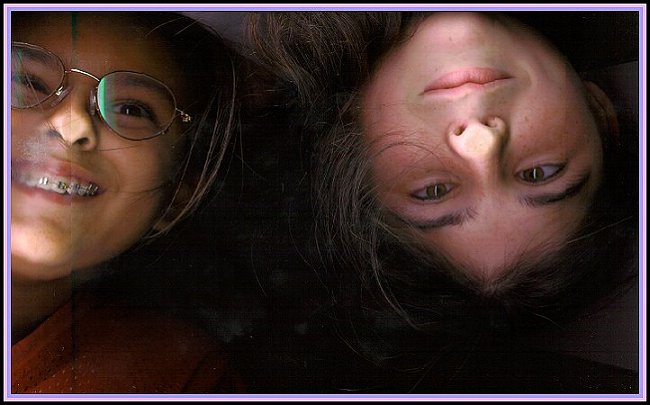 Storm (Jamie) & Rogue (Mary)
click on photo to see the rascals close-up!
Had it not been for my nieces above, who were playing around with my flatbed scanner one day, I probably wouldn't have thought of using the scanner as a new type of lensless image-making device. It is like having a "darkroom" on top of a table, with no chemicals or expensive photographic film and paper necessary to make interesting photographs. Having worked with another "lensless" type of camera, the oatmeal box pinhole camera, I appreciate the mystery of light and how images are made (not that I claim to understand how it works: does anyone really understand what light is?) Scanners use a mysterious device called a "CCD", for "charged coupled device, which produces a fine image in both black and white and color. Don't ask me how a CCD works, either! Follow the blue arrow below to a page of previews of what I call "scanners"--images made with a flatbed digital scanner.

All photographs and materials Copyright (c) 2000 by Stewart Lewis Woodruff
However, any and all materials on this site may be reproduced without permission by the author if intended
for educational or personal (i.e., non-commercial) use.
Please visit my web site, "Oatmeal Box Pinhole Photography" at www.nh.ultranet.com/~stewoody/