SHRIMP CURRY
(Source: Gourmet Magazine, March 2005)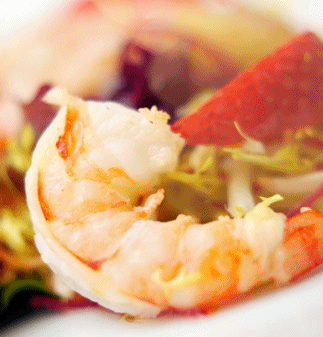 Makes 4 servings.

My friend Barbara (and I) gave this four thumbs up!
~~~~~~~~~~~~~~~~~~~~~~~~~~~~~~~~~~~~~~~~~~~~~~~~~~~~~~~~~~~~~~~
1 large onion, quartered

1 (2-inch-long) piece fresh ginger, peeled

1/2 teaspoon salt

1/2 teaspoon sugar

1/4 cup vegetable oil

1 1/2 teaspoons curry powder (preferably Madras)

1 to 2 fresh serrano chiles, halved lengthwise

1 cup water

1 (14-oz) can unsweetened coconut milk (not low fat)

1 tablespoon fresh lime juice

1 lb large shrimp in shell (21 to 25 per lb)
Accompaniment: cooked basmati rice
Garnish: lime wedges

Pulse onion and ginger in a food processor until finely chopped. Cook onion mixture with salt and sugar in oil in a 12-inch heavy skillet over moderate heat, stirring frequently, until onion begins to brown, about 5 minutes. Stir in curry powder and chiles and cook, stirring frequently, 2 minutes. Stir in water, coconut milk, and lime juice and simmer, stirring occasionally, until thickened, 5 to 8 minutes.

While sauce simmers, peel shrimp (devein if desired) and season with salt and pepper. Add shrimp to sauce and simmer, stirring occasionally, until shrimp are just cooked through, about 3 minutes. Add salt to taste and serve immediately.

Posted February 6, 2010
Comments or questions? Write to me at suemaster@interport.net
(: remove "master" from the address)

Return to Main Food Page
Return to Home Page