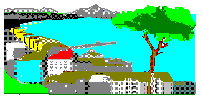 A classic from my mother's family.

SAVORY FENNEL BISCOTTI
(Source: my Grandmother)
~~~~~~~~~~~~~~~~~~~~~~~~~~~~~~~~~~~~~

5 lb flour
2 yeast cakes dissolved in 1 c water
3 c warm water (total: 4 c water)
3 c oil
1/4 c salt
1/4 c fennel seed
2-1/2 tsp black pepper

Combine dry ingredients. Make a well and add liquids. Mix and knead. let rise overnight (room temperature). Roll by hand into pieces 6" x width of ring finger. Flatten slightly, twist, and bend into a ring, overlapping the ends. Bake 25-30 min @ 400deg.

---
Updated: April 5, 1996
Comments or questions? Write to me at suemaster@interport.net... (: remove "master" from the address)

Return to Main Food Page
Return to Curly Sue's Home Page