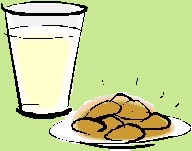 Almond Meringue Cookies (Amaretti)
(Source: Kay H. rec.food.cooking. See Google. Message ID 5sfb7i$p2j@dfw-ixnews10.ix.netcom.com)

For a batch of 24 cookies, each has 118 calories

---
8 ounces whole blanched almonds
2 large egg whites
1 cup granulated sugar
1/2 teaspoon almond extract

Grind the almonds in the food processor or blender to medium-fine texture. Whip the egg whites until stiff but not dry. Fold in the almonds, sugar, and almond extract. Drop the batter by teaspoonsful onto a parchment paper-lined baking sheet. Let sit for one hour. Bake at 375 degrees F until the tops are lightly browned, about 12 to 15 minutes. Immediately remove the cookies to a wire rack and cool completely.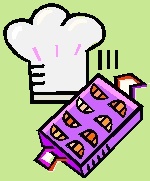 Chocolate Crinkles
Makes 36 cookies
(adapted from "King Arthur Whole Grain Baking")


---
1 stick unsalted butter
1 c sugar
1 tsp vanilla extract
1/2 tsp baking soda
1/2 tsp salt
1 large egg
1/3 c brewed coffee
1/3 c Dutch-process cocoa
1 c spelt flour or cake flour
1 c AP flour
2 c semisweet chocolate chips
2/3 c 10X sugar for coating

Cream the butter, sugar, vanilla, baking soda and salt in a medium bowl until smooth. Beat in the egg and coffee, scraping the bowl, then stir in the flour, cocoa, and chips. Refrigerate the dough, covered, overnight. (Alternative procedure: Add the cocoa to the hot coffee).

Remove the dough from the refrigerator. Preheat the oven to 400F (I use the convection feature @ 375F). Lightly grease 2 baking sheets or line with parchment paper. Place the 10X sugar in a large plastic bag.

Drop the dough by tablespoonfuls into the sugar in the bag, about 6 pieces at a time. Twist the bag closed, trapping air inside, and gently shake, coating the balls with sugar. Place them on the prepared sheets. Repeat with the remaining dough.

Bake the cookies, reversing the pans midway throught (top to bottom, bottom to top; not necessary for convection baking) until they're set around the edges (use a toothpick) but still soft in the middle, 11 min. Remove the cookies from the oven and let them cool completely on the pan, loosening (but not lifting) after about 10 min.

Nutrition info. 1 cookie (30 g), 118 cal.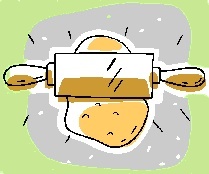 Roll-Out Cookies
Makes 5 dozen

---
1 1/2 c powdered sugar
1 c butter, softened
1 tsp vanilla
1/2 tsp almond
1 egg
2 1/2 c flour
1 tsp baking soda
1 tsp cream of tartar

Preheat Oven to 375.
Beat Sugar, butter, vanilla, almond, and egg with mixer.
Stir in rest of ingredients.
Cover and refrigerate for 2 hours.
Roll out and cut.
Bake 7-8 min
MAKES 5 DOZ

FROSTING
3 c Powdered Sugar
1/3c Butter,softened
1 1/2 tsp vanilla
2-6 tbsp milk, or more if necessary for desired consistency



Peanut Blossoms
Makes ?? cookies

1-3/4 c flour
1/2 c sugar
1/2 c brown sugar
1 tsp baking soda
1/2 c shortening
1/2 c peanut butter
2 T milk
1 tsp vanilla
1 egg
1/2 tsp salt

Mix altogether at low speed. Roll balls in granulated sugar. Bake 375 10-12 min. Insert Hershey's kiss.

Posted March 5, 2007
Comments or questions? Write to me at suemaster@interport.net
(: remove "master" from the address)

Return to Main Food Page
Return to Home Page