As a friend discovered, cracked wheat comes in different grain sizes. If it's too fine, the bread will be no different than that made with all whole wheat flour. To get the best crunch effect, use cracked wheat with a medium-to-coarse mesh. I've used "cracked wheat cereal" (found in the cereal section of health food stores) from Arrowhead Mills with good luck.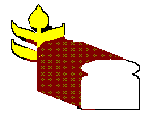 CRACKED WHEAT BREAD (for bread machine)
(my own recipe)
~~~~~~~~~~~~~~~~~~~~~~~~~~~~~~~~~~~~~~~~~~

1-1/4 c boiling water
3/4 c cracked wheat
1-1/2 tsp salt
1/4 c brown sugar
2 tbsp dried milk
2 tbsp oil
3/4 c whole wheat flour
2 c bread flour
2 tsp yeast

Pour boiling water on cracked wheat, stir and let sit until lukewarm. Add cracked wheat and remaining ingredients in order recommended by bread machine manufacturer. Use "basic" bread cycle.
---
Updated: April 5, 1996
Comments or questions? Write to me at suemaster@interport.net... (: remove "master" from the address)

Return to Main Food Page
Return to Curly Sue's Home Page