I developed this recipe to replicate my favorite dish of the same name served at the El Azteco restaurant in East Lansing, Michigan. This is rich and calorific so I don't have it very often, but it really hits the mark for me. I like it with cold-(from the fridge)-but-hot (fiery) salsa to cut the richness of all that cheese and sour cream.

ENCHILADAS DE JOCOQUE
(Source: my own recipe)
(Serves 6-8)
~~~~~~~~~~~~~~~~~~~~~~~~~~~~~~~~~~~~~~~~~~~~~~~~~~~~~~~~~~~~~~~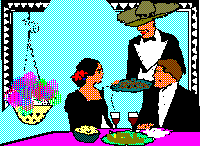 1/2 c flour
2-1/4 c milk
3/4 c sour cream
salt, pepper to taste
1/2 lb Monterey Jack cheese
1/2 lb Longhorn Colby cheese
2 T chopped green onion
5 FLOUR tortillas (not corn), large burrito size

Make a very thick white sauce by mixing the flour with 1/4 c milk, stirring until smooth. Gradually add the rest of the milk in small portions, continuously stirring to prevent lumps. Transfer to a saucepan and heat over medium/high heat with constant stirring. When mixture thickens to a paste and "boils", continue to heat for 1 minute. Cool slightly, then add sour cream, salt, and pepper. Cut cheeses lengthwise into 1/4" slices.

To assemble: Spread about 1/4 c sauce in bottom of 10" pie plate. Place 1 tortilla in pan, and spread about 1/2 c sauce. Add 2 slices of 1 of the cheeses and top with a tortilla. Continue layering sauce, cheese, and torillas, alternating which cheese is in the layers. On the top tortilla, place the remaining sauce and both types of cheeses in a (color) pattern. Sprinkle green onions over this. Cover dish with foil and bake in 350 deg oven for 30-45 min, until the enchillada is puffed and the top cheeses are melted and bubbling at the edges. Allow to cool for 10 min so the filling does not run out when cut. Serve with (hot/spicy!) salsa.

---
Updated: April 5, 1996
Comments or questions? Write to me at suemaster@interport.net... (: remove "master" from the address)

Return to Main Food Page
Return to Curly Sue's Home Page