I love buttermilk pancakes and of the commercial mixes, I like those made with Bisquick baking mix the best. I modify the recipe, though, to add more whole-grain goodness ("whole grain goodness", yech! I've heard too many commercials.).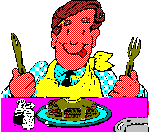 PANCAKE VARIATIONS
(Source: inspiration)
******************************************
1 c Bisquick
1 egg
3/4 c milk
1/4 c wheat germ
1/4 c oat bran
(Mix and match grains for variety- wheat bran, oatmeal, use your imagination.)

Mix together briefly. Batter will be lumpy. The batter will thicken as it stands; add a bit more milk if needed to make it spread on the griddle. I use a 1/3 c dry measure to gauge how much batter for each pancake; I can get 7-8 from this recipe. Bake on pre-heated griddle until, flipping when the bottoms are browned.

Serve with butter and maple syrup (real maple syrup- I insist!)

~~~~~~~~~~~~~~~~~~~~~~~~~~~~~~~~~~~~~~~~~~~~~~~~~~~~~~~~
I finally got around to using some of the buckwheat flour (Hodgson Mill) I have and used the recipe on the box (see below). The pancakes were very good, but improved *immensely* when I added some no-sugar raspberry granola, with pecan bits (ordered from Walnut Farms). Too bad I didn't have any buttermilk to try the buttermilk version- who knows what culinary heights might have been reached?

Despite the success of the experiment, I doubt that I will make 100% bw pancakes again, as they soaked up too much of the butter and maple syrup. I had to keep adding butter (and calories) to those suckers to make a difference.

BUCKWHEAT PANCAKES & VARIATION
(Source: Hodgson Mill BW flour box and some inspiration)
~~~~~~~~~~~~~~~~~~~~~~~~~~~~~~~~~~~~~~~~~~~~~~~~~~~~~
1 c buckwheat flour
1 tsp baking powder
2 tbsp sugar
1/2 tsp salt
1 egg, beaten
1 c milk (I used 3/4 c and added more as needed)
2 tbsp melted margarine or butter

Mix dry ingredients together, add egg, milk, and shortening, beating well after each addition (I just added the liquid stuff altogether). Pour 1/4 c batter for each pancake onto hot, lightly oiled griddle. Cook 1 to 1/2 min (sic) turning when edges look cooked and bubbles begin to break on the surface (I adjusted the flame so that mine took a bit longer to cook). Continue to cook 1 to 1-1/2 min or until brown.

Buttermilk Buckwheat Pancakes: Use above recipe. Ad 1 tsp baking soda and substitute buttermilk for milk.

---
Updated: January 8, 1997
Comments or questions? Write to me at suemaster@interport.net.... (: remove "master" from the address)
Return to Main Food Page
Return to Curly Sue's Home Page