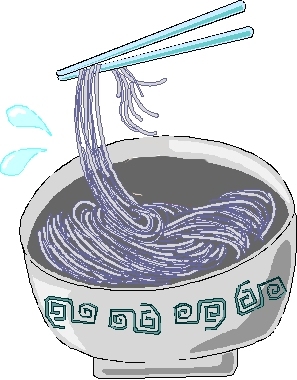 SESAME NOODLES
Inspired by recipes I found searching rec.food.* with Google.

I have to be careful about making these noodles because I can't stop eating them!

I like these noodles on the dry side rather than saucy and I don't like the sauce to be too strong, so I cut the soy sauce and diluted the sesame oil. A bit of peanut butter adds another dimension of flavor.
~~~~~~~~~~~~~~~~~~~~~~~~~~~~~~~~~~~~~~~~~~~~~~~~~~~~~~~~~
1 lb. spaghetti
2 Tbsp dark sesame oil
1 Tbsp vegetable oil
2 Tbsp. soy sauce
1 1/2 Tbsp. white vinegar
1 1/2 Tbsp. sugar
1 tsp salt
1 tsp. hot pepper oil
1 tsp smooth peanut butter
1 tsp red pepper flakes
4 to 5 Tbsp. finely chopped scallions (green and white portions)

Cook sketti until al dente. Meanwhile, mix together other ingredients except pepper flakes and scallions. Stir in drained noodles while hot, which will help melt the peanut butter. Add more oil(s) if necessary. Add pepper flakes and scallions. Serve cold, but it's good warm too.
---
Updated: July 28, 2006
Comments or questions? Write to me at suemaster@interport.net... (: remove "master" from the address)

Return to Main Food Page
Return to Curly Sue's Home Page