Pam's Recipe
---
SALMON MOUSSE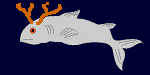 It's an old NYT recipe. Herewith:

Two cans (1 lb. each) of salmon
1/2 C white wine vinegar
1/2 C chopped onion
1/2 C sour cream
1 T prepared horseradish
1 t dry mustard
2 t salt
several drops of hot sauce
1/2 t paprika
2 envelopes unflavored geletin heated to dissolve in 1/3 C water and 1/4 C fresh lemon juice
1 C heavy cream, whipped

Drain salmon, remove skin and large bones (don't go crazy doing this. Skin and bone will disappear in the processor.) Place salmon, vinegar and onion in bowl of processor and blend until smooth. Stir in sour cream and seasonings. Stir in dissolved geletin, water and lemon juice. Fold in whipped cream and chill to set.

I thought it was a little bland at the cookin. I hadn't made it in a long time and I forgot that I usually step up the onion and seasonings a bit. I do love old fashioned stuff like this.

Thanks to everyone for such a generous contribution of time and good food. My kids and I thought it was a terrific party. Turns out what you all saw was the set up for the Garth B concert. What a night that was. When we truned it on on HBO, the tv was about 2 seconds ahead of the live sound because of our being a block or so away. Weird. TV ahead of reality. We stuck with reality.

---
Updated: August 11, 1997
Comments or questions about the recipes on this page? Write to Pam.
Return to August '97 Cook-In
Return to RFC NYC Cook-In page
Return to Curly Sue's Home Page