Sharon's Recipes
---
JAVA JIVE MOCHA SNAPS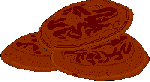 (From: "The Complete Cookie" by Barry Bluestein and Kevin Morrissey)
Yield: about 40 cookies (if ginger snap size)

2 tablespoons instant coffee granules
1 tbsp. boiling water
1 1/2 cups all-purpose flour
1/4 tsp. baking powder
1/4 tsp. baking soda
1/8 tsp salt
1/2 tsp ground cinnamon
2 tbsp unsweetened Dutch processed cocoa powder
1/4 cup (1/2 stick) unsalted butter, room temp.
1 cup firmly packed light brown sugar
1 large egg
1/2 tsp vanilla extract
1/3 cup granulated sugar
Preheat oven to 375.

In small bowl, dissolve coffee in boiling water. Set aside.

Combine flour, baking powder, baking soda, salt, cinnamon, and cocoa powder in a bowl. Whisk thoroughly.

In a large mixing bowl, combine butter, brown sugar, and egg. beat with electric mixer until smooth and fluffy. Beat in the vanilla and then the coffee. Stir in the flour mixture with a wooden spoon (or spatula).

Drop the dough by the tablespoonful onto an ungreased cookie sheet about 2 inches apart. Coat the bottom of a glass lightly with vegetable oil cooking spray and dip it into the granulated sugar. Flatten the cookies with the glass, dipping it in the sugar between each cookie.

Bake for about 9 minutes, just until the cookies begin to crack.

Cool on the sheets for a minute then remove to wire rack to cool and crisp.
Notes: I've adapted this recipe from "The Complete Cookie" by Barry Bluestein and Kevin Morrissey. Since I double the recipe, I've found it much easier to make it in a food processor. Flavorings can be adapted by toning down the expresso and using natural orange flavoring instead of the vanilla.

Some if the liberties I took:
Using expresso powder gave a bigger, sharper coffee flavor.
I think I used more than a Tbsp. for each cookie and then rolled them into balls. Then I didn't flatten them much with the sugared glass.


TARRAGON CHICKEN SALAD
(Adapted from "The New Basics Cookbook" by Julee Rosso and Sheila Lukins.)
Serves 8-10

8 skinless chicken breasts (about 5lbs. bone-in)
2 cups half and half
1 cup sour cream
1 cup mayonnaise
1/4 cup plain yogurt
6 stalks of celery-chopped
2 Tblsp. dried tarragon
Salt and pepper to taste
Pre-heat oven to 350F.

Arrange chicken breasts bone side up in shallow baking dish. Pour half and half over chicken.

Bake for about 1/2 hour, turning breasts halfway through cooking time.

Let cool in cream,remove meat from bone and shred into bite-sized pieces.

Whisk sour cream,mayo and yogurt together. Add tarragon,salt,and pepper to taste. Pour sour cream mixture over chicken, add celery and toss to combine.

Chill for a couple of hours and correct seasoning before serving.
Notes: There may be extra dressing; use just enough to coat chicken. Original recipe adds 3/4 cup chopped walnuts but I like to add slivered almonds and seedless grapes.


BABY CHEESECAKES
(Yields 24 1/4-cup cheesecakes)

8 ozs. cream cheese,at room temp.
3/4 cup granulated sugar
1 large egg
1 cup sour cream
1/4 cup all-purpose flour
1 tsp. vanilla
Pre-heat oven to 325F

Lightly coat mini-muffin pans with vegetable oil cooking spray (PAM).

Combine the cream cheese,sugar, and egg in a mixing bowl or in a food processor. When well mixed, beat in the sour cream,flour, and vanilla.

Fill muffin tins almost to the top and bake for about 20 minutes.

The filling will have puffed up a bit. Let cool in the pans for an hour and then refrigerate for a few hours.

Remove from pans with a small flexible knife and impeccably clean fingernails.
Flavor variations:
Add 2 tsp. orange zest and 1 Tbsp. orange liquer or essence.
Add mini chocolate chips.
Add fruit preserves or jam. Raspberry is especially nice.
Garnish with fresh fuit and/or whipped cream.

Notes: This is the result of combining two cheesecake recipes from The Complete Cookie by Barry Bluestein and Kevin Morrissey. Their recipes call for a shortbread crust but I prefer the texture of pure unadulterated cheesecake. I've used both a 1/8 and a 1/4 cup muffin pan.
---
Updated: August 5, 1997
Comments or questions about the recipes on this page? Write to Sharon.
Return to August '97 Cook-In
Return to RFC NYC Cook-In page
Return to Curly Sue's Home Page