Or, Pulling the Wool Over Your Eyes

What's so good about it???


by Dolly
You can grind up our sheep brains and feed them to vegetarian cattle. (Just don't tell the cows what's in the feed -- they're kinda stupid, anyway. And they blame it on us!)

You can turn the rest of our "odd" parts into haggis -- guaranteed to taste the same from clones, stomach lining to stomach lining. (The implications for food cloning at fast-food establishments is staggering!)

You can clone us new spare parts to replace the ones you remove during the above activities.
If nothing else, remember that I'm every bit my mother's ewe.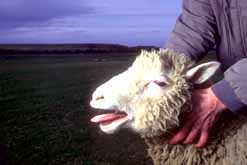 (Photo by Murdo MacLeod)
...But I just wish that jerk would stop choking me!
I tell ya -- it's not going to be the Silence of the Lambs no more...
---
Dolly's

Cloning Emporium

viewers have sprung a spring at this site.