This page is my e-newsletter, changing with the seasons (or whenever I get a chance to sit down and write.) Feel free to comment, make suggestions, or send jokes.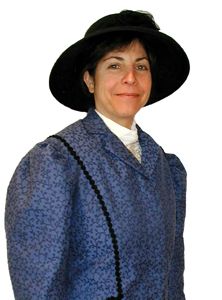 New Costume!
My friend Cindy, whom I met when she showed up at a Laura Ingalls Wilder show I did in Wellesley last year, is an amazing seamstress. She came to the show with her daughter and her daughter's friend, both of whom were wearing beautiful period costumes - which, as it turned out, she had made. We got to talking and she volunteered to make me a costume (I was using a blouse and skirt, but really wanted a dress or jacket, instead.)
We looked through books and old Sears Roebuck catalogues, and finally settled on a jacket from "Patterns of Time;" an original pattern from 1912. I ordered the pattern in what we thought was the right size, we drove an hour away to a great fabric store for supplies, and I figured I'd have a new costume in three or four weeks.
That was a year ago. It turns out that sizing has changed since 1912. The size 10 we ordered didn't fit. Good thing she had made a mock-up out of cheap material. We ordered a larger size and began again. But women's bodies have changed, too - the narrow waists of the early 1900s, aided of course by corsets, are no more. So she had to do more measurements and more fittings. Finally the mock-up was ready, and this time it fit. Meanwhile, lots of life events: holidays, birthdays, gardening days - got in the way.
Last week she called me. "It's almost ready. I just have to put in the lining. But I really want to put braid on the cuffs, first. You'll love it. It just makes the arms."
This afternoon I went to pick it up. The braid (on front, back and cuffs) looks terrific. It fits perfectly - if I stand up straight and hold my shoulders back. It makes me feel very in character.
Thanks, Cindy!
New CD!

Another friend, Lisa, is an incredible graphic designer. I've been privileged to work with her for several years on the Creative Arts Committee at my daughters' school. She did all of the notices which went home to parents about our programs, and always did a beautiful job. When it came time to re-design my cassette cover into a CD, I asked her to help.
Of course, nothing is easy, and we both had a lot to learn, but I worked with a great company, Ross-Ellis, who helped us through the printing, and a great CD manufacturer, ESP, who just shipped me four boxes of CD's. I love the cover (you can see why) and the new sound.
Order one for yourself! Click here for CD order form