What's New? Fall 2005
Books
This fall I am pleased to announce a new book, Telling Stories to Children, published by the National Storytelling Press of Jonesborough, Tennessee. This 112-page guide is the second in a series of storytelling guides from the National Storytelling Network. It includes 27 articles, on children and their needs, choosing age-appropriate stories, rehearsal techniques, developing personal and historical stories, using music and puppetry, and lots more. I edited the entire book and contributed two of the articles. Our publication date is October 2005; we officially launched the book at the National Storytelling Festival in Jonesborough, October 6-9.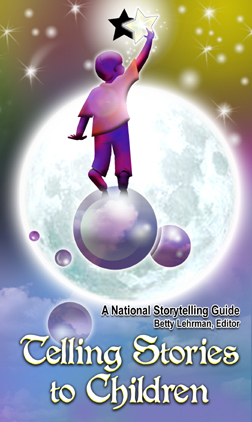 I hadn't been to the National Festival in about 15 years - it was exciting to be there to introduce and promote Telling Stories to Children! For more information or to order copies, go to www.storynet.org/Marketplace/Sale/childrenstories.htm
Martha Hamilton of Beauty and the Beast Storytellers contacted me recently about using one of my stories, "The Graveyard Voice," in a book she is writing with partner Mitch Weiss. "We are working on a new project, this one for August House. It is a book of funny, scary stories that we have retold for kids to tell. We probably have enough stories already but we just thought of "The Graveyard Voice" and realized how great it would be to include it in the collection." Of course I said an enthusiastic yes. The collection should be out for Halloween 2006.
After-School Storytelling Club
I 'm pleased to announce that I am one of three selected storytellers eligible to be a part of this program, open to libraries in the Metrowest MA Regional Library System. The two-year program trains library staff and student participants to perform stories at local institutions, and in turn train others to tell stories. For more information contact Beth Galloway, Youth Services, Metrowest MA Regional Library System, Waltham, MA, 781-398-1819.
Theatrical Performances
This fall I've been busy directing two productions. The first was the full-length Rodgers and Hammerstein musical, Cinderella, with the Southborough Players. I had a cast of 40 adults and kids, plus a dozen extremely cute mice (younger kids). The show opened Nov. 4, 2005 and ran for two weekends. The leads were just wonderful - talented, committed folks who were great to work with and terrific onstage. The Players will be doing Fiddler in the spring. For more info, see www.southboroughplayers.org.

The other production (yes, it's a little nuts doing two at a time) is through the Performing Arts Center of MetroWest in Framingham, MA. This is the second annual Holiday Revelry show, loosely based on the Christmas Revels of Cambridge (which I was in, once upon a time). Holiday Revelry is a multicultural collection of songs, dances, poems, and stories, a lovely celebration of winter with lots of audience participation, featuring young people ages 8-15. Performances are Dec. 9 and 10 at 7pm and Dec. 11 at 2pm. For more information or tickets, visit www.pacmetrowest.org (upcoming shows).
I'm still teaching drama to middle-schoolers part time in Franklin, MA, at the Benjamin Franklin Classical Charter Public School (say that 5 times fast!) We'll be doing a student version of Rodgers & Hammerstein's The King and I in March.
And lastly, I took a wonderful course this summer through Music Theatre International and Broadway.com, the latter an organization which brings school tours to NY shows and arranges workshops and seminars with actors, producers, choreographers, etc. Imagine 150 drama teachers let loose in Times Square for three days, seeing Spamalot, Dirty Rotten Scoundrels and All Shook Up, having talk-backs with actors like John Lithgow and David Hyde Peirce and writers like Joe DiPietro (I Love You, You're Perfect...), and sharing ideas on everything from auditions to royalties to how to deal with domineering parents. It was great!!
See former 'what's new' pages