By Daniel W. Farrow, IV
Introduction
My wife, son, and I were getting tired of all the snow and cold, so we called our travel agent and booked a flight and hotel for a one-week stay in the Yucatan. Our departure date was Thursday, February 6, so we scheduled vacation on Wednesday in order to wash clothes, pack, buy traveler's checks and take care of other last minute details.
First Surprise
When we got home from work on Tuesday, we had no heat in the house. Our heater had sprung a leak! Luckily, our plumber was able to juggle his schedule to accommodate us. As we were waiting for him to arrive on Wednesday, PSW rang the bell and informed us that they were working on the pipes in the street and had turned our water off. Great, no heat and no running water. We needed a vacation!
Things went smoothly after that. A quick check of the forecast as we packed the car to go to the airport on Thursday revealed that the weatherman was calling for one to three inches of snow that night. We were getting out just in time. Delaware County actually got seven or eight inches that night and school and work was closed on Friday. We really did get out just in time!
Second Surprise
Once in the air, I headed back to use the facilities. Several rows behind us I spotted an old friend that we hadn't seen in about 10 years! It is the same friend who recommended our plumber to us 15 years earlier. Small world!
Arrival
Upon arriving in Cancun, the weather was over 80 degrees with close to 100% humidity, and we were still dressed for the sub-freezing, dry-as-a-bone weather of Delaware County. What a difference! After a 45-minute bus ride to our hotel, check-in, and unpacking, it was only about noon and lunch wasn't served until 12:30. We had gained an hour by changing time zones.
The first order of business after lunch was to sign up for tours. We picked all the ones that went to Mayan ruins, Chichén-Itzá, Tulum, and Cobá. Some made other stops as well, so we had a full week ahead of us.
Dzereke
One of my sonís favorite discoveries in Mexico was of dzerekes. A dzereke (pronounced say-ray-kay) is a rodent about the size of a house cat. They lived on the grounds of the resort where we were staying and every day we watched them and some days we fed them. They liked to eat fruit, especially bananas, that the guests would throw to them.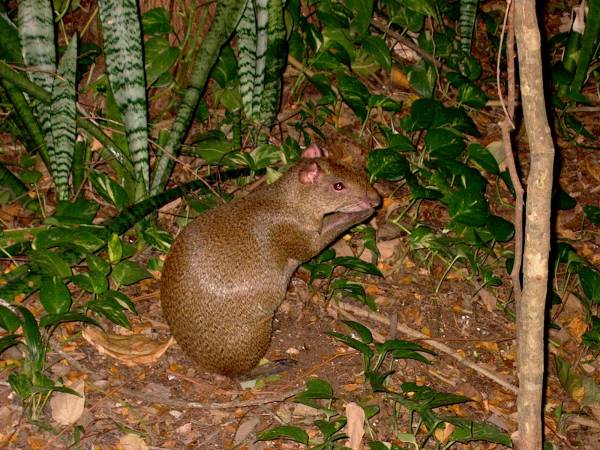 Dzereke
First Day
Friday dawned hot and humid. Come to think of it, every day dawned hot and humid. No rain to speak of, no bugs of note, and lots of sunshine. Just what a vacation should be.
There were no tours we wanted to take on Friday, so we hung around the hotel in the morning, shot archery, played tennis, and swam in the Caribbean, all before lunch. After lunch and a siesta, we took a $4.00 taxi ride into the local town, Playa del Carmen, to do some souvenir shopping. This was my first trip to Mexico and I wasn't sure what to expect in town. I had seen pictures of quiet little Mexican villages, narrow streets, dogs sleeping here and there, stores with gaudy merchandise arrayed on the sidewalk, and buildings of questionable code compliance. Well, that is exactly what Playa del Carmen looks like.
Chichén-Itzá
Saturday was our tour with the longest bus ride; two-and-a-half hours to Valladolid and Chichén-Itzá. Valladolid featured a Spanish mission, still in use today, which looked just like it did when the conquistadors built it. After a quick stop there, we proceeded on to the Mayan ruins. Chichén-Itzá is the best restored Mayan ruin in all of Mexico. After listening to the tour guide drone on for about a quarter hour, we decided to strike out on our own. We visited the ball court, temple of the Jaguars, the temple of the Warriors, and other monuments that I had only read about in books or National Geographic. It was an amateur archeologistís dream-come-true!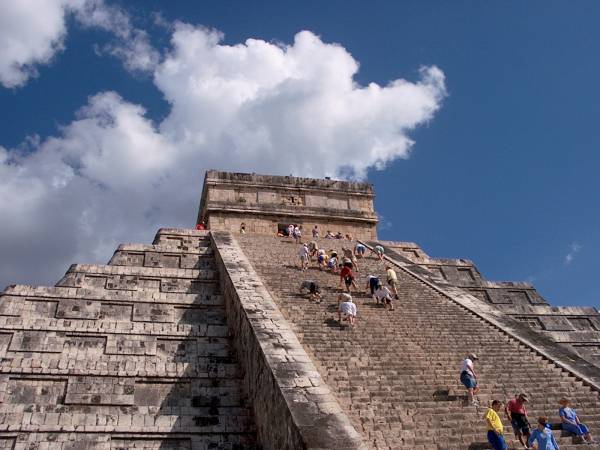 Kukulcánís Pyramid
The site was very well restored; however, the stairs to most of the monuments were roped off so we couldn't climb them. Boo! The only monument we were allowed to climb was the large pyramid known as Kukulcánís Pyramid. And after lunch we did just that, both inside and out. Inside there were 61 steps straight up (no landings) to a small inner temple with statues of the reclining figure of Chac-mol and a jaguar throne painted red with spots of inlaid jade. Going up was easy; coming down was not. With the 100% humidity outside, the steps and walls were very damp and slippery inside. Have you ever climbed a Mayan pyramid? The stairs are about twice as steep as we Americans are used to.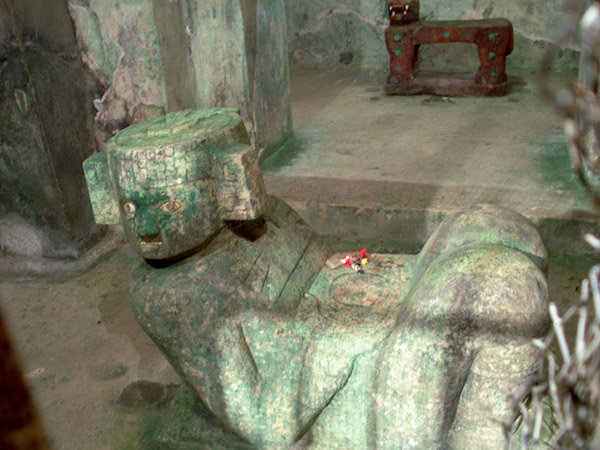 Chac-mol and Jaguar throne
Climbing the outside was about the same, only the stones were drier. Keep in mind that there were no handrails, either on the staircase or on the platform at the top. You have to keep your wits about you not to fall to your death or incur some other serious bodily harm. My wife and son climbed the 91 steps outside. I had had enough of the climbing with the interior one. So my job was to take pictures, and catch them if they fell.
Now for a little history lesson. Kukulcánís Pyramid contains 91 steps on each of 4 sides for 364 in all. And there is a platform at the top, for one additional step, 365. That number is no mere coincidence. The Mayans had a very accurate calendar. In fact, they could predict the movements of Venus, Mars, and Jupiter to within 4 hours every 500 years! And this was before computers!
We were all thankful for a chance to sit on the bus ride home. Climbing all those steep stairs gave us a better workout than most exercise equipment!
No tours ran on Sunday. Mexico is a very religious country and most stores, museums, etc. were closed on Sunday, except for the stores across the street from our hotel! Sunday morning was spent much like Friday, archery, tennis, and swimming in the morning. After a siesta, my wife dragged us all shopping again, only this time just across the street.
Xel-Há and Tulum
Monday dawned hot and humid (but you knew that already). Todayís tour was to Xel-Há (pronounced shell-ha) and Tulum. Xel-Há is a lagoon nature preserve. You can rent snorkels and flippers, but you cannot wear sunscreen (unless it is the biodegradable kind). It was my, and my sonís, first time snorkeling! We saw many beautiful fish as we crossed the lagoon and swam into a cave. After all that swimming we were ready to eat. Lunch was seafood, of course.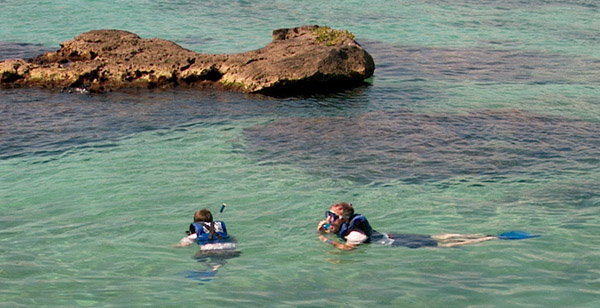 Snorkeling at Xel-Há
After lunch the bus took us to Tulum. Tulum is one of the few walled cities built by the Mayans, and one of the few on the coast. Tulum is best known for its intact frescoes uncovered during excavation. Unfortunately, there were no pyramids or other tall structures to be climbed. None of the buildings had been restored enough to allow any climbing. So we contented ourselves with walking around the outsides and counting iguanas!


Tulum
Cobá
Tuesday saw a tour to Cobá followed by a walk through a jungle preserve. Cobá is huge, but only about 20% of the buildings have been restored. Most of the rest of the site is still covered by jungle vegetation. Cobá does feature the largest pyramid left by the Mayans, 128 steps tall. The whole family climbed it and we were treated to a breath-taking view of vast expanses of jungle dotted here and there with the tops of other Mayan structures, and Lake Cobá off in the distance. With the uneven footing, lack of handrails, and steepness of the stairway, climbing down the pyramid took significantly longer than going up did.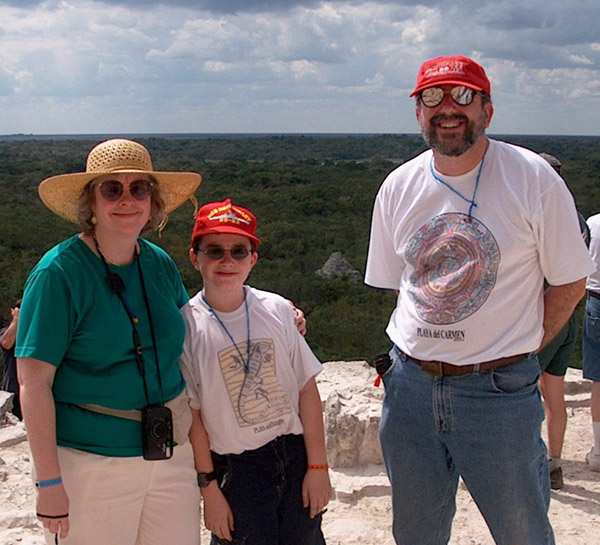 On top of Cobá
In the jungle preserve, we walked among piles of rocks that looked like they might be the remains of Mayan structures, but that was not the reason we were there. The preserve is the natural habitat of howler monkeys and spider monkeys, both of which spend their entire lives in the jungle canopy. We were fortunate enough to spot both types of monkeys as they swung from tree to tree. It was quite a thrill seeing these creatures in the wild and not cooped up in a pen in some zoo.
Return Home
Wednesday was another "off" day as we relaxed by the pool and attempted to pack all of our clothes and souvenirs for the return trip. No easy task. We returned home on Thursday, February 13, and had to shovel snow from the February 7 snowfall just to get the suitcases in the front door. Then, on Presidentís day weekend, we got another two feet of snow. After all that shoveling weíre ready for a vacation!
---