Daniel W. Farrow, IV met Joy Rogers Gómez while playing Dungeons and Dragons™ with their Mensa group. They were married on Valentine's Day, 1985 and their son, Daniel the fifth (a.k.a. Woolly) was born the day the Blue Route opened, December 19, 1991.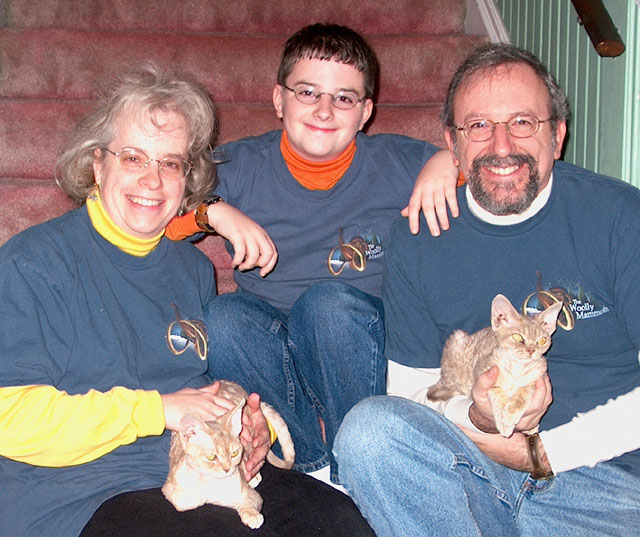 ---
Game Playing and Collecting
Dan is an avid player and collector of board games and is a rated player of several games. His son, Woolly, won first place in Monopoly at the 2001 World Boardgaming Championships (even though they misspelled his name.)
His all-time favorite game is Magic Realm™. Dan has run several play-by-email games of it over the years. To find out more about this game, please check out his Magic Realm™ page.
Dan is a charter tribune member of The Boardgame Players Association, a member of the Association of Game and Puzzle Collectors, and has had several Articles published in various gaming magazines. Because his personal board game collection numbered over 800 titles, Dan was asked to be the Games Master for Mensa's 2000 Annual Gathering.
Since its founding in 1981, Dan has been the president of The Days of Knights, a fantasy and science fiction gift and game store in Newark, Delaware. He even got his picture in a newspaper while wearing a costume at one of the store's recent celebrations of Bilbo's Birthday.
Other Hobbies
In addition to gaming, Dan enjoys building an N-gauge model railroad. He has also designed and crafted several stained glass windows. One of his most recent hobbies has been to play with the SCA (Society for Creative Anachronism). In fact, he is the herald for his local canton.
In February, 2003, Dan and his family went on a vacation to the Yucatan.
Work Experience
Dan has been employed by DuPont since 1979 in various capacities in the computer field. Presently he is assigned to their Ink Jet business to oversee the development and worldwide distribution of software for their textile printer.
Education
Dan earned his Master's degree from the College of Information Science and Technology at Drexel University in 1998 and his Bachelor of Civil Engineering (BCE) from the University of Delaware in 1979.
---