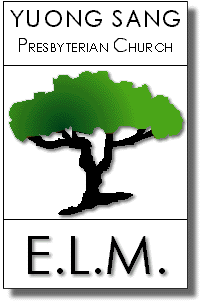 Home Page


Welcome to ELM - the English language ministry of Yuong Sang Prebyterian Church.

The Eternal Life Ministry of Yuong Sang Presbyterian Church is full of excitement as we enter a new phase. As ELM grows and expands, we ask you to join us at YSPC. Over the coming months, we look forward to a ministry that will thrive under the care of our Lord, Jesus Christ.

As part of this growth, we have created this Web Site as an information resource for the on-line community. We hope that you find this site informative, whether as a member or non-member and that you will join us as we serve the Lord and experience the sweet fellowship of God together.

From here you can visit the following areas...

An Introduction

Our Vision
A Christmas Greeting Card - like the Christmas tree that is still up in February, this card is here; just in case you missed it.
---

You're visitor #
since Dec 16, 1995.
Comments? You can reach us at 73430.3176@compuserve.com
&copy 1996 YSPC - Last modified 3/18/96