Betty Jones: An Entertainer Who Can Also Sing Opera
A Portrait of Oberon's "Rezia" - performed on February 23, 1978 at New York's Carnegie Hall
by Thomas Tillmann. English Translation by Lilian Revel
March 2005




"Small world, isn't it?" argues Mama Rose in the famous musical Gypsy. This phrase was going through my mind when I recently received an e-mail from the American singer, Mary Jane Southouse Fast. I had searched Mary Jane's homepage and left her a message when I was trying to find biographical information concerning the soprano, Betty Jones. On a recently released CD of a live recording of Von Weber's OBERON (see our review of the CD published by Mitridate), Betty Jones sings an explosive "Rezia" and I had not been able to find anything about this singer in the usual reference manuals. Mary Jane answered my inquiry by explaining that she had been a voice student of Betty Jones, and that she would refer my request directly to her teacher. And a few days later, I heard from Betty Jones, who by substituting for an indisposed Roberta Knie, had indeed saved that OBERON performance at Carnegie Hall 27 years ago. This artist, who is now 75 years old and proud of it, recently celebrated her 50th wedding anniversary. Betty has two children -- son Jeff, who has his own sound studio in New York City and deals mainly with jazz musicians; and daughter Janet, who also studied music and dance, but now works in a high position for a worldwide commodities trading firm -- and three grandchildren. She nevertheless does not lead the typical contemplative life of a grandmother, but is much sought after as a superb voice teacher and still continues to include operatic arias during concert appearances.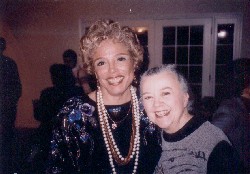 Betty Jones (left) and the Pianist Sally Bailey (right) in January 2005




At the time of the OBERON performance, Betty Jones was the official "cover" for Roberta Knie. Five hours before curtain call on February 23, 1978, the telephone rang in Betty's house: Roberta Knie had to cancel at the last minute due to a sudden indisposition. As the experienced "cover" she was, Betty immediately left her home in Wilton, Connecticut, and drove her own car to New York, a distance of about 50 miles. (Her husband was on a business trip in Florida and couldn't make it to the concert in time, the couple emotionally told me. By listening to the recently released CD, he was finally able to hear his wife's triumphant performance for the first time). When Betty arrived at Carnegie Hall, she sat down on the still darkened stage and tried to concentrate as much as possible. She fully realized that the attention of the opera loving audience was not going to be directed only to the Metropolitan Opera star tenor, Nicolai Gedda, but also on the relatively unknown soprano who would be singing the famous aria, "Ocean, thou mighty monster". (Gedda by the way was very nice to her and couldn't believe that she had never sung the role of Rezia before - nor could anyone else). She remembers Eve Queler asking if "I knew the role well enough to sing without the music?" Due to my limited knowledge of German, I immediately said no upon which she ordered all the singers on stage to use their scores.

After the concert, there was a big reception. Betty Jones remembers being greeted by guests from the German Embassy who were astonished to find out that she wasn't fluent in German, but was nevertheless able to sing and be fully understood in this language. Also in the audience were many members of the Metropolitan Opera. "The next morning my manager called to say that I had been offered a 'Met' contract to cover the 'Empress' in Die Frau Ohne Schatten." The fact that Leonie Rysanck didn't get sick, and that Betty could thus not perform did not upset her. She is grateful for everything her career has granted her and does not regret what didn't come to pass.

Neverthless, reviewers had been given a chance to notice her. "She possesses an excellent, very promising and rich soprano voice" said Harriett Johnson of the New York Post, who had also heard a few technical flaws. The famous Harold C. Schonberg didn't only have a problem with her name -- he called her "Betsy" -- but he found her interpretation too forced and uneven, although he could not dismiss the tremendous applause after the feared "Ocean" aria. He did acknowledge, however, her style and charm as the lyrical vocal lines of the "Cavatina" in the third act developed. Other reviewers found her singing very sure and strong and called her an excellent musician, a reliable singer and an expressive interpreter.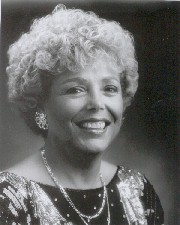 Betty Jones, the Rezia in Oberon-Performed at New York's Carnegie Hall
But who was this Betty Jones, who on the afternoon of February 23, 1978, was only known to a few insiders; and who, on the morning of February 24th, the entire opera world in New York was talking about with astonishment and admiration!
A big singing career was not part of her upbringing, even though Betty Jones remembers that singing had always been a part of her being and that she always sang for herself and for others. She attended Sarah Lawrence College and majored in art (graduating in 1951). Although she was part of and sang in the "Double Quartet" while in college, Betty did not have any extensive voice training as one would need for a career in opera. "At the beginning, I didn't even know how to read music or play the piano. Every single note needed to be taught to me by a coach."
In 1954, Betty Jones and her husband Eugene settled in Wilton, Connecticut, where she joined the Congregational Church Choir. In May 1956, she sang in the chorus of Gilbert & Sullivan's Iolanthe which was a Wilton Choral Club production performed in the Town Hall. Dr James Barnum heard Betty singing folk songs while accompanying herself on the guitar at the local Wilton Playshop. He immediately entrusted her with the role of Madame Flora in Gian Carlo Menotti's opera, The Medium, which he was about to direct. Many years later in 1973, through several strange coincidences, Betty was able to sing for Menotti. He was so impressed with her voice that "...I almost fainted when he engaged me as the soprano soloist for Benjamin Britten's War Requiem at the Spoleto Festival in Italy!" However, he did not keep his promise to compose something especially for her.
After performing the role of "Madame Flora", Betty sang "Bloody Mary" in a 1962 Wilton Playshop production of South Pacific. She repeated this role in a Dinner-Theater Production with Jamie Farr (of Mash fame) in 1993. As the alto soloist at the Wilton Congregational Church Choir, the choir director, Margaret Gregory, arranged for Betty to sing for a friend who was a voice teacher at the Mannes College of Music in New York City. As a result, Betty was awarded a scholarship and after three years of intensive studies, Betty sang the soprano solo for the first time in the Congregational Church's performance of the Messiah. Besides opera roles, Betty has always sung "Oratorio's" and other great choral works such as Messiah, Elijah, Carmina Burana, King David, Verdi's Requiem, etc.
In 1968, Betty Jones became a member of the Metropolitan Opera Studio. As such, she sang selections from Wagner's Das Rheingold and impressed director George Schick. The "Met" gave her the Catherine Turney Long Award and this enabled her to study with Marinka Gurevich. At some point, a Wilton neighbor who was on the Board of the Boston Opera heard her sing and arranged an audition in 1971 with the famous director, Sarah Caldwell. She was very impressed and gave the now 41 year old singer the opportunity for a professional opera debut performing several small roles in Charpentier's Louise. In 1969, Betty Jones won the Concert Artists Guild Award and was rewarded with a Carnegie Recital Hall Concert which was favorably reviewed by the New York Times. Betty concedes, "I had to lie a bit because I was beyond the age limit for this competition!" On February 13, 1972, the soprano sang a highly acclaimed lieder concert with works by Beethoven, Dvorak, Schonberg and John Carter at Lincoln Center's famous Alice Tully Hall. Peter G. Davis wrote a review full of admiration of Betty's interpretation of the music and voice in the New York Times: "Her soprano is a rich and full-bodied instrument that moves with easy assurance throughout its compass. The top rings out clearly - only a hint of a fluttery vibrato intrudes a touch of intriguing individuality rather than a flaw in this case - and her lower range has the strength and dark timbre that a mezzo might envy."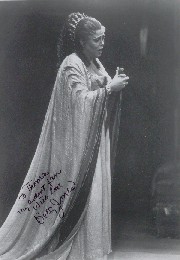 Betty Jones in October 1981 as Odabella in Verdi's Attila with the New York City Opera

The center of Betty Jones' artistic activities was the New York City Opera in which she appeared regularly between 1974 and 1981. Her first role was "Amelia" in Verdi's Un Ballo in Maschera, (later she also sang the same role at the Kennedy Center with the Washington Opera, Chautaqua Opera, and in 1975 at the Palacio de las Bellas Artes in Mexico City where she replaced an indisposed Christina Deutekom with only a 24 hour notice). This was followed by the "Countess" In Mozart's Le Nozze di Figaro along side Samuel Ramey as "Figaro" and Kathleen Battle as "Susanna". These are two very different kinds of roles, but according to Betty, they were the ones she performed most often at the New York City Opera. However, Betty never saw herself as a Mozart singer. "The Countess drove me crazy - Julius Rudel, the head of the City Opera had asked me to take over this role during my second season. The recitatives particularly gave me such problems. After the first two or three performances, however, I finally got used to the role but I never really liked it. By the way, I was the only member of the cast with no previous Figaro experience, yet I had to do my very first performance without the benefit of a dress or orchestra rehearsal."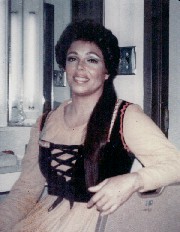 Betty Jones in April 1975 as Senta in Fliegenden Holländer with the Opera South in Jackson, Mississippi
These performances were followed by Wagner's "Eva" in Die Meistersinger (with John Alexander as "Walther") and "Senta" in Der Fliegende Hollander. (Frank Ham admired Betty Jones' "rich, vibrant soprano which seems to have no bottom or top but floats easily and clearly through the registers.") Next was "Odabella" in Verdi's Attila, again with Samuel Ramey. Reviewer, Ruth Lampland Ross, remarked at the time that Betty, who had been chosen for this difficult role by the new opera director, Beverly Sills, was able to effortlessly hit the High 'E-flat' above High 'C' in the opening aria. The artist replied proudly: "The high notes were never a problem for me. For a long time I had no idea what people were referring to when they mentioned how easily these notes came out of me. And even today, I can sing notes above High 'C' without any problem."
The first major role for Betty Jones was "Aida" which she sang with the Seattle Opera in 1972. Additional "Aida" performances were in Denver, Phoenix, Buffalo, and other places. She also sang such diverse roles as "Salome", and "Rosalinde" in Die Fledermaus with the Goldowsky Opera, and "Abigaille" in Nabucco, with Opera South in Philadelphia. Also with Opera South in Jackson, Mississippi she sang "Leonore" in a production of Fidelio with Ralph Herbert at the podium. She later sang concert versions of Fidelio with the Norwalk Symphony, Gilbert Levine conducting, and both Turandot and Trovatore with Connecticut's Delphi Opera Co.
Among Betty Jones' earliest engagements were the 1973 performances of Der Rosenkavalier at the Chicago Lyric Opera in which she sang the role of "Marianne" with Christa Ludwig as the "Marschallin" and Walter Berry as "Baron Ochs". She was also in the 1972 San Francisco Opera complete Wagner Ring Cycle with Birgit Nilsson as "Brunnhilde" (Betty sang "Woglinde" and "Ortlinde"). She remembers an incident with the famous Wagnerian soprano: "We were taking our bows together standing in front of the curtain when Birgit suddenly starts singing high coloratura. I asked her what she was doing?" She replied: "I am softening my voice and making it supple before I put it to bed." (Sir George Solti relates a similar story in his Forward to Nilsson's autobiography, "My Life in the Opera"). In her own concerts, Betty Jones always sings "Una voce poco fa" from Rossini's Barbiere di Siviglia. "I just like singing coloratura!"
One of Betty's biggest wishes has not come true. She wanted to be the first Black "Brunnhilde". She would have had the voice for this role, but Wagner's Ring was never part of the New York City Opera's program and outside invitations to sing this role did not come forward at the time. She was besieged to sing "Isolde," but this project did not get realized either. In the aftermath, Betty is truly not sorry these roles did not materialize because they could have perhaps damaged her voice. "Brunnhilde and Isolde demand a voice with a more defined and stronger middle and low range which is really a combination of mezzo and soprano." Betty Jones was fully familiar with the music of Wagner since her childhood because her father frequently played recordings with the big German Wagnerian singers, of which Kirsten Flagstad impressed her the most. Betty, nevertheless, studied the Italian singing technique which, according to her, also explains why she sang more Italian than German roles throughout her career.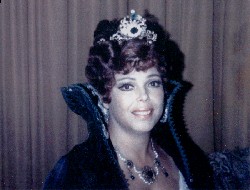 Betty Jones in October 1978 as Tosca in Wiesbaden

Betty Jones' career was not limited to America. She loves to reminisce about her performances as "Tosca" at the newly refurbished Hessische Staatstheater in Wiesbaden, and when she was on tour with various symphony orchestras in England, Italy, Sweden, and Germany. The arias that were sung the most during these concerts included "Agathe" (Freischutz), "Leonora" (Fidelio), "Senta" (Fliegende Hollander), and "Leonora" (La Forza del Destino). After one of these concerts, a German reviewer stated that "she possesses enormous vocal resources and that with her darker timbre, she resembles more a mezzo soprano.

Betty Jones does not agree with my reproach that her career was really too short: "...No, it was not too short - I was already 52 years old in 1982 and I was having more and more problems with my hearing, which also caused difficulties with my singing… The only regret I have is that I did not get to do Strauss' "Ariadne" as suggested by Julius Rudel."

When asked whether she had any favorite roles, Betty answered: "..There is an old song from a musical which Ray Bolger used to sing: 'When I am near the girl that I love, I love the girl I'm near.' I have loved everything I have sung from the moment I started singing it. Even with a small Broadway tune, I try to give it all I have. By the way, my husband was in seventh heaven when I finally got to sing 'Eva' in Die Meistersinger which is his most favorite opera."

In 1986, the State of Connecticut awarded Betty Jones its coveted Arts Award which in the past has been given to such legendary artists as Marian Anderson, jazz pianist and fellow Wilton resident, Dave Brubeck, and author, Barbara Tuchman. It was given by the Governor at a "black tie" dinner celebration, and a 30-minute television special on Betty was shown on Connecticut Public TV throughout the state.

Her voice remains Intact as confirmed a few years ago by Walter Taussig, an assistant conductor at the Metropolitan Opera who coached her when she sang the role of the "Empress" in Die Frau Ohne Schatten. He said "...Betty, you sing today better than you did twenty years ago." (In a recent March 2005 concert, she sang once more the first aria from Aida and excerpts from Porgy and Bess).

The public can hear Betty today in "Opera Antics" performances, a progam she developed which includes excerpts from operas, musicals and jazz tunes interspersed with funny stories and jokes from her real life experiences on the operatic stage. This is a classic one-woman show which she performed for the first time back in 1987 at the Ritz Carlton Hotel in Naples, Florida. The "Opera Antics" repertoire includes Rossini, Wagner, Verdi, Bizet, Poulenc, Bernstein, Gershwin, and Weill. It usually begins with excerpts from Walkure (with the appropriate winged helmet, of course) and ends with Judy Garland's "Over the Rainbow". Betty has given over 200 performances of the basic program and still takes it on the road even today. During her program while the pianist is playing melodies from "The Sound of Music", the artist explains to her enthusiastic audience that she inherited "yodeling" directly from the cavemen through Johnny Weismuller and Carol Burnett. She then proceeds to give practical examples of this art form which she combines with Brunnhilde's "Valkyrie Whoop" in the original key. When I compared her "Opera Antics" program with the legendary performances of Anna Russell, Betty corrected me although she does admire her colleague. "...in my programs, I actually sing legitimately. If you want to compare me with someone, maybe Victor Borge is more appropriate." Betty inherited her sense of humor from her grandfather. "He was the director of a black singing group which carried his name and was known as the King of Fun". Besides being fun, "Opera Antics" also has an important educational function. Betty Jones, who considers herself an entertainer who happens to be able to sing opera, is able to reach an audience through this program that would otherwise not have access to opera.

Betty Jones has a special relationship with "Porgy and Bess". During her earlier years she could hardly wait until she could sing "Bess" in Gershwin's opera, but frequently she was denied this opportunity because she is very light skinned and the directors wanted someone who was much darker. During her college years, Betty wrote an article about this topic called "The Half-Baked Cookie". In it she wrote "that many light skinned black people deny this aspect of their personality and their ethnic culture and attempt to pass as being white in order to get better jobs or housing." Once, at a party where she was thought of as being white, someone who was talking to her thought it appropriate to make a racial comment. She replied immediately: "Sir, I have African-American, Irish, German and Cherokee blood in me and you have just offended one of them." Betty also remembers a comment made by her voice teacher, Marinka Gurevich: "Good thing that you have such light skin because that way you can sing Wagner."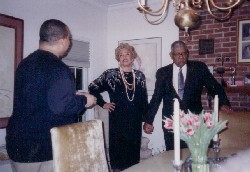 Betty (75) with her husband Eugene (80) in January 2005 at their 50th Wedding Anniversary and Birthday Celebrations.
Nevertheless, Betty Jones got to sing "Bess" in many concert productions, among them was with Franz Allers conducting the Chicago, St Louis, Milwaukee, San Diego, and Jacksonville Symphony Orchestras. She likes to think about other concerts when she sang the Gershwin classic with the Bournmouth Symphony in England, and with the Stockholm Symphony in Sweden. Much later, she actually played the role of "Bess" on stage. George Gershwin's sister was living in Connecticut and was the sponsor of an open-air performance in Westport. "...l applied dark makeup and even colored my hair black," the artist remembers. That evening remains unforgettable, a crowning event in her life with her engineer husband playing the role of "Crown".
How will things continue for Betty Jones? This year she will give more performances of "Opera Antics" and in turn lure audiences into the world of opera. And she will explain why at the age of 75 she has so few wrinkles, a fact I was able to admire on a recent DVD made by her son to celebrate her 50th wedding anniversary. "..Singing provides the body with a huge amount of oxygen. That is the reason I have such few wrinkles! Singing is the opposite of smoking!..." Next spring I will have an opportunity to verify the condition of Betty's voice. She has invited me to visit her in Wilton during a trip to the United States. The high point of this occasion will be a party Betty is organizing at which time she will sing once more the aria that was so important in the making of her career: Rezia's "Ocean, thou mighty monster" from OBERON.

Read about Betty's OBERON CD on Mitridate's Website
Read July 7, 1975 article on Betty Jones from the Bridgeport Post, Bridgeport, CT.
Read the Norwalk Hour's Nov. 14, 2005 article about Betty and Eugene Jones.