---




Mary Jane gave her first concert in June 1956 at the age of 5 1/2 as the Kindergarden Soloist. She spent her entire first year of school entertaining her classmates by singing them to sleep during nap time while the teacher played the piano.
No rest for the singer!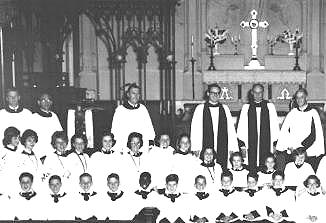 In 1958, at the age of 8, MJ joined the Junior Choir at St. John's Episcopal Church in Bridgeport, Connecticut, (the entrance age was 9) at the urging of the Choir Master, Mr. Coates. Mary Jane began singing soprano, then switched to alto as the years passed. During her preteen years, Mary Jane was taught (during school hours) by several music teachers to perform the lead songs for the upcoming holiday school pageants.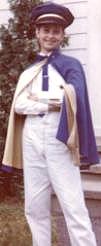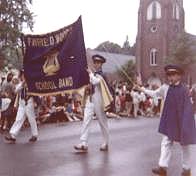 MJ also studied the violin as a member of the school's band and when it came to marching, she carried the school's flag.

In early 1964 Mary Jane bought her first guitar with S&H green stamps, along with her first rock and roll album by the Beatles. She enjoyed their harmonies so much, that she wrote to the Fairfield County Show Bus Tours in Norwalk, Connecticut requesting a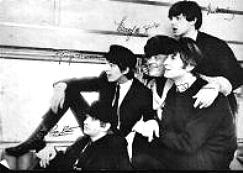 ticket to their summer concert in New York. Since she had written such an adult letter, she received two tickets for free. She attended a Murray the K Beatles concert at the Forest Hills Tennis Stadium in New York on August 29, 1964, and stood next to the stage watching Ringo drum, George play, Paul wave, and John pretending to perform. John could not hear himself over the screams, and when Paul asked why he wasn't singing, he yelled back "Why bother? They can't hear us anyway!" (He had a point there.) After the concert, MJ felt like she was wearing a swimming cap, for her hearing had been deadened by the screams. In retrospect, she will always remember Paul yelling at her from the side of the stage that she was "okay" because she wasn't screaming (MJ knew not to blow out her voice screaming). MJ hopes she'll get a chance to sing for Paul someday, to repay him for his kindness.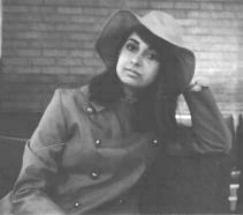 In 1968, Mr. Coates, the Choir Master, paid Mary Jane to sing in the Men and Boys Choir at the Episcopal church. MJ also joined the Concert Choir at the University of Bridgeport and sang in many holiday concerts with the Bridgeport Symphony Orchestra at the Klein Memorial in Bridgeport. She vividly remembers learning Karl Orff's "Carmina Burana" ... Veni, Veni, Venius!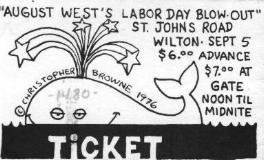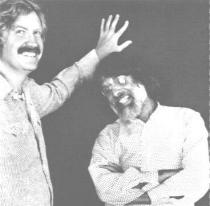 In 1976, MJ performed with one of her roommates Chance Browne

and his friends, Eric Von Schmidt and Jim Rooney, at the Save the Whales Concert. MJ sang backround vocals, danced, and played the tamborine. MJ later worked with Eric at his home in New Hampshire on a recording project. Eric once remarked "She's not just another pretty face!"



The drummer in Chance's band introduced Mary Jane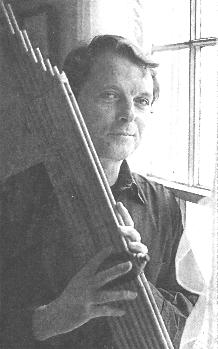 to her long-time friend and voice coach Tony Vitolo,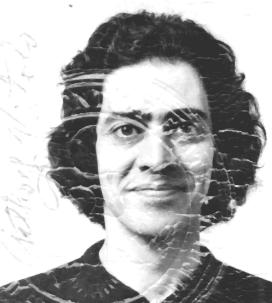 a Tenor with the New York City Opera. Through Tony, Mary Jane met and worked with many talented musicians.
MJ worked with Shrdlu Ashe (pictured on the right), founder of "The Shrdlu Band." Shrdlu is the best harmonica player, solo and band act in New England. To be added to his mailing list, click on his name above. For his current gig schedule, click the band's name - or call his booking agent at 1-860-354-6522.
MJ also did some jam-scat singing with Gordon Titcomb at an outdoor concert at his request. Later, MJ enjoyed working in the studio for Peter Weston, former member of the "Hello People."

Mary Jane studied vocal performance formally with Jane Stevens, a Julliard-schooled Contralto, in Ridgefield, Connecticut, and continued singing solo at open mikes in Fairfield and Litchfield counties, Connecticut.




Here is a photo of MJ from 1978: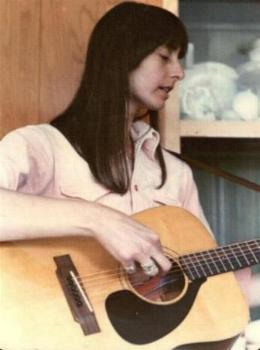 June 1978 Photo, featuring baby niece Christina (who is now 26) and the Yamaha guitar.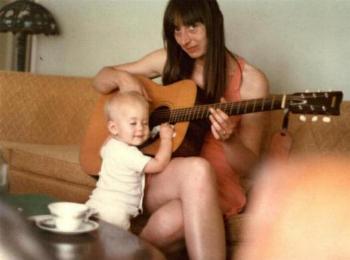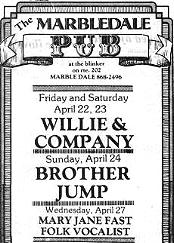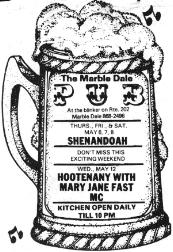 In the early 1980's,
after marrying Rick Fast in 1981,
Mary Jane continued to sing
at local hootenanies
until she was hired to run them herself.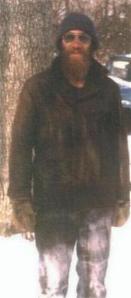 During this period MJ played Rhythm Guitar either alone or with Doug Travers (on right) on Lead, or Ed Bouton (on left) on Bass. At one hootenany, she thought she heard angels behind her harmonizing while she was singing Amazing Grace acappella. She forgot about that, chalking it up to experience, until last year when Barry, a musician who works in the New Milford Music Center, recounted this phenomenon when she brought in her banjo to be restrung. She smiled, glad to know someone else had heard them singing that night!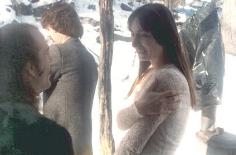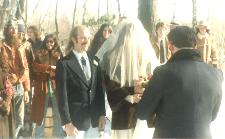 Wedding and Reception at Tony Vitolo's home. Photos by Tony.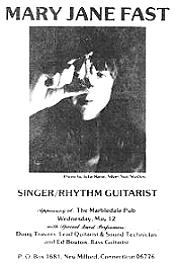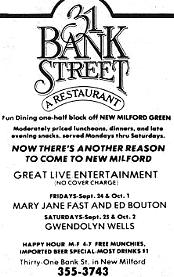 Mary Jane soon graduated to performing longer weekend gigs at area bars and restaurants. She fondly remembers the audience at 31 Bank Street singing "House of the Rising Sun" in unison with her. When singing at the Gaylord Cafe, one woman remarked that she had never heard "I'm So Lonesome I Could Cry" sung so beautifully before. Afterwards, Doug played "Blue Suede Shoes" and two fellows from the audience came up to sing the lead vocals.



Manny Faria, the music critic of the Danbury News Times wrote of MJ and Doug: "Among the outstanding singer-songwriters on tap this weekend are ... Mary Jane Fast and Doug Travers ... returning to Garlord's Cafe tomorrow and Saturday," April 7, 1983.





Featured below is John Kane's photo from that decade featuring MJ with her new Penco guitar. Recently, new Schaller tuning heads were put on the Penco by luthier Ron Blake of Morris, Connecticut, along with Martin silk and steel strings.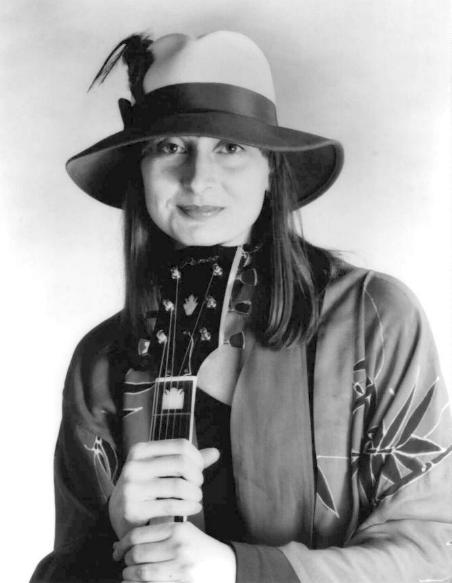 Fall 1980 Publicity Photo by John E. Kane, New Milford, CT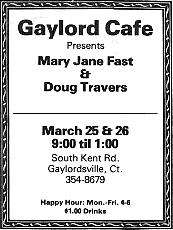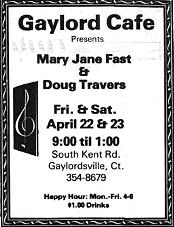 In the mid-1980's Mary Jane injured both wrists, requiring operations to eliminate the numbness. Not knowing if she would ever play again, Mary Jane joined two choirs. She volunteered as an alto soloist at Trinity-St. Michael's Episcopal Church in Fairfield, Connecticut; and, in 1987, joined the alto section of The Mendelssohn Club Choir, also in Fairfield. Mary Jane enjoyed singing with the club choir, especially at Stamford's premier "First Night" New Year's Eve Celebration, and at several Cathedral concerts in Fairfield County.

These songs were really fun to sing:
Mozart's "Ave verum corpus, K.618," and "Missa brevis in D, K.194;" Thomas Weelkes' "To shorten winter's sadness;" Claude LeJeune's "Revecy venir du printan;" Thomas Tomkin's "Adieu, ye city-prisoning towers;" Claudio Monteverdi's "De la Bellezza le dovute lodi;" Gershwin's "Sing of Spring;" Leonard Bernstein's "Make our garden grow" from "Candide;" and the sixteen choruses in Handel's "Messiah."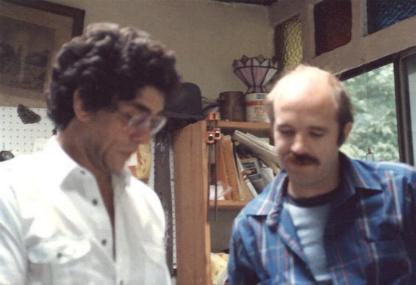 Tony Vitolo and Rick Fast, Summer 1988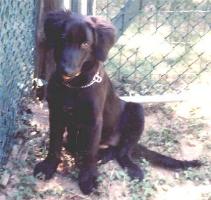 By 1995 Mary Jane had regained the coordination needed to bar chords on her guitar, and began playing and singing privately; performing at annual outdoor "Dogathons" held by "New Leash on Life" at the Booth Memorial Park in Stratford, Connecticut. MJ also helped friends with their recording projects by providing needed background vocals and chorus echos. She especially enjoyed recording "Poor Frank" for Franklin Schwartz of the Who's Insain band.

In September 1997, Mary Hadlow, a 92 year-old benefactress of Broadway and the Town of Sherman, Connecticut, began talking of sending MJ to Nashville after hearing her sing and play "Your Cheatin' Heart" by Hank Williams, and "Suzanne" by Leonard Cohen. Sadly though, Mary Hadlow died of a heart attack the very next week.

On the Yamaha, note the slimmer neck and fret board put on by Luthier George Youngblood in the late 1970's. The guitar recently came back
from Ron Blake's Luthier shop with a new fret bridge
which lowered the neck action.
Great Job Ron Blake of Morris, CT!



In the Winter of 1997, at the urging of Barrie Sachs,
Mary Jane performed at two open mike nights at the new
Jewish Community Center in Sherman, Connecticut.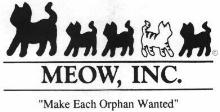 In July of 1998, Mary Jane sang ten songs and accompanied herself on Rhythm Guitar at a benefit MEOW Flea Market in Bethlehem, Connecticut. The sponsor wrote to MJ afterwards saying: "You have a great voice." (see photo on left)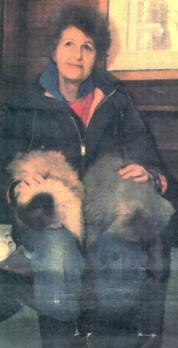 In September 1998, Mary Jane sang five ascending acappella verses of "Amazing Grace" at the funeral of Mrs. Harriet Smyth (photo on left), a retired English Teacher/Kennel Owner/Antique Dealer in Washington, Connecticut. Rux Martin, her daughter, wrote to MJ later saying: " 'Amazing Grace' was the most stirring and beautiful part of the service, and everyone who came to the service thought YOU were amazing." (see photo above on right)




MJ sang in Puccini's Messa di Gloria
with four visiting choruses from Oregon at Carnegie Hall
on Nov. 21, 1999, in a Midamerica Music Production of Choral Music.

Mary Jane sang 2nd Alto with
the Mendelssohn Choir of Connecticut
during their 1999-2001 Seasons, while studying voice with Betty Jones of Wilton. MJ sang with opera stars from the Met and Yale, and also sang at Carnegie Hall in New York, Shubert Theatre in New Haven, Palace Theatre in Stamford, Quick Center at Fairfield University, and the Norwalk Concert Hall. Mary Jane is currently working on recording her songs.





---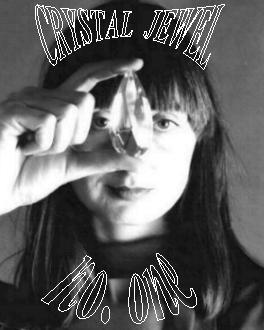 E-mail Mary Jane




As of 5/16/05, (c) 2004 MJSF, Fast Enterprises. Best Viewed in Netscape Navigator.
---