---






---
---

In the Field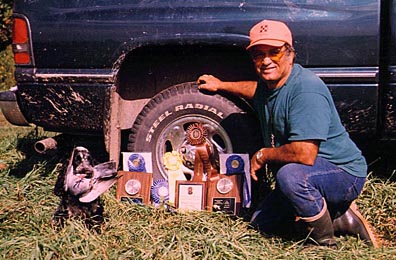 Mia is shown above with her trainer/handler, "Billy" Akkouris, Fall 2000.
BIG NEWS!
SPAM completed his MASTER HUNTER Title in August of 2004.
MIA completed her MASTER HUNTER title in October of 2004, tied with another bitch who completed her MH at the same hunt test on the same day, making them the FIRST show champion bitches to acheive the title. A third bitch completed her MH the following day at the same event!

Toga retrieving a chukar
Updated October 27, 2004

---


---

In the Ring
Clarksville, TN:
Saturday, April 30, 2005, DASH took WD, BW, BB and GROUP 4 under Desmond Murphy! Sunday, May 1 he went WD, WB, BB and GROUP 3 under Patricia Trotter! As of May 1 Dash needs only 3 points to finish his Championship.....more news and pictures to come!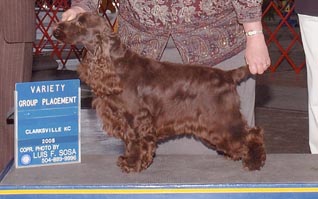 Updated on May 7, 2005
---


---

PUPPIES!
(The Whelping Box)
We currently have available.
Jenna has a litter of two by Spam, whelped on August 14, 2004.
Mia will be bred in January of 2005.
Mia's daughter Tara (Dash and Dinah's litter sister) is expected to be bred to Spam in Spring of 2005.
Hunting/performance homes preferred.
Some show potential puppies possibly available.
Inquiries welcome.
Updated October 27, 2004
---


---

On Other Fronts
The new gene test for PRA is now available. The test identifies gene markers that indicate carriers for PRA. To learn more, visit the Optigen web site.
---


---

At Home
Volker has taken a position with Bacou-Dolloz in Smithfield, RI. We expect to be moving to the Danielson, CT area or possibly Rhode Island some time before Fall of 2005.
Last update on October 27, 2004
---