Please note the new address for this website: http://gwendolynholbrow.com
First professor of Barbiology? On Friday, May 3, I gave a lecture on "The History and Art of Barbie" to Professor Marjorie Pechet's English Composition class at Framingham State College  It was fun, and well received, and I look forward to doing it again.
Today my sister Katie and I received the silver medal for our miniature garden from the Massachusetts Horticulture Society. Look, it has our pictures on it:


That's Katie standing and me seated, holding some of the plants for next year's garden. Is that cool or what?
Here's the garden,  called The Queen's Croquet-Grounds: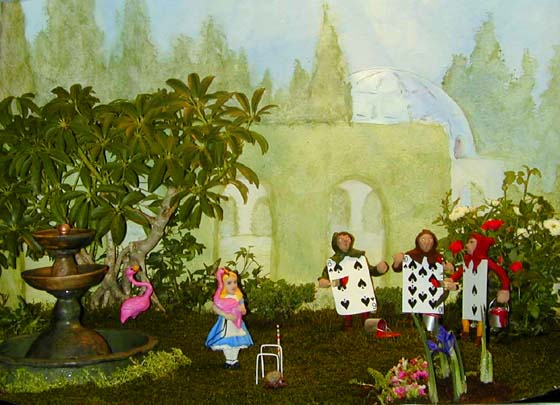 Thank you to Pam Coates for lending us her dwarf schefflera.
Got a nice mention for Landmine Barbie Contemplates the Shoe She Will Never Wear Again from art critic John Greenwald in the Lowell Sun. He says she's ingenious and shocking. Thank you, John!
The Universal Application is proving very popular, and is now available from the Cambridge Art Association, the Danforth Museum School Gift Shop, or directly from the artist,
Two pieces, Affordable Daycare and The Barbies of Calais, will be spending April 26-May 19 at the Gallery of Social/Political Art, 565 Boylston Street, Boston, in the show Individual Concerns. Both are certainly expressions of my individual concerns:  The Barbies of Calais compares the sacrifices that women make to raise children and to be "feminine" with the more "masculine" sacrifice made by the burghers of Calais as represented in Rodin's famous sculpture. Another doll piece, Affordable Daycare, critiques the American lack of respect for both children and those who care for them (women).

I am also excited about an exhibit coming up in November, when I will be part of a three-person show at the Cambridge Art Association's University Place Gallery. This huge space offers the opportunity to show some larger work. Can't wait!
May 9, 2002