News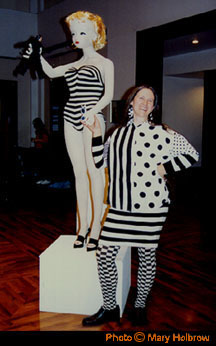 I am astonished and delighted to learn that my giant Barbie sculpture, Queen Kong, has been chosen Best of Show out of 4000 entries in the 2004 Cambridge Art Association National Prize Show. Thank you, thank you, thank you, juror Robert Fitzpatrick (Director of the Museum of Contemporary Art in Chicago) and CAA Director Kathryn Schultz. The reception is May 6, 7-9 pm, awards at 8pm, at the CAA's University Place Gallery in Cambridge. Here the Queen and I are holding hands, which is difficult for her because she needs her left hand to hold her sunglasses and her right to hold a Ken gorilla. She is based on the original Number One Barbie, right down to her striped bathing suit and gold hoop earrings.

Writing and illustrating have taken priority over sculpture lately, although some of the illustration actually is sculpture. I am working on several children's books, and have added writing and illustration sections to this website. One book dummy is finished, others are underway, and I'm attending a children's book conference and fair in Bologna in April, hoping to get this work out to publishers.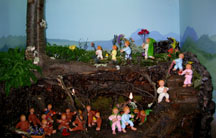 I participated in the New England Flower Show again in 2004, creating a 3-D illustration of the classic German tale of the Root-Children (Die Wurzelkinder) as a miniature garden with my mother, Mary Holbrow, and my sister, Katie Holbrw. The Root-Children live underground all winter. They paint the flowers and insects, and when the time is right they bring spring up into the world above. Katie made the cave structure, I did the plumbing and wiring and created the figures, and Mary did the plants. Flower Show visitors loved it, and so did the judges, who called it "mesmerizing" and "magical," and awarded us a gold medal. Click on the image for more details.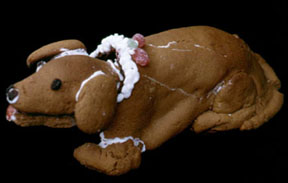 Although I love bronze, I don't have access to a foundry right now, and the weather is too cold for concrete, so I continue to experiment with new media. I'm particulary pleased with this working nodder dog made of gingerbread (kinetic sculpture!).
A fun family project was our link in the MIT chain reaction. Our elaborate Rube Goldberg machine included my acoustic sculpture, Gravity Chimes and a (Beany) squirrel being lured into a Havahart trap. I'm also collaborating on another miniature garden for the New England Flower Show.
March 21, 2004

More Past News

Back to What's Up

Home