James Armstrong in Palo Alto
Our Editor of Music-in-Transition, James Armstrong, put together a performance at the Unitarian Universalist Church in Palo Alto on March 20, 2004. James is a prolific composer. He has quite a collection of original compositions which he performed that evening. He had even composed a piece for our publisher called "Blues for Haybert K." We have heard him played once at a fund-raiser for KKUP, a non-profit radio station in based in Cupertino, California where Haybert has a radio show, but this was the first time we attended the hour and a half long program of his own music minus one. James was on piano, Carolyn Torrente on alto saxophone and flute; Kristjan Bondesson on acoustic bass, and Nicolai Gvatua on drums and percussion.
They started up the program with a couple pieces from James's Asian Suite, namely "Theme for Yutong" and "Bejing Girl." "Theme for Yutong" has a nice melody. It was dedicated to his wife, Yutong, who couldn't be present because of their new baby. The piece swung right from the start, and was supported ably by a walking base. Seems like James is partial to triple chords - same chord played three times in a row. This motif was used in both of these pieces as well as in "Blues for Haybert K"!
Kristjan Bondesson looks rather petite when he stands by his bass. He leans against it as he plays and forms a triangle with his instrument while swaying slightly to his music. He is the "bass," the support, the beat, and the metronome of all the pieces, more so than the drums.
The drums set was impressive. It consists of the snare, highhat, four tom-toms, a ride, a crash and eleven accent cymbals! They were all used intelligently by Nicolai Gvatua who gave a rousing improvisation to Ornette Coleman's piece "Lonely Woman," the only piece that is not James's composition.
"Herbie's Night Out" was followed by "Twelth by Eight," which has an interesting melodic theme, and an ostinato base line. "Perpetuum Mobil" brought on a torrent of sound by the piano. A presto piece with arpeggios and compressed pedal of the piano. It is not a singable piece, but somehow, all fitted together beautifully. The piece "4 A.M." was to follow.
A free-for-all piece came around with the introduction of rapper Chucho. Everybody was free to do whatever came to their heads while Chucho rapped. This is one piece that I didn't get. Even though all were able to start and end at the same time, I couldn't understand what Chucho was rapping about. He stepped forward and backward, waving his right hand while holding the mic close to his mouth with his left, but unfortunately, I couldn't understand what he said, therefore, I was left out on the fun.
"Alverni Street," "Harrison Street," and "Sara Bande" brought us back to the music. Carolyn Torrente alternated between the alto and the flute and offered a sweet melody in "Sara Bande." "Harrison Street" was especially interesting when the piece started and ended with the bass notes of the piano and progressed upward. Then the volume was increased by adding the bass then drums and sax to a fortissimo. Improvisation came in for all to show their skill then ended again with the same sequence as the introduction.
The group played together well. They have the ability to feel each other out; the loud and soft dynamics, the condense or loose texture, all tightly woven. James's music has an outside edge, but not to the point where we couldn't follow. It was actually swinging, toe-tapping and very enjoyable.
---
Kelly's on Park
The island Alameda, west of Oakland, California, is a quaint residential community. It is accessible by a tunnel and three bridges. Medium price for houses there is now over $450,000. Not too long ago, Kelly Park, pianist, opened a restaurant and Jazz club there called Kelly's, and it is on Park Street. Dinner and music is served nightly there. A lot of times, you can find Kelly sitting at the piano or behind the drums. Sometimes, there would be other groups or sit-ins. We have caught a couple of young male singers, expertly singing Frank Sanatra's pieces. We have caught Frank Jackson, singing and playing the piano. On March 18, 2004, with the encouragement of Cathi Walkup, one of the better Jazz singers in our area, we caught a six-piece group from Portland, Oregon.
The leader of the group was Ezra Weiss, on piano. Jason Brown was on drums; André St. James (originally from Berkeley, California) on bass; Kelly Roberge on tenor and flute; Farnell Newton on trumpet, and Ben Fowler on alto. The group sounded like a small "big band," yet edgy. The arrangements were refreshing, but not so out there that we couldn't follow. The solos were polish, each knew his instrument well. After each articulated solos, they brought it back to a cohesive sound, in a way that was very traditional. Their sounds were fresh and innovative.
We had to leave after the first set, due to the fact that it was a school night. The group is on tour, and we wish them the very best. We also wish Kelly Park much success. If you are in the Bay Area and want to go somewhere to listen to some Jazz, to relax, check out Kelly's on Park Street in Alameda. There is no cover and no hassle. The food is very good. They even has a Sunday Brunch served with live music.
---
Herb Gibson's CD Release Party
We went to Yoshi's for Herb Gibson's CD release party on March 29, 2004. It was a Monday night, but about seventy percent of the room was filled. On stage with Herb, who has been playing vibes in the area for a long time, were Mel Martin on soprano and tenor saxophones; Walter Savage on bass, Spencer Allen on piano; and Larry Hancock on drums.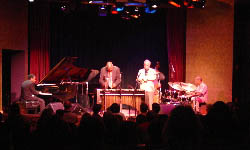 This is a group of musicians of seasoned musicians, and we have known all of them for as long as we have been publishing Jazz Now. Herb and Walter were at our party this past January. The last time we mentioned Mel Martin was at Bob Tate's Memorial when he played with Bobby Hutcherson and a host of others. We haven't heard Spencer Allen for a while though. We were anxious to hear him again. Larry Hancock plays around the area as well. We heard him at Walter Savage's party and at Club Nouveau in San Francisco.
Except for the piece "Blue Vibes" which is the title track of Herb's new CD, Herb didn't announce the pieces. That made it difficult for me. I knew the tunes, but could not name them. Earl Watkins, who was a past president of the Musicians Union and now sits on the Board, joined us for the evening. He would sometimes scat along. He knew all of those tunes, you know. He is a drummer and probably has played with all of them.
The group was swinging, trotting on the tunes at times. Walter's bass bellowed with his steadfast beats. He pulled out all his stops, walking, swinging, bowing for the different effects. Mel Martin's solos seemed to bring the excitement of the group up another notch. I liked his tenor a little better than the very cute, curved, but rather brassy soprano, which he cradles at his front when he is not playing. Spencer Allen bent over the piano, still offering fantastic runs and melodies with his right hand while Larry Hancock unobstructively accent with his drums.
I liked the original composition of "Blue Vibes" by Herb. It has a nice, singable theme, which can definitely turn into a standard. The audience sure liked the performance and the enthusiastic applause showed their approval.
by Stella Cheung Houston
---
Jazz Now Interactive April Vol 13 No. 11 - Table of Contents
contact: Jazz Now Interactive