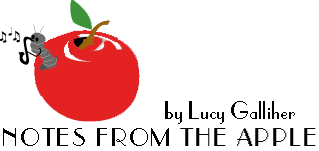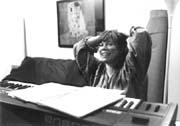 Mike Holober CD release party at the Jazz Standard
Mike Holober celebrated the release of his first CD, Canyon, (see my review of this CD, in October 2003 Jazz Now Interactive) one night in May 2004 at the Jazz Standard. The band consisted of: Mike Holober on piano, Tim Ries on tenor and soprano sax, Wolfgang Muthspiel on guitar, John Patitucci on bass and Brian Blade on drums (photo below by Haybert K. Houston at the 2003 Malta Jazz Festival). Scott Colley played bass on Canyon, but otherwise the musicians were the same as on the CD.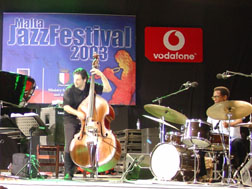 Both Holober and Patitucci are professors of music at City College (CUNY), here in Manhattan. A number of their students were in the audience at the Jazz Standard. The place, located downtown on 27th Street between Lexington and Park, was packed for a Tuesday night. The Jazz Standard charges a cover and serves food from the upstairs restaurant, Blue Smoke Barbeque, but there's no minimum.
Quietly, the pianist, using some advanced harmonies, started the set with a vamp, then the band entered with some nice unison and counterpoint melodies on tenor and guitar. Mike kept the mellow tone that he began with during the piano solo, listening to his bandmates, and gradually developed his solo into an easygoing but intense build. Muthspiel followed this with a guitar solo, and there were lots of complicated polyrhythms occurring underneath him, by the bassist and drummer. Patitucci and Blade make a powerful duo: they attack their instruments with fervor and speed, and play seemingly with abandon, but when it's time to join the ensemble, they're right there on cue.
The next tune was a brand-new composition, and will probably be featured on Mike's next CD. He called it "Boo," as he said it was based on a B double-diminished chord! This piece was kind of mysterious, with some unusual harmonic changes. The double bass was featured, and Patitucci had no problem swinging through diminished and augmented chords - his bass solo sounded like a blues, mixed with the avant-garde. Blade added some subtle gorgeous colors behind him, and looked like he was really enjoying himself. Mike Holober jumped back in, thoughtful and studious.
It was an auspicious moment for Mike Holober and his band, and the audience responded enthusiastically. The great service at the Jazz Standard, with its nice piano and good acoustics, made for a wonderful experience of keeping Jazz alive.
---
Pete Malinverni at the Jazz Gallery and Sweet Rhythm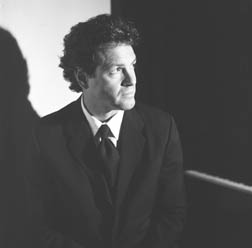 Pete Malinverni was at the piano, Ben Allison, bass (at Jazz Gallery), Dennis Irwin, bass (at Sweet Rhythm) and Leroy Williams, drums.
On a sultry and rainy night in May, I visited The Jazz Gallery, located on Hudson and Spring Streets in Greenwich Village, a little off the beaten path. There were places to sit in rows facing the front of the room, and one could look at paintings and photos on the walls (of Jazz musicians). Despite the heat, being in the space of the gallery was conducive to some great listening, as there were overhead fans.
Pete Malinverni began the set with Cole Porter's "From this Moment On," a tune which is also on Pete's new CD, Tempest (on the Reservoir Music label). One could tell Pete has spent a lot of time listening and transcribing Bud Powell and Monk's music, which contains lots of fast runs, intricate chords and syncopated rhythms, as this tune was played in the bebop tradition.
Duke Ellington's ballad, "All Too Soon," started with solo piano. Pete used a lot of body language here, leaning into the piano and bringing forth the music, using lots of dynamics. The next piece was written for Malinverni's son, and was aptly named "Twelve." This sounded to me like a conversation between the three musicians, and was very playful.
The standard "Autumn In New York," on the other hand, was approached as a serious and solemn tune. Pete played chords in half notes behind the bass solo, giving the listener a somewhat ominous feeling. He told me, "Just after 9/11, I was out in Portland Oregon, I started playing this (idea on "Autumn in New York), and it sounded like a tolling bell. It's part of the arrangement, at the beginning and at the ending. I was really heartbroken, as I was asked to play a funeral at St. Patrick's for a firefighter friend of mine (and had to go on this tour out west instead). I see (in my mind) those souls ascending (at the World Trade Center), and at the end of the performance on the CD, there's kind of this sweeping up, and to me it's been expressed on record, now I can let it go. At least I have said it, and given tribute to all those guys, and my city."
This was followed in Pete's performance by the Bud Powell version of "Get Happy," played at breakneck speed. Here, Pete got a chance to show off his chops with two-handed runs and distinctive chords, and Leroy responded with a fantastic drum solo.
In the June engagement at Sweet Rhythm, the band played three of the same tunes as mentioned above. They also did several other pieces that are featured on Pete's CD, "Alone Together" and "My Ideal." Bassist Dennis Irwin played with great intelligence on both the standards and Pete's originals. Pete, Dennis, and Leroy make up the trio that is featured on The Tempest.
Pete has roots in the gospel tradition, as well. He has played in the Devoe Street Baptist Church in Brooklyn since 1993, and one of the tunes on Tempest ("Let the Sea Roar") was originally written as part of a suite for gospel choir and Jazz group.
Sweet Rhythm (formerly Sweet Basil, on 7th Avenue South in the Village) is now featuring different acts almost every night, as a lot of the clubs have started doing. I hope they continue booking acts like Pete's, which have their roots in the Jazz tradition.
---
Interview with Pete Malinverni
I had a chance to interview Pete at a later date in June. Pete had a very strong opinion when I asked him who his influences are. He said, "You know, it's really hard to really single out (distill) pianistic influences. Iíve listened to so many musicians of different disciplines. I started classical lessons at age 6, and I grew up playing in the Pentecostal Church as a kid. Some of my first performances were at the church, back home in Niagara Falls. Also, I went to Europe with missionary groups, traveling around playing in these holy-roller Pentecostal church services.
"I've watched my son learn spoken language. When he was first a child, he had the same likes and dislikes, let's say in terms of food. He could only throw it down or cry if he didn't like it. Now, at 8, he can say "I prefer that cooked in butter." As an improvising musician, it's an assimilation of all these influences throughout your life. And you can find them coming to use at times you didn't expect.
"Hopefully, your self comes through in whatever language youíre using at any one time. Using spoken word is a really good analogy. Much as the way we choose our verbal language, you notice things that resonate, in a way that rings true with you. Since I got up this morning, I haven't said any new words, but I've expressed only new thoughts. How I feel now, honestly. I like the idea of expressing something real to me that can evoke real human feeling in the listener. Music is a really effective way of expressing oneself. The (musical) language is a tool.
"And that's why I sort of reject describing anyone as only a collection of your influences. Because your influences are only the things from which you take the words, or language.
"I love Bud Powell, Thelonius Monk, Herbie Nichols, Hank Jones, Barry Harris, Herbie Hancock, and Bill Evans. There's just so much, and with each successive generation, there are more examples of recorded music one might listen to. My language at the instrument, improvising, is more personal to me, as I get freer. (My objective) is to get free: where the time it takes from emotional impulse to musical realization becomes shorter and shorter. So, that emotional impulse is rendered as immediate as possible. For me, that's the goal."
We talked about what material he used for his compositions. The first tune on Pete's CD is "The Tempest," a fast variation of a minor blues, was inspired by a walk he took with his stepdaughter, seeing the leaves churning, and it reminded her of a cyclone. "Let the Sea Roar" is from a passage in the Bible, and he read the passage to the musicians before he recorded it. Pete said, "The idea is to write stuff that leaves a lot of room for improvisation. When I bring a composition to rehearsal, I write out a lead sheet for the guys, and they can do what they want."
On transcribing music, Pete suggests, "You have to make it your own. Just to kind of quote phrases, that's doing a disservice to yourself, and the musician who you transcribed it from, it's inappropriate. Because, what happens that day in the studio, is based on what else is going on. Sometimes I'll be playing and I'll say, 'Oh, I remember where this comes from,' but it's not so much literally, note for note, it's like an approach. You have to go a step further and understand the use of the quote, so that your use of it can be a more universal application. You listen in order to unlock the secret that makes it personal to each of you."
As far as the audience is concerned, Pete said, "I think people need to know how much I appreciate them being there, and that they're a part of it. Every Jazz musician knows that the active participation of the audience makes for a better performance, so why not tell them how happy you are they're there? To me, that makes people feel that they have more of a stake in it, they'll want to come back."
About the musicians that he works with, Pete told me, "It just kind of happens organically. They have to be able to treat that freedom responsibly. You have to play with people who are sufficiently skilled, and sufficiently open, personally and musically, otherwise none of it is going to happen. They are excellent musicians, who are not afraid to let the music flow. That reflects years and years of hard work and preparation."
Jody Sandhaus, Pete's wife, is a musician as well (a singer). They share the time in the raising of three kids, and Pete spends a lot of time teaching, as he's on the faculty at SUNY Purchase, NY. I highly recommend listening to The Tempest, which is the talented and energetic Pete Malinverni's sixth recording as a leader. See you next month for more Notes from the Apple!
by Lucy Galliher
---
All rights reserved. Jazz Now July 2004 issue
Jazz Now Interactive July 2004 Vol 14 No. 3 - Table of Contents