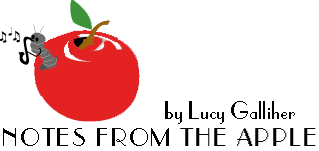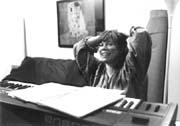 June 2005. Flutist Jamie Baum's Septet at the Baha'i Center.
Mike Longo started a Jazz Series in the Dizzy (John Birks) Gillespie auditorium at the Baha'i Center several years ago. It's located on 11th Street (between Broadway and University Sts.) in the Village, and Jamie Baum brought a septet there one recent Tuesday night. She presented the NYC premier of a newly commissioned work called Ives Suite: The Time Traveler.
In the band were: Jamie Baum: Composer, flutes; Ralph Alessi - trumpet and flugelhorn; Doug Yates - alto sax and bass clarinet; Chris Komer - French horn; George Colligan - electric piano; Martin Wind - bass, and Jeff Hirshfield - drums.
Unfortunately, I arrived too late to hear the Ives Suite. However, there was a second set and it began with "Spring Rounds," based on Stravinsky's "Rite of Spring." Jamie featured flute and bass clarinet on this piece. Not only is she a great composer, but Jamie also has superb technique, interesting ideas and is very serious. Colligan accompanied her well on piano-he had the piece memorized- and with a soft sound, he played an intriguing solo. While he played runs, figures, and tremolos with his right hand, George's left hand held down masterful voicing.
The next tune, "Tag" gave a chance for the bass clarinetist to solo. With long phrases interspersed with pauses, Yates showed a sense of humor and a great range on his instrument. Alessi followed with a trumpet solo, building up his ideas, controlling the harmonic content until he was far outside of the original motifs.
"Pine Creek" was written in a fast 5/4 tempo. Martin and Jeff had no trouble grooving on this rhythm. They held their own on bass and drums, while George punched in comping patterns, and Jamie soloed on flute. The overall effect was pleasant and appealing.
"Ive's Blues" was based on a down-to-earth swinging bass riff, with the horns playing an angular atonal melody. Here, the rhythm section really got a chance to shine, and the drummer took a mesmerizing solo.
Jamie Baum has won a number of awards and grants as a composer. In addition to three from the National Endowment for the Arts, Jamie received the prestigious 2003 New Works: Creation and Presentation Award (part of the Doris Duke Jazz Ensembles Project); she's won spots in DownBeat Magazine's Critics' and Readers' Polls (1998 through 2004); and was recently nominated by the Jazz Journal Association in the category of "Best Flutist of the Year" for their 2005 awards. She has a recent CD entitled Moving Forward, Standing Still (on OmniTone Records). Jamie is definitely someone who transcends the categories of Jazz and Classical music- keep an eye out for her.
Sweet Rhythm has got great acoustics and a wonderful atmosphere to listen to Jazz. Tessa Souter has continued to provide interesting acts in her Jazz Vocal Series, and Sheila Cooper was no exception. Sheila's all-woman band included: herself on vocals & alto sax; Allison Miller on drums (who led her own band on a night in late June at Sweet Rhythm); Nicki Parrott on bass (who plays with Les Paul at Iridium every Monday); and Janice Friedman on piano.
"I Wake Up in the Morning, Feeling Fine" was the first tune I heard on that Tuesday evening. This was a fun, swinging number, and it was immediately contrasted by the ballad "Harlem Nocturne," played pianissimo. On the Ellington/Strayhorn tune "I'm Checkin' Out," Sheila got the band and the audience to participate in a call and response. She called it a "gang vocal," and proceeded to take a smoking alto solo. The remainder of the set was made up of several original pieces and a few standards, Frank Sinatra's version of "Learning the Blues" standing out among the songs.
Kurt Elling with special guest Bobby Watson at Birdland (See another review of Kurt Elling at Birdland in the May 2004 edition of Jazz Now.)
Kurt Elling was once again accompanied by the Laurence Hobgood Trio (Hobgood on piano, Rob Amster on bass, and Frank Parker on drums.) Each night he featured a different artist: on the night I went, alto saxophonist Bobby Watson was the special guest.
Birdland has vastly improved its acoustics by adding Oscar Peterson's 9'2" Bosendorfer grand piano. This change was made two years ago when Peterson performed there. As usual, the service was excellent and one can relax in such a comfortable, large room. The second set of the evening included such standards as "Bye Bye Blackbird" and "The Very Thought of You," as well as Kurt Elling originals.
They started the set with "The Man Up in the Air" (title song of one of Elling's CDs). The pianist played a vamp over a pedal point, and the band entered on the second phrase of Kurt's vocal. With a great tone and superb musicianship, he scatted into a group phrase that got Bobby involved, and let the alto take the first solo. At this point, Kurt brought the volume down in the rhythm section with a gesture. After a time, Bobby led them into a Latin groove, and played a dynamic solo.
An interesting selection was the tune called "Jewel," a composition that Bobby wrote for his mother. Kurt wrote the lyrics, and inventively retiled it "Hidden Jewel," with an intense emotional ballad based on Bobby's original alto solo. After hearing Kurt bare his soul, Bobby put in a blues feel to express his own emotions.
Then, it was time for the highlight of the evening. This was where Kurt and Bobby tore it up on "Bye Bye Blackbird." First, there was the improvised interpretation of melody and lyrics by the vocalist; second, a chorus of scat-singing; third, another one with a double-time feel, and the crowd went wild! Bobby came back on stage and said, "Thanks a lot, Kurt!" before launching into his own energetic solo. Of course, they had to trade fours off of each other, and by that time there was so much chemistry between them, that the audience was shouting their approval. Needless to say, it was an exciting moment.
Corrections from April 2005's Notes from the Apple: I misspelled drummer Dafnis Prieto's name (it is Prieto, not Pietro), and the piano at Manhattan's Jazz Gallery is a Baldwin, not a Steinway. (That piano belonged to the late Bradley of the famous Jazz club in the Village, Bradley's). See you next month for more Notes from the Apple.
---
Back to

Contents Page
Jazz Now Interactive

Copyright Jazz Now, July 2005 edition, all rights reserved
jazznow@sbcglobal.net