July 4th Celebrated with Jazz and Blues in Iowa
by Jimmy Jones
The 19th Annual Mississippi Valley Blues Festival was held in Le Clair Park along side of the Mississippi River in downtown Davonport, July 3 to 5. The 19th Annaul Iowa City Jazz Festival was held in downtown Iowa City, July 4 to 6. I made the entire three days of the blues festival and the final day of the Jazz festival.
There were twenty-eight different performances by different artists and bands on two stages at the blues festival. In addition, six free workshop for people of all ages were coducted and eight "BlueSkool" workshops for children were held. The first day of the festival was dedicated to women in the blues with all eight bands led by ladies including Debbie Davis, Deborah Coleman and Shemekia Coeland (headliner) on the bandshell and Janiva Magness and Rosei Ledet, the Zideco Sweetheart (headliner) in the tent stage. Other headliners were John Mayall and Bobby Rush on the Bandshell and Son Seals and Big Jack Johnson on the Tent stage.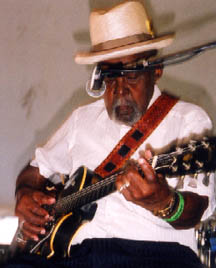 One of the Highlights of the festival was the set by the 93 year old blues pianist and guitarest Henry Townsend, (photo at left) who was presented the Mississippi Valley Blues Society's River Road Lifetime Achievement Award.
The biggest highlight for me at both festivals were sets by Chicago's legendary Jazz tenor saxophonist Fred Anderson (photo at right) who performed with two giant musicians who have performing with Fred off and on for over 20 years, bass player Harrison Bankhead and drummer Hamid Drake.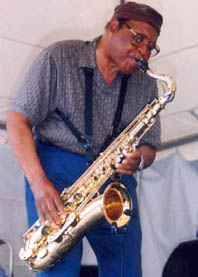 Blues poet and educator Dr. Sterling Plumpp has just completeda 158 page book of poems about Fred Anderson entitled "Velvet Be Bop" that has been published by Third World Press o hard back with pictures of Fred Anderson and Charlie Parker on the cover. The retail cost is $21.00US (Here is one For Fred by Sterling Plumpp, written at the festival.)
Top groups at the Iowa City Jazz Festival were Geri Allen with Buster Williams on bass, Billy Hart on drums, plus bands led by Don Byron and Charlie Hunter, all on Saturday, July 5. Fred Anderson Trio, Ron Miles Quartet, Andrew Hill Quartet and the Dirty Dozen Brass Band on Sunday, July 6.
It was all wonderful !!!
by Jimmie Jones
---
Back to

Contents Page
Jazz Now Interactive

Copyright Jazz Now, August 2003 issue, all rights reserved
jazzinfo@jazznow.com