Wendy Stafford, Si Perkoff and Max Perkoff at the Nazareth House,San Raphael, California, August 27, 2002
Another view
With a cloudless sky and incredible heat outdoors, the inner sanctum of the Nazareth House's beautiful auditorium was cool and full of eager anticipation when I arrived. As I set up the sound system for the Bread and Roses sponsored concert the residents excitedly gathered. It was an early afternoon concert, and no one was sleepy. They had all had lunch and napped and were really looking forward to the show.
Steve Johnson, the activity director, introduced crooner Wanda Stafford who began the show with a wonderful jazzy rendition of "Honeysuckle Rose." Fifty two strong (one of the women being days away from her 101st birthday) listened as Wanda launched into "Summertime" from Porgy and Bess as well as "I Don't Know Why I Love You Like I Do...". That number turned into a sing-along, as many of the songs gradually did.
This is a very receptive and alert group; and they appreciate good music and really seemed to have a particular familiarity with many of the numbers Wanda chose. She and Si on the piano have a wonderful rapport with one another and needless to say, with Si's trombone-playing son, Max. Si gave some education on "moonlight in Vermont," a number he likes too play, telling the audience that it is a haiku poem. I thought this was a good audience to elaborate with. Si really seems to have a feel for this kind of "rap."
Haybert Houston, Board member of Bread and Roses, was introduced to the audience as the special guest and the show ended with "You Made Me Love You." It was a concert I truly wish could have lasted longer.
Click here for more about Bread and Roses.
by Mary Alice Kirincic
---
Anouar Brahem Trio at the Freight and Salvage Coffeehouse Berkeley, California
Photos by Nicolai Gvatua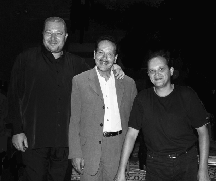 The Anouar Brahem Trio's September 16, 2002 performance at the Freight & Salvage Coffeehouse was a landmark in this region's rich history of improvisational music. Joining the Tunisian oud (middle eastern lute) virtuoso were the equally distinguished Turkish clarinetist Barbaros Erkose, and the percussionist Lassad Hosni (photo at right).
In an intense, emotional performance that spanned more than two hours, it became apparent that the trio has harnessed the core energy or life force of North African music that has inspired various composers, including several in 20th century Spain. The late composer Manuel de Falla freely borrowed and interpolated thematic material from this tradition, particularly in his piece for solo piano, "Fantasia Baetica". Historical considerations aside, the trio proved that intricate, structured improvisation based on pulse and prevailing tonal centers is part of a musicological heritage that is hundreds if not thousands of years old.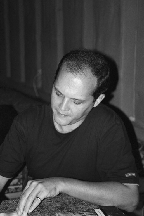 Brahem withheld discussions about the themes to be performed; not one title was announced. The opening piece introduced concepts that would be heard throughout the evening. Brahem's open cadenza, Hosni's introduction of pulse, and Erkose's unison line provided a powerful introduction to the concept of takht, which Brahem described as "a small ensemble of musicians capable of improvising to the point of inebriating themselves and the public alike." For the experienced performer, takht means listening, serving, responding, and supporting, characteristics that are in the best tradition of Jazz.
On a more profound level, the result of this painstaking attention to group interplay yields entry to a collective, creative consciousness or "zone". By way of comparison, the pianist Cecil Taylor has described a "temple of creation" that results from extended practice. And in the medium of film, the entry to the creative zone is a result of seeing beyond two-dimensional screen images in favor of the three-dimensional world of the film. Within just a few moments, the trio had completely drawn the audience into its creative world; it was uncanny.
While the group reflects the profound influence of Tunisian classical music, it is impossible to pigeonhole because of its subtlety, precision, and the vast array of contrasting techniques at its command. At various points, Brahem would recede into the background, providing a key center on which Erkose soared; the latter's extended notes were astonishing. Hosni is a master of rhythmic contrast, and should rightly be considered among the world's elite percussionists.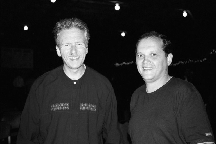 by James D. Armstrong, Jr.
Editor, Music in Transition
---
Back to

Contents Page
Jazz Now Interactive

Copyright Jazz Now, October 2002 issue, all rights reserved
jazzinfo@jazznow.com