Tony Adamo - Making the Song Special
by Elizabeth Goodwin
Tony Adamo has done a little bit of it all in the entertainment industry, and it shows in his upbeat, take-it-all-in-stride personality: Hollywood agent, utility man on the studio set, outdoor billboard sign worker, booking agent, congas and timbales player, and even comedian. Despite his versatility, however, it's his love for singing that really drives him.

Born in San Francisco and raised in the Bronx, New York, the Pacifica resident hails from a musical family. He's performed on the Las Vegas, Reno, and Sparks, Nevada, circuits and generally has been on the music scene since he was seventeen. Ask him about one of his many past lives, and he has a story to tell. His colorful tales are punctuated with one-liners and tongue-in-cheek humor. At the end of one of his stories, he usually tags on his favorite drumroll,"ba da boom, ba da bing," followed by his own chuckling, as if he's just having a good time pulling the wool over your eyes. He reminds you of a favorite uncle who travels all around and comes back with funny stories and gifts for the kids. His personal gifts are his wit, charm, and class.
In spite of his jovial nature, Adamo is very serious when it comes to singing. With his debut CD, When Love Comes over You, under his belt, he explains what motivates him as a singer and elaborates on what he tries to do as an artist.
Adamo looks fit and athletic in a black T-shirt and blue jeans. He attributes his toned physique to his love for kick boxing and his relaxed frame of mind to meditating twice a day.
"The creativity thing keeps me in there," he says. "Everytime I'm on stage or in the studio, I come away exhilarated. I almost feel cathartic, like I'm cleansed when I get off the stage, and it's because I've done the best I could do and have the freedom within that medium to let go so that the creativity flows."
Adamo believes that creativity takes on a new meaning for him when he's performing. "When you think about creativity, a lot of times it doesn't flowat least not for me," he says with a smile. "When the flow process happens, the intellect takes over and guides it where it's supposed to go and all you're doing is breathing and singing. I mean, how does that happen? I don't know. You give yourself up to it."
Adamo has given himself up to a lot when it comes to creativity. His various past jobs, as well as his current "day gig" at the Concord Naval Weapons Station, help him keep things in perspective, he says. "I think I've gotten a long way by promoting myself and having that savvy of how to get on the phone and talk to people; how to go down to a radio station; how to deal with the print medium and knowing what to say and what not what to say."
Adamo's voice is a crooner's dream: a velvety smooth tenor with the inflections in all the right places, a silky delivery, and crisp enunciation. No flashy vocal gymnastics here, just an honest-to-goodness straight-ahead approach with a contemporary backdrop.
Adamo credits the success of his 1994 CD to the fact that the musicians he recorded with are his friends and were happy to help out.
He names guitarist Jerry Stucker, keyboardist Dave Austin, drummer, writer, and arranger James Levi, and trumpeter Al Molina as his musical influences. He also cites popular vocalist Mark Murphy as a major influence. "To me, no one scats better than him," says Tony. "He'll take his scatting apart and it's like another dimension." He also names John Coltrane's "My Favorite Things," Leon Thomas's yodeling ("Even though I don't yodel. He just takes his vocalization to another level."), and Herbie Hancock's Maiden Voyage album "because he [Hancock] would play a straight line but still something else was happening. It was straight-ahead spontaneity."
Adamo says that right now he isn't performing anywhere on a regular basis but is working on his next CD along with Stucker. He asserts that he's "artistically on the right path." In the meantime he will continue to build on his connection with the audience.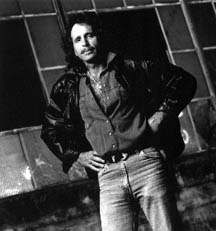 "When you're a singer who's singing ballads that touch a couple or touch an individual, they take what you're interpreting in a lyric and it becomes their song," he emphasizes, his dark brown eyes widening while he leans over the table. "It's special to them that's really the success of a singer.
"To me, I go somewhere on stage when I know I'm in a groove and I know I'm touching somebody's heart or if I'm singing a love ballad in a Jazzy, smooth groove that's what it's all about. It's almost like a spirituality because you're connecting with everybody and as soon as you connect"he snaps his finger "it's over. It's not a lasting thing. But you take that with you. I just want to take you away from something for awhile."
by Elizabeth Goodwin
More about Tony Adamo
Back to Jazz Now