Oooh, Denise!
by Nina J. Hodgson and Robert Tate

Remember the sultry voice that came on the late San Francisco radio station KJAZ every fifteen minutes or so saying, "Ooo, KJAZ"? That voice belongs to song stylist Denise Perrier (pictured), an actress, cabaret singer, and one of the premier Jazz vocalists in the Bay Area, and you can still hear it at the better clubs, restaurants, cabarets, and festivals around town.
When Denise steps up to the mike, you feel her presence. She sings with authority and conviction, and when she's done you know you've heard a song the way it was meant to be sung. She creates a very satisfying effect and leaves you wondering what the magic ingredient is.
To find out, look back over her career. Denise has appeared on stage as the legendary blues singer Bessie Smith, sung tributes to Dinah Washington and Duke Ellington, and played the role of vaudeville star Bertha Williams in the bad old days of musical theater in New Orleans. Not content to speak the lines and sing the songs, Denise makes a study of the people she portrays, putting herself inside their lives. She chooses songs that suit her voice and style and then focuses intently on communicating the meaning of the lyrics to her audiences. What comes out of this is a resonance that can't be counterfeited. Denise doesn't just sing tunes; she is immersed in the classic American songbook, and every note of her performances comes up drenched in that tradition.
Denise was born in Louisiana but came to California with her family at the age of five. She lived in west Oakland for a while, around the corner from a theater where she saw countless movies. She would come home and act out the parts and sing the songs she heard there. Music runs in her family. Her stepfather, Paul Jackson, played piano, and Denise remembers that he always announced himself with the song, "Until the Real Thing Comes Along," which she still keeps in her repertoire. Unlike many African-American vocalists, Denise didn't sing extensively in church, but her family happened to have a jukebox in the house, and she heard records by Billie Holiday and others from an early age.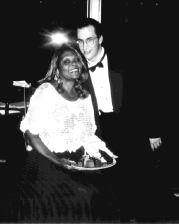 Later the family moved to nearby Albany, where Denise (pictured right with pianist Jeff Chimenti) went to high school. She studied drama, music, and dancing with some teachers who helped her a lot. Though these were separate courses, they worked together to build a firm foundation for the kind of dramatic song interpretations at which Denise excels. A song is a story, and drama is the art of presenting stories in an interesting way. Dance movements teach the grace and presence necessary to put the message across.
Denise remembers that she started singing when she was in a Haitian and Afro-Cuban dance group. She got her first professional engagement with a vocal ensemble called the Intervals, which she describes as being stylistically in between the Platters and the Four Freshmen, and which worked as an opening act in a kind of little Las Vegas club scene near Atherton on the San Francisco peninsula. Louis Armstrong saw the group and put them in his entourage, and they went to the real Las Vegas.
About that time, Denise was recruited for a three-month gig in Australia, which turned into an extended stay in the Far East. At that time there was a regular circuit of hotels and clubs that spanned Hong Kong, the Philippines, Taiwan, Formosa, Japan, Guam, and other Asian cities. The work paid well, and Denise loved the milieuboth the elegant hotels and the back-alley soup shops where the locals ate. She stayed for almost five years, making Hong Kong her home base of operations. She also spent a year and a half in Vietnam during the conflict there and toured military bases in the area.
During her time in Asia, Denise became friends with LaVerne Baker, the great blues singer. Years later they got together again when both were playing the Fairmont Hotel in San Francisco, LaVerne at the New Orleans Room and Denise downstairs at Mason's Restaurant. Another buddy from the Southeast Asian days was a singer who called herself Venus because another blues great, Ruth Brown, was already famous under her real name. Venus taught Denise how to shop the Asian way, haggling over prices. After Venus had bargained the price down a way, she would look the seller straight in the eye and say, "And how much is that with the entertainer's discount?" A lot of times she could get the price down another 10 percent or so that way.
Denise returned to the United States, lived in New York for five years, and then settled in San Francisco. She performed on the cabaret circuit, but venues became scarce as places like Chez Jacques, Q.T.'s, Gordon's, and Fanny's closed their doors. Eventually only the Plush Room presented that particular genre of music with any regularity in San Francisco. Recently the Mabel Mercer Cabaret Convention with Donald Smith has brought the music to public notice again, and Denise is hopeful that it will attract new fans to the music. Still, she is realistic enough to know that this latest burst of interest is part of a temporary fad for things retro and may not last.
In 1986 Denise starred in a play about Bessie Smith at the Lorraine Hansberry Theater. She says they invited her to audition, perhaps because of a physical resemblance to the Empress of the Blues noted by Bob Hershon in an earlier Jazz Now article on Denise (JN, June 1992). The play was later reprised at Kimball's Jazz club in San Francisco. Recently Denise starred in the production One Mo' Time at the Lorraine Hansberry. This is a revue that re-creates the heyday of the Lyric Theater, a black vaudeville venue in New Orleans in 1926.
Most recently, Denise has immersed herself in the music of Hugh Martin, one of the last living composers of the classic Broadway musical stage. Martin is best known for his songs "Have Yourself a Merry Little Christmas," "The Trolley Song," "The Boy Next Door," and "An Occasional Man." Denise met him in 1986 when he was in San Francisco writing for A Member of the Wedding. Later this year she and Larry O'Leno are planning a show at the Star Classics Record Shop music room in San Francisco spotlighting Martin's music, with Martin himself in attendance as the guest of honor.

(Ruth Davies on bass, Kevin Gibbs on piano and Denise, vocals. photo by Haybert K. Houston)

Denise learned to handle her own bookings while she was in the Far East, and as usual she currently has a couple of irons in the fire. As of this writing she plans to leave September 22 for a trip to Russia to appear in a celebration in the city of Chelyabinsk there. She is also working on appearing at the New Orleans Jazz and Heritage Festival in her native state. She has attended this event and participated in the Mardi Gras in past years, so appearing in the festival would be like a return to her roots.
Denise's advice for would-be singers is simple yet overlooked: find songs that are right for you. "You can find music in all kinds of ways," she said, "but I think you have to listen with an ear glued to finding the right song to fit your voice and your style, instead of just going for what's popular."
She is partial to works by the the masters of the Broadway stage, such as Rodgers and Hart and her special friend, Hugh Martin, but she will use a song that's right for her no matter what the source. An example from her most recent recording is "If," written by David Gates and performed by the pop group Bread in 1971. But she draws the line at rap and hip-hop. "In this day there is so much junk that is called music. I don't qualify rap and that kind of popular genre as music, really."
Artistic integrity is another aspect of the sincerity you hear in Denise's singing. She does very little scat singing, if any. That kind of exhibitionism ("Look what I can do.") is foreign to her style. Denise wants you to feel the emotions a song can arouse. To do that at a live gig, she will open herself to her audience and invite them to participate in the ambience she's creating. She wants you to feel good about the one you're with, not marvel at her vocal prowess.
The lady is a class act.
by Nina J. Hodgson and Robert Tate




Denise's CD, I Wanna Be Loved, is available through the
Jazz Now Direct CD Store.

---

Back to , to read more about Denise Perrier