The Singapore Jazz Festival
(Continued from page 2)
Saturday, May 20, at the Main Stage (continued)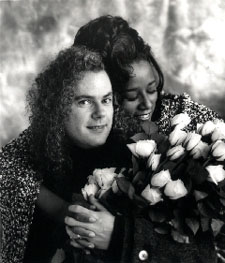 Saturday, May 20, showcased Tuck and Patti (promotional photo at right) at the main stage. We saw them before at the Palo Alto Jazz Festival. That must have been in 1991. We had forgotten what a fantastic guitarist Tuck is. He was Patti's back up rhythm section in one person. He was the bass, the drums, and the harmony without an orchestra. Great lyricism came from both. Their music was a conversation through emotion, through eye contact, through understanding. When Tuck played a solo piece, which he composed, "Early Morning Music Box," you could really hear and see what a magnificent guitarist he is. He called it a "trick" on his guitar. He plucked at the base of the fret board with his right hand while he chorded still with his left. He made the sound percussive and the string tort so it did sound like a music box. It was incredible to hear and watch him. The next piece he played had a Brazilian sound, but the way he played the guitar was like playing the piano, with its melody and harmony clearly distinguishable. Patti joined back in with "Time After Time." Then Patti did a solo piece with a Brazilian taste. It was also folk music like. It was an improvisation of vocal sounds. She vocally created the drum-like sounds and other percussive instruments. It was different. It was very interesting. And no matter how fast she was singing, you could understand her. The audience demanded an encore. They stomped their feet so loud I was afraid our seats might fall. After all, the tiers created for our seats were on stilts and temporary.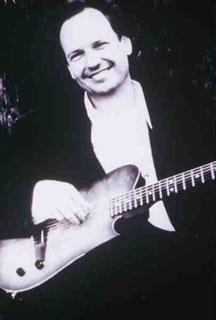 After Tuck and Patti, Lee Ritenour (photo at left) was announced as the greatest guitarist. For me, it would be hard to top Tuck. He was accompanied by Barnaby Finch on keyboard, Melvin Davis on electric bass, and Sonny Emory on drums. Ernie Watts also joined him on saxophone and flute. By the second piece of the program I didn't hear much greatness from him, and I heard rock rather than Jazz. With the amplification too loud to be enjoyable, we turned in for the night.
Sunday Afternoon, May 21, at the Main Stage

Sunday afternoon, May 21, started with an Asian American All-Star Variety Show at the main stage at 2:30 P.M.. It featured Vanessa Rubin, Eldee Young, Ernie Watts, Lee Jung Chic, Tots Tolentino, Terumasa Hino, Redd Holt, Michael Carvin, Mei Sheum, Eugene Pao, Michael Veerapen, Jay Anderson, John Van Deursen, and Jeremy Monteiro. They started with Michael Veerapen on piano. Michael is from Malaysia; Michael Carvin on drums, Eugene Pao on guitar, Tots Tolentino on alto sax; Jay Anderson on bass, and then Ernie Watts joined in with his tenor and Terumasa Hino with his trumpet. They started with "Blue Dolphin Street." Terumasa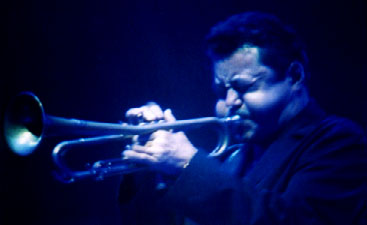 Hino (pictured at right) is an admirer of Dizzy Gillespie, as his trumpet bell is slightly turned up, and he is developing Dizzy's puffy checks. He liked the occasional high notes for the show and he sounded like Diz as well. However, I felt that Eugene Pao was more melodious on his guitar than Hino on his trumpet.
"Straight No Chaser" started with Jeremy Monteiro swinging on piano, Red Holt on drums and Lee Jung Chic (photo below) on saxophone. Lee was adventurous and powerful. He used different sound effects with his horn which was quite pleasing. Redd Holt showed off on his drum solo when he bounced a tambourine all over his body while keeping basic rhythm with his feet. When he battled with Jay Anderson on bass, they brought the house down.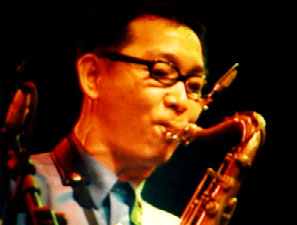 "Simeon" brought another trumpeter on stage, whose name I didn't catch. With an alto, a tenor, bass and piano, they created a big band sound. The amplification for Vanessa Rubin was almost too loud for the ears, and she performed at lightening speed while singing "Now is the Time."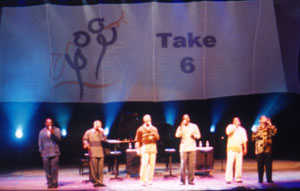 Take 6 (photo at left) that followed was an impressive, a cappella group. With their choreographed moves, they were a fine example of Gospel and R&B. Their members are Alvin Chea, Cedric Dent, David Thomas Mervyn Warren, Mark Kibble and Claude V. McKnight. They must have been fun to watch, but after the first tune, we opted to check out the regional groups outdoors.


(Continued on page 3)