The Singapore Jazz Festival
(Continued from page 3)
Sunday Evening, May 21, at the Main Stage
Sunday evening's first show was the Terumasa Hino and the Asia/America All Stars with guest star Jacintha Abisheganaden. It was most interesting because these must be the who's who of the Asian Jazz scene. There was Terumasa Hino on trumpets from Japan; Singapore's own Jeremy Monteiro, the Festival's artistic director, on piano from Singapore. Jeremy Monteiro is considered the godfather of Jazz in Singapore. He has played with musicians in the states, he is very well known over there and the people in Singapore refer to him affectionately as "Jeremy." Michael Veerapen, piano, is from Malaysia. Lee Jung Chic on tenor saxophone is from Korea; Tots Tolentino on soprano sax is from the Philippines; Eugene Pao on guitar is from Hong Kong. Jay Anderson on electric bass, and Michael Carvin on drums is from the States. This international group is quite accomplished. They played straight-ahead Jazz. They were creative and technically superb.

Of this particular set, I liked Eugene Pao. He shows technical skill and adventurous ideas. Michael Carvin's drums was tasteful. He knew when to back down, leaving space to create tension. Jeremy Monteiro with his crossover hand techniques brought excitement. Lee Jung Chic showed skill and ideas. Each musician managed to stretch his or her imagination. All were inspired, playing better and better, reaching, stretching and trying out ideas but eventually, were able to bring it all home. They played straight-ahead Jazz. Jacintha Abisheganaden of Singapore offered a couple vocal pieces, demonstrating a well studied, strong voice with a good range, and she provided really good sound for "'Round Midnight."

The Dizzy Gillespie Alumni Performance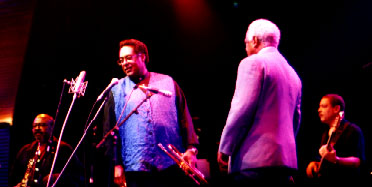 (From left to right: James Moody, Jon Faddis, Slide Hampton and John Lee)

After a short break came the headliners, the Dizzy Gillespie Alumni, with James Moody (flute and saxophones), Jon Faddis (trumpet), Slide Hampton (trombone), John Lee (bass), Benny Green (piano), Ed Cherry (guitar), and Dennis Mackrel (drums). James Moody and Slide Hampton are legends. To us, they were the headliners. Unfortunately, people in Singapore don't know much about them. More people, including the promoters, knew more about Tuck and Patti, Lee Ritenour, and Take 6 than James Moody. Those shows were sold out, but not the Dizzy Gillespie Alumni show even though ticket sales for this major event were not shabby either. I understand that most popular music is vocal since it is easier to understand and one has the words to hang on to. Straight ahead Jazz takes concentration, takes intense listening. It takes effort to understand, and thus more of a challenge to most people. That is a catch, isn't it? You want to draw the masses, therefore you bring in the musicians that the masses know, but some of what they play is not really Jazz. We were happy, though, that the Singapore Jazz Festival brings in the whole spectrum of what people call Jazz. The artistic director, Jeremy Monteiro plays straight ahead Jazz, and at the final day of the Festival he showcased the kind of Jazz he plays and brought along all those who play the same way he does. He brought the legends to Singapore, as if saying, "If you like the others, you might want to try this out, and you might like it the way we do." It is comforting to see and hear all these Jazz musicians around Asia enjoy and study Jazz. By the way, canned music of Miles and Monk, and other straight ahead Jazz was played during intermissions and before the concerts at the main stage.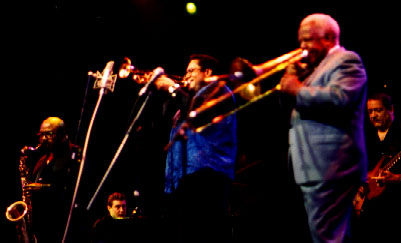 (photo at right, from left to to right: James Moody, Benny Green, Jon Faddis, Slide Hampton, and John Lee)
At the Dizzy Gillespie Alumni performance, you had some of the best in the Jazz scene. They tried to make it fun for the audience as well. First thing Jon Faddis said when the band came on stage was, "I have to introduce the band." I was searching in my program book for the names, and when I didn't hear the announcement, I looked up and saw the band members shaking hands with each other. They played "Menteca," "Fiesta Mo-jo," which showed Slide Hampton in great form. Benny Green gave an incredible run on "Salt Peanuts." Moody's tenor cadenza was warm and sweet. Faddis showed off his high notes in "A Night in Tunisia," and ended the piece with a piercing but focused note.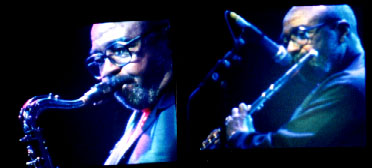 (James Moody on tenor and flute)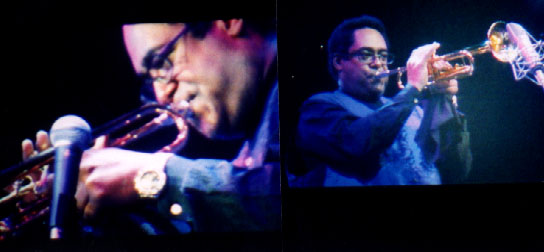 (Jon Faddis on trumpet)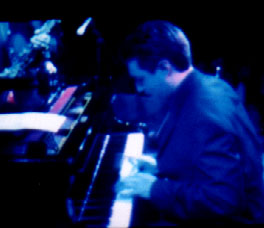 (Benny Green on piano)
Moody singing "Moody's Mood for Love" didn't satisfy the audience for the encore. They wanted the whole band back. Unfortunately, Jon Faddis was already on his way to the airport to rush to another gig back in New York. So Moody and Slide scatted on "Oo Pa Pa Da" to conclude this evening's superb performance.

Congratulations!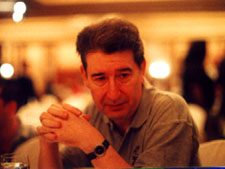 Hat's off to the Singapore Festival! Thank you Singapore Airline, Heineken, American Express and the Singapore Tourism Board. You have done a fantastic job. While visiting with Rick Clements, Vice President of Public Affairs, Singapore Airlines (photo at right), he told us that Michael J. N. Tan, Senior Executive Vice President of Singapore Airlines was the one who had the ambition, foresight, and benevolence to put together a Jazz festival in Singapore. We were told that Singapore International Airlines has always supported visual art and European classical music in Singapore, so why not Jazz. Mr. Tan, a Jazz fan himself, wanted to introduce Jazz to the people of Singapore who might not know it. He wants to encourage the continuous learning and exploration of this medium and eventually introduce Jazz in the public schools. What a wonderful idea! What a vision! Bless your heart, Mr. Tan! There were workshops for aspiring musicians to learn from the greats on Saturday afternoon, This was the first step of the introduction to those interested.

Singapore Airlines just sponsored a major horse racing event in Singapore the weekend before. Mr. Clements said they want to put the two events together to make it a holiday package for people all around the world.

As you may know, Singapore is an island at the tip of the Malaya peninsula. It is a city as well as a country. It does not have much natural resources of its own. The island is only about 364 square miles with about four million people. The main source of income is commerce. Therefore, tourism is an important industry. To have events like horse racing and a major Jazz festival will bring people into Singapore. In fact, a couple of our friends were going to pack up and go to Singapore with us if they didn't have prior obligations in London and Sacramento. At the last concert at the main stage, we met a gentleman who came from Shanghai, China, just for the festival, and we met a couple at the San Francisco airport on our return who went to the festival while they were visiting their son in Singapore. As we well know, the Jazz fans are mobile, and they will go anywhere for good Jazz.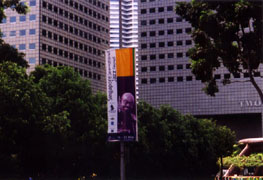 The festival did a fantastic job promoting the festival. They invited major media from all around the Pacific rim. We read a long article with festival pictures in the Singapore Wall Street Journal. There was an article in the Singapore Airlines magazine and the on flight video for at least the month of May. We happened to have picked up a brochure about world-wide Jazz tour back home and the Singapore Festival was included as one of the places to go. There were banners all over town, and particularly at the Suntec Center area. They put up big balloons to direct people to the outdoor stages, and gave out small balloons to children and passers-by. They made attractive and uniform signs for their booths. Nothing was overlooked, nothing was lacking.

Singapore International Airlines should be proud! We were never as well attended to by the most polite, attentive, and hardworking flight attendants. They worked fourteen hours straight (between San Francisco to Hong Kong) to make sure all the passengers were absolutely comfortable. The flight was so comfortable and eventless that we managed to sleep on our way over and our way back. Otherwise to think of having to sit in an airplane for a total of eighteen hours is quite unbearable. Besides, we had movies and other programs to watch. Each seat had it's individual television screen, and what a selection of movies. We even got to watch the Arturo Sandoval story! Right up our Jazz alley!

Since one of the main languages in Singapore is English, it is easy to get around. All signs and directions have English writings, together with Chinese, Malay, and Tamil. However, they speak English with a different accent, or I should say, we speak English with an American accent. The taxi drivers had a hard time understanding me when I asked them to take us back to the Conrad Hotel. A map of Singapore is easy to get and is free. Therefore, I pointed at the name of the hotel on the map to the taxi drivers and they nodded with understanding.

Singapore itself is beautiful. Native trees of different shapes and sizes, some I have never seen before. Palms of different kinds and huge in size are everywhere. Some of the tropical forest is preserved. We were told that the President of Singapore made sure that buildings are never back to back to each other, that there is always space between these concrete monsters and trees are to be planted in between buildings and on any open space. This provide shades for the people as well as the concrete and lowers the temperature of the island. That made Singapore's climate bearable even though it is one degree north of the equator and quite humid. We can learn from them, can't we, when we have neighbors who want to cement over any piece of grass they find in their yard.

There are also a lot of sculptures around. Architecture is interesting and pleasing. Singapore is well-known for its cleanliness and it is true. We didn't see any homeless people, but we were approached by beggars a couple times. Crime is low, but the local paper was talking about a murder case, and I saw iron bars at some windows.

Of what we saw with the little free time that we had, we liked, both as a country and as a festival. We salute Singapore International Airlines who put out a great festival, and judging by the number of attendants, we think it was a great success! It is hard to believe that this was their first try, considering how well organized it was. Singapore, let's do it again!
by Stella C. and Haybert K. Houston.
For more information about the Singapore International Festival, please visit their WEB site at: www.singaporejazzfestival.com
---
Back to

Jazz Now