E. W. Wainwright and the African Roots of Jazz at Yoshi's
(purchase a copy of this issue by e-mailing: jazzinfo@jazznow.com
---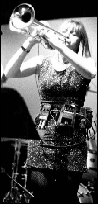 Saskia Laroo at Kimball's East, Emeryville
I was invited to Kimball's East by Saskia Laroo (pictured left, photo by Haybert K. Houston) to catch her show with Ghasem Batamuntu and the Nova Ghost Sect-tet. This is a rather large aggregation-at least ten people in the group. I was very impressed with Ambros Akinmusire, a young trumpet player who looks like he's about thirteen. He seemed to understand the direction of the music, even though to me the music sort of wandered about. Ghasem, the leader and composer of many of the pieces played confidently, and why not? He knew where he was going. His poetry reading is beautiful, primarily because his voice is beautiful, melodic, and soothing. Saskia Laroo got my attention when she was playing the muted trumpet; her instrument then took on a lot of soul and seemed to allow her to be more expressive. Thanks to my man, drummer E. W. Wainwright, the music had an anchor. Pianist Omar Sosa interpreted the music in a grand, flamboyant style. Sheherazade Stone's vocal offering was perfectly right on top of the music and made me want to see and hear more of her, but Kash Killion's cello contribution was very difficult to hear. Dancers interpreting the music added a visual effect that seemed perfect.
by Haybert K. Houston
---
Wanda Stafford at Enrico's, San Francisco
It was one of those Monday nights when the Forty-niners were playing football, so we music lovers had the place all to ourselves for a while. One fan took advantage of the lull by bringing in one of Wanda's albums that he had had since the seventies for her to autograph.
This quartet (Wanda Stafford, vocals; Vince Lateano, drums; Al Plank, piano; Noah Schenker, bass) performed as if they play together a lot, and maybe they do. I love Wanda's tone; it reminds me of June Christy. They covered the rhythmic spectrum from fast, up-beat tunes to very slow ballads. Many of the tunes are included in Wanda's CD Let's Face the Music. (It's available through the Jazz Now Direct mail-order catalog.) I was impressed with Wanda's enthusiasm, and she seems to love singing. I think her rendition of "I Can't Get Out of This Mood" is one of her best offerings. (She also sings this tune on her CD.)
Wanda also sings many of David Baker's arrangements, and I agree with David when he says that "This is a seasoned veteran talent deserving of wider recognition." So get out and hear her!
by Haybert K. Houston
---
Denise Perrier at the Claremont Hotel on the Oakland/Berkeley Border
Denise Perrier [JN, October 1997] doesn't just capture the people in her audiences; she enraptures them. As someone familiar enough with the craft of vocalization, she makes each note her very own piece of magic, injecting into it an uncanny degree of total, unrelenting warmth.
The same warmth invigorated the dancing shoes of the guests of the Claremont Hotel in Oakland, California, last November 14, where we heard Denise (pictured right) for two absorbing sets.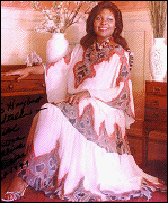 Interestingly enough, each tune on the menu was tailor-made for dancing - from the casual smartness of "Where or When" to the torrid, clave-tinged "An Occasional Man."
The tempo cooled with "Until the Right Thing Comes Along," which Denise dedicated to her father, then climbed again with her downright swinging treatment of Billy Joel's "Just the Way You Are."
Particularly noteworthy was the excellent cohesion among musicians Tammy Hall, piano; Mark Kennedy, bass; Raul Ramirez, drums; and Bobby Tynes, saxophones. It's a rare pleasure to experience live, tight music from enthusiastic players and, fortunately for us, this was exactly what we were treated to.
The highlight of the evening was Denise's sultry execution of "Please Send Me Someone to Love." We were electrified by the warmth of her rich contralto, which seemed to wrap its soul around the entire room, leaving everyone virtually speechless.
Make a special effort to hear Denise Perrier live as often as you can. Until then, purchase her CD I Wanna Be Loved through the Jazz Now Direct CD Store.
by Rosalind L. Picou
---
Jazz Now Magazine -- February 1999 Issue