Bob Ackerman started playing piano at age nine, followed shortly by alto sax, clarinet, flute, and tenor sax, the latter being his current main ax. In a telephone interview from his Irvington, New Jersey, home, he told me, "I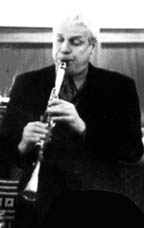 was always interested in the saxophone and often would get to hear people like Coleman Hawkins at the Metropole in New York." However, he was only twelve and couldn't actually go into the club. "My aunt, who was a Jazz fan, used to take me to theater and vaudeville matinees, where some of the big bands of the day used to play. That was in the late forties, and I heard Ellington, Basie, and Woody Herman. When the musicians would take a break at the Metropole, they'd come out onto the street and talk with us kids.
"Coleman Hawkins told me where to go for the best information on saxophones: Forty-eighth Street, which was known as Saxophone Heaven in those days because all the stores there related to saxes. It was a different kind of community back then; everybody had their own special little nichejust like the musicians; there was a lot of personality."
Ackerman (see photo above left by Haybert K. Houston) joined his school band, and at the same time, he said, "we had these garage bands in 1951, when I was only eleven, and we started getting gigs right away, like in local record stores and for school dances. So I was an employed musician by the time I was twelve and have been consistently since then."
Although Ackerman did receive music instruction in high school, apparently his teacher didn't show him how to read. "He'd just sing all the stuff to me," Ackerman said, "and I'd figure it all out for myself. After that, though, I did have some private lessons and eventually learned to read."
Once he knew he wanted to make music for a living, Ackerman acquired a teaching degree in music, majoring in flute and minoring in piano and going on to coach budding young musicians for the next ten years. "When I went to college," he said, "I met the singer Melba Moore. She was in my class, and I used to drive her to school. I got to meet her family, who came from the black community. Of course, I had been introduced to that community much earlier, because there were always clubs in that part of town that were the best places to go and hear the music. It's had a great influence on my playing ever since."
One of Ackerman's first opportunities to play with a name Jazz man came by accident. "I got sent at the last minute to sub for somebody up in the Bronx. My father had to drive me 'cause I was underage. That was with [drummer] Sonny Greer. I wasn't really ready for it. But later, when I was about eighteen, I was working in the Catskills and got to sit in with some of Ellington's guys, like Shorty Baker, Juan Tizol, and others when the band would play up there. During that time, too, I did some weekend work with Jimmy Dorsey's band and got to play once with Claude Thornhill."
Bob Ackerman is very well known in the saxophone world, since he is both a collector of rare instruments and a repair specialist.
"I have a workshop and music studio in my home," Ackerman explained, "where we make mouthpieces and fix instruments. In the studio, there's a huge Steinway grand piano and other equipment, so we can play any time of the day. I try to make that a part of the business as much as possible. If a young person needs to decide on an instrument, the best way is by playing."
He also owns about three hundred vintage horns, dating back to the early 1920s. "I use the ones from the l930s for my gigs," he elaborated. "That's right where I land. I have a couple of master class CDs that go along with articles in a publication called The Saxophone Journal, which specializes in wind instruments. They were on a series called The Great Horns of America, and they show the difference between the twenties through thirties and fifties through sixties in terms of how that particular instrument affected the player.
Ackerman is extremely passionate about the saxophone, yet for a time after he met his wife, vocalist Pam Purvis, he barely touched it. He tells the story of this fateful meeting. "It's now the middle seventies, and I'm just playing Broadway shows around New York and a little Jazz gig here and there, some piano, some sax, doubling where I'm supposed to be a clarinet or flute player. By now, I've quit teaching for about three or four years.
"One night I go into a club after my theater job to see a friend of mine who's also a sax player, and there's Pam singing. We clicked right away and got married six months later. And started working together immediately.
"Having taught Jazz improv, I'm a good accompanist, so I become her accompanist. It's very easy work, and I don't have to do this dumb theater work any more. We go on the road together, and I gradually start to teach her to play keyboards; she learns every night, on the job. She starts on bass, and pretty soon I'm able to go back to my horns. Now she can accompany herselfsimply, but very well." (See the article elsewhere in this issue on Pam Purvis.)
Ackerman and Purvis's most recent recordings are a treat for the ear. Ackerman's Live has him switching back and forth between his various horns with a couple of simpatico rhythm sections. And it's a joy to listen as he weaves in and around Purvis's smoky, saxophone-register voice on her disc entitled Imagination (see the Jazz Now Direct mail-order catalog or call 1.800.840-0465).
Both of these recordings are what might be termed straight-ahead. But Ackerman told me that they both stretch their boundaries in some avant-garde music from time to time. They can be heard occasionally at New York's haven for free music, the Knitting Factory, and have "tons of material in the can," which will probably be released only in Europe.
In closing, Bob Ackerman told me that when he was a kid, he bought Doing All Right by Dexter Gordon with Al Harewood, Horace Parlan ("I played with him for one night, when I was working the Catskills"), and Freddie Hubbard. "The sound of the saxophone on that recording is my favorite," said Ackerman. "I actually used that exact equipment, the mouthpiece and model of horn that Dexter played then. They kind of go together. That's one of the things I do in my business. I hook all these elements together for people in order for them to have a complete instrument, that really reflects who they are as a musician."
And that's what I mean about doing justice to this rather unusual man. He's a true original.
by Francesca Nemko
---