Pam Purvis Knows the Dramatics of Singing
by Francesca Nemko
Pam Purvis was born in Bogalusa, Louisiana, where she lived with her parents until her twelfth year, when the family moved to Dallas, Texas. "During my senior year in high school," she said, "we moved to San Mateo, California, for a short while. I had to take an extra course there, and I chose drama, because I figured it was an easy A. When we went back to Dallas, I graduated from my regular high school, where I had taken more drama classes and majored in theater arts."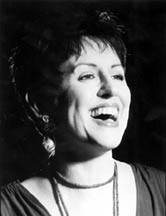 Purvis (pictured) went on to North Texas State University, where she continued her drama studies. From there, she went to the American Academy of Dramatic Art in New York.
"At the academy I had to take a singing class," Purvis explained, "and I found I liked it, although at the time I wasn't a great discovery as far as my voice was concerned. After graduation, I did my share of looking for work in the theater, working as a waitress to pay the bills. Finally I landed a job as a singing waitress at a newly opened apartment complex in Dallas. We'd wait on tables, then get up and do a little show.
"From there, I started hitting different clubs in the area and landed a job at a private club. I worked with three very experienced musicians, and I still think they only hired me because I was young and pretty, not because I could sing well. But I gained some invaluable experience there for about a year, and the piano player told me he thought I was ready to move on. He recommended me to a band that was on the road a lot. I got the job and we went all around the South and Midwest."
For a while she lived in New Jersey and didn't sing. "I decided I wanted to get back into singing and heard about a club called Gulliver's in West Patterson. I was told if I go there on a Monday night, I could sit in. I called and spoke to the owner, who informed me that he didn't do that anymore. Apparently he'd had a piano player there at one time who used to bring in what he called his 'proteges,' and finally it had gotten to the point where these singers were really not very good and the customers were complaining. The owner said 'No more,' and that's right about when I made my call to him."
Nevertheless, she convinced the owner that she was "a very good singer," sat in one Monday night, and finished up with a steady gig there, where she'd sometimes be in the illustrious company of such players as Joe Puma, Chuck Wayne, Gabor Szabo, Joe Morello, Jack Six, and Bob Ackerman. And regarding that last name, thereby hangs a tale, as they say.
"One night Bob walked into the club, heard me singing, and said 'Oh, that's for me.' We spent a lot of time together after that, and got married six months later. We went on the road as a duo for about two years, but we were round pegs trying to fit into square holes. We were doing this pop presentation because nobody where we were playing wanted to hear Jazz. When we'd appear at a Ramada Inn in the Midwest somewhere, we'd be told [here Purvis adopts a spoofy Midwestern accent]: 'You guys are really good, but you're too classy for this place.'"
All this time, the couple had been working as a duo, with Ackerman mainly at the keyboards. "Eventually, Bob started me on piano," said Purvis. She hastened to point out, though: "I don't really play piano, just bass lines and chords. I don't take solos. I really resisted learning the piano for a long time."
Accompanying herself freed her husband to back her on his range of horns (see article on Ackerman), and Purvis is quick to credit her vocal style to "living with a horn player."
She acknowledges that it's taken many years of hard work. "When I started singing, I didn't just suddenly open my mouth and out came this wonderful voice." In fact, she told me a story of an experience she had in the sixties, when her college pals would laugh every time she started to sing. "They did a little skit one day, and I'll never forget this; they said, 'Here's Pam singing one of her folk songs.' Then they put on a record of Mrs. Miller! [a popular vocal parodist of the day] So I went to this friend of mine and asked, 'Do I really sing that badly?' And he answered, 'Well, Pam, you do have a few pitch problems.'"
Yet, although she has more than mastered the technical aspects of her voice, she hasn't sacrificed the emotion so necessary to a convincing performance. "You always have to watch that," she explained. "Years ago, I went to sit in with a pianist at a long-gone New York club called the Village Corner and sang 'Honeysuckle Rose.' At the break, as we came off the stand, he said to me, 'Young lady, it might be wise to sing the melody on the first chorus so that those out there in your audience who are not familiar with this song will know what you're doing when you start to improvise.' I kind of blew him off at the time; but in the last several years, I've decided he was exactly right."
In Purvis's discography, besides the above-mentioned Imagination, there's another CD (all the rest are old-fashioned albums) called If I Think of Something I'll Let You Know, which she describes as "a really different kind of music, much more avant-garde. There are two totally improvised pieces on it, plus some originals and Jazz standards like 'Con Alma.'"
"When I tell people who hear me sing standards that I do this other thing also, that's so far off in another direction they get kind of upset, because you're not in one little box. Like, 'what are you, apple pie or tiramisu?' Well, I'm both. I just recently recorded three pop tunes in a very different way. One of them is 'Ode to Billie Joe.' I just love the drama and theater in that; it has all the elements of great storytelling."
Purvis and Ackerman recently debuted together at Stars restaurant in San Francisco. The gig was reviewed in the May 1999 issue of Jazz Now. Check out Purvis's CD, Imagination, in the Jazz Now Direct mail-order catalog or e-mail to:jazzinfo@jazznow.com
by Francesca Nemko
---
Jazz Now Magazine -- May 1999 Issue