Mishla at Porto Brasil
Mishla is a long-time acquaintance who plays cello in our band, the Not Ready for Yoshi's Players. But on this night, she was doing what she does professionallysing. Porto Brasil, located in Kensington, California, was 95 percent full when we got there and soon was standing room only. Mishla was deep into her Brazilian mood. She is one of the few Norte Americanas whom I have heard sing in Portuguese and do it justice. With her dark, sultry beauty, Mishla could be from America de Sul. (South America to you). Listening to her took me back to when I was in the New York Club in Ipanema, Brasil (Brazil to you). Drummer Phil Thompson left no spaces untouched in a welcome, rhythmic way. Chuck Shur on bass provided a solid bottom that Mishla used as a vehicle to propel her through each tune. A wonderful, enjoyable show, and considering the packed house, the owners would do well to have more of these sets.
by Haybert K. Houston
---
The John Handy Festival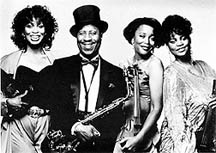 I am so happy when players who have contributed to my favorite art form, Jazz, get formal acknowledgment of their allegiance to this music. Such was the case with what I hope turns out to be the first annual John Handy Jazz Festival hosted by San Francisco State University.
John (left) has long been associated with San Francisco State University. On this evening he was accompanied by his group Class, which includes vocalist Buddy Conners and violinists Tarika Lewis, Sandy Poindexter, and Julie Carter. John and Buddy have both been Jazz Now cover subjects, John in February 1998 and Buddy in July 1992. This evening they performed with three other Jazz Now cover artists: George Spencer, piano (JN December 1997); John Santos, percussion (JN September 1998); and Harley White, bass (JN June 1999). That is more of our cover alumni than I have ever seen in one place except for a Jazz Now party. The drummer was Vince Lateano, and Lisa Pollard was on tenor sax.
As a tribute to Ellington they played a slow ballad rendition of "Take the 'A' Train" that was marvelous. Lisa was featured in the introduction; then Buddy took over and George traded lines with Buddy on the tune. I hope they record this. It was an exciting set.
Les McCann (JN August 1998) played a set before John's group came on and made the sixth Jazz Now cover subject on stage that night.
Even though this was a first annual event, the auditorium was packed. That says a lot for the caliber of musicians who were invited to play. Looking forward to the second annual event.
by Haybert K. Houston
---
Antoine Hervé at Café Du Nord
(Read about this in the hard copy of Jazz Now Magazine. Order via e-mail at jazzinfo@jazznow.com)
---
Pharoah Sanders Quartet at Yoshi's
The Pharoah Sanders Quartet came to Yoshi's this past June and treated us to some wonderful new sounds. Babatunde Lea on percussion was new to me in this group, but he performed as an integral part and gave the group an Afro-Coltrane sound. Yoron Israel played traps.
William Henderson III is an awesome piano player. I always look forward to Pharoah's coming to town because it is the only way I can hear Henderson. This time he sounded more like McCoy Tyner than ever before. Maybe that was because this set sounded like a continuation of Coltrane's offerings.
Alex Blake's bass contribution on "Too Young to Go Steady," a Harold Adamson/Jimmy McHugh composition, was beautiful. That is one of my favorite pieces. I look forward to their next visit.
by Haybert K. Houston
---