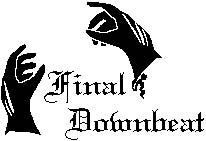 On February 28, 2000, a fatal heart attack struck John "Jimbo" Edwards [JN, March 1998], an historic San Francisco character we all hoped would live forever. Born eighty-seven years ago in Texas, Jimbo leaves Leola, his loving wife; Jerry, his son; two sisters; a brother; two grandchildren; three great-grandchildren; a host of relatives and friends; plus countless "adopted" children. I am an adoptee.
Visiting San Francisco's 1939 World's Fair, Jimbo and Leola liked it so well, they stayed. Ever resourceful, Jimbo became San Francisco's first African-American car salesman, but fate intervened when Charles Sullivan, a prominent businessman in the Fillmore community, offered Jimbo a deal on Slim Gaillard's defunct Jazz club, Vout City.
The world-renowned Bop City started humbly in 1950 as Jimbo's Waffle Shop, a tiny café. When musician friends claimed the empty back room for jam sessions, Jimbo recognized the opportunity and parlayed those haphazard sessions into a wildly successful after-hours Jazz club. During its fifteen year run, traveling stars and sidemen mingled and jammed with the cream of the local players. For young musicians, it was the ultimate school. For Jazz fans, it was heaven. Guarding the entrance, Jimbo would say, "We don't allow no squares in Bop City. If you don't understand what we doin', then leave and don't come back." But musical and social changes were afoot, and the funky Jazz club closed in 1965.
Subsequent ventures in San Francisco and Los Angeles kept Jimbo busy. But his Bop City memorabilia was gathering dust, and he wanted to document those glory years. We met in 1992 at Coffee Ron's, where musicians informally gathered. I invited Jimbo to the premiere of my recent Jazz video, he came, saw the video, and we became friends. Documenting Bop City turned into a five-year video project, premiering in 1998 as The Legend of Bop City. The documentary developed a life of its own, and so did our friendship.
At first, we mostly talked Bop City. With time, though, we laughed, consoled, argued, reconciled, and supported each other through sad and happy days, covering every topic under the sun. And it is here where Jimbo really shines. Gruff and uneducated, hip and dap, blunt and wily, Jimbo was one of the wisest, most caring individuals I'll ever meet. Behind those dark glasses, a lively intelligence sparked, undiminished by age. Many people have confided, "he was like a father to me" or "he helped me when I was down. He fed me when I was hungry, gave me a place to sleep." He was still doing his thing, right up to the end.
He had an opinion on almost anything, and with his Texas accent, didn't do Rs if he could avoid them. Here are a few of my favorite Jimboisms:
On the difference between now and then: "Everybody was happy, see, 'cause everybody had jobs. With money you got a different attitude."
On attitude: "Without being friendly, ain't nothin' happenin'."
On aging: "When you get to be eighty, you can be grumpy, too."
On friends and aging: "All the old people ain't there no mo' so you got to go with new friends."
On Bop City: "They was only one boss and it was me."
On race relations: "If it ain't for everybody, it ain't about nothin'. I don't want no part of it."
On apologies: "You makin' me into a nice guy-dammit!"
As local musicians passed away, we attended memorials-Flip Nunez, Tommy Smith, Sweetie Mitchell, Wyatt Ruther. It was getting sad. The last time I saw Jimbo was at Yoshi's Tribute to Pat Henry. Jimbo was hale and hearty as we reminisced about visiting KJAZ founder Pat Henry years ago at his Orinda home.
It was early in the video project, and we were there with Ray Simpson to interview Pat and Jimbo (pictured)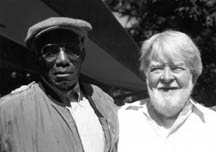 . It was a videographer's nightmare. Pat, the whitest of men with his white shirt, hair, and beard sat beside Jimbo, the brownest of men, in his brown jacket, cap, and sunglasses. They talked simultaneously, laughing and telling stories.
Pat recalled, "We had a thing called the Jazz Notebook. Because clubs couldn't afford to advertise on a regular basis, we'd combine the nightclubs. We'd read one page of the notebook and later another page. It'd list all these various clubs and their addresses and hours of operation. Of course, Jimbo's operation was unusual because it didn't open up til two in the morning."
"And I had a little cheap spot. Four dollars," Jimbo remembered.
"Well, you were on several times a day for that amount of money."
"Yeah, and every so often, 'cause, see, I didn't pay good, I pay slowly, and here come Pat with his little pad out there. 'Here, Jimbo, what about this?'"
Pat added, "Well, it was very hard to find you."
"Yeah. I'd take off when I seen him comin'. Ah, the boy'd say, 'He's gone!'"
After all those years, they laughed heartily over it. When shown Pat's vintage automobiles, Jimbo's mouth watered. He'd always been a car man himself, back when he could still drive.
Jimbo understood that friendships demand time. He had a pattern of regular communication with each of his friends. Earl had lunch every other week, Rook joined him at the Lucky Penny, Smitty had yet another schedule. Tuesdays were our time for quick status checks by telephone. If I felt ill, I hid it, but he usually called the next day to see if I felt better. He didn't miss much.
Four days before his heart failed, I spoke with Jimbo for the final time. He was concerned that "they" wanted to pigeonhole him in the Fillmore District. Why, he wondered, couldn't he just be a San Francisco person? Not to worry, Jimbo. For the record, Jimbo Edwards was among the best citizens that San Francisco ever produced. In that last conversation, we discussed grandchildren, friends, work, concerts, plans for the upcoming week. We ended cheerily, with his usual signoff, "OK, I'll get back to ya! Hanh!"
by Carol Chamberland

Jimbo was a unique combination of old-world courtly gentleman and crusty old street cat. Nina and I wrote a story on him a couple years ago for Jazz Now magazine. Actually, Jimbo pretty much wrote the story himself, dictating his reminiscences in measured cadences into our tape recorder. When we were done and Jimbo had gone, we realized that some impossibly good-natured journalistic god had given us the story of a lifetime. We ran it practically as he dictated it.
We stayed in touch. Jimbo took a particular liking to Nina and would call her up at irregular intervals to update her on the world according to Jimbo. Last year, after the Living Legends Concert at the West Bay Cultural Center in the Fillmore, Jimbo saw Nina leaving the parking lot and stopped her for a conversation. "How's that man of yours?" he asked. "Let me see your ring." (Nina has a particular jade ring that Jimbo liked.) They talked for five minutes while traffic backed up behind them. Jimbo being every inch the perfect gentleman in manner and bearing, no one in the cars lined up to leave starting honking their horns or making asinine comments out the window. It was a rare moment of triumph for courtesy and grace in an age of rampant selfishness.
As Jimbo would have said himself, "ain't that sumpin'."
by Robert Tate
To Gus Johnson with Love
As I write this I'm listening to Mr. Gus Johnson with the Count Basie Band's Dance Session No. 2. I first heard and met Gus in '43 (or '44) when Jay McShann played a graduation dance for my high school in Indianapolis, Indiana. The grad dance was always special, and was not held at the school. It was held at a private hall from 12:00 to 4:00 A.M. I was thirteen or fourteen years old and had never heard a band like this. It was hot-kind of rough, and man was it swingin'. Some years later I realized I'd actually heard Charlie Parker play the blues. I really dug Walter Brown shouting the blues in front of the band without a mike.
I soon began to focus on Gus at the drums-Gene Ramey on bass and Jay McShann at the piano. They were so loose and relaxed and oh so powerful. I had not seen Papa Jo Jones in person yet (that came later). I had heard Jo on records with Basie, and I started heading in that direction. I was fortunate to dig Shadow Wilson in person with Illinois Jacquet and Davey Tough with Woody Herman. Later for Gene and Buddy-no offense-they were great but the musical path I was on led me to Diz, Bird, Jug, Monk, Max, Blakey, Roy Haynes, and Philly Joe.
It all seemed to start that night with Gus. I remember that during a break I walked up and shook hands with Gus as he was getting off the drums. He was very friendly and we sat down on the edge of the drum riser, got a couple of Seven-Ups and I asked him about his hi hat. He said he had the same cymbals for a long time. His other two cymbals weren't very big, maybe sixteens or seventeens (twenty-inch rides came in a year or so later). Most good drummers played a lot on the hi hats (and maybe a Chinese with rivets). He told me to listen to the whole band (or group) not just the soloist. That reading, although important, had nothing to do with swinging. Swinging was feeling and movement and wasn't in books! It was personal and could be developed but was usually there from the beginning. The half-hour break was soon over. I thanked Gus, we shook hands again and I went back out and stood in front of the band. What a drum lesson-or better yet-what a music lesson.
Around 1950 I was giging with older musicians, and the younger cats my age whom I hung with were into bebop, and I was into Klook, Max, Art, and Roy. However, I still dug Papa Jo, Big Sid, Shadow, Gus, and Dave Tough.
One day some of us drove up to Chicago to hear Ammons and Stitt at the Blue Note and the Count Basie Octette at the Brass Rail. We decided to catch Basie first, and we never got to the Blue Note. The Count had Wardell Grey, Clark Terry, Buddy Defranco, and Serge Chaloff in the front line and Basie, Freddy Greene, a fine bass player (sorry, I forgot his name), and Gus Johnson on drums and, oh yes, a singer living in Chicago named Joe Williams.
Maybe a year later Basie reformed his big band with Gus and Joe on board. I heard Gus often with Basie in Indianapolis and Chicago before I moved to San Francisco in '57. I also have a lot of records he made with the band. Some on 78, LPs, and EPs (45s). I really dug how he ended tunes with Basie. While the band held the last chord, Gus would roll on the cymbals. It was a very open single stroke roll-what a roar-what a cushion. It really seemed to add more good notes to the chord the band was holding 'til the cut-off-BAM. I incorporated this when I played with Rudy Salvini's big rehearsal band for many years.
Once when Gus was here with Ella we went over to Oakland to catch John Markham with John Coppola's small big band. I asked Gus how he happened to start ending big-band arrangements with the cymbal roll. He laughed and said, "That was the 'onliest' way he knew how."
To me Gus played in the great tradition of Count Basie drummers Jo Jones and Shadow Wilson. These musicians-Jo, Shadow, and Gus were to me the epitome of how drums should sound in a band-large or small. I would not hear another drummer I really dug with Basie until Harold Jones came along. To me Harold was an extension of the other three. Of course Freddy Green was still there then.
If you want to dig Gus on some of the many records he cut with Basie try Dance Session #1, or Dance Session II, Why Not, You for Me, April in Paris (the original recording), and The Drum Suite I by Manny Albam. For small group Gus is at his best in The Modern Art of Zoot Sims, and I Hear Ya' Talkin', with the Frank Wess group.
One last closing chord. Gus was a hell of a brush player. I once caught him at the Bach Dancing and Dynamite Society. During a bass solo by Milt Hinton, Gus played brushes on the closed hi hat and also on part of a piano solo. Of course he played brushes on the snare and ride cymbal too-like we all do-but on closed hi hat; I mean, man it was so soft-but right there. After the set I asked him about the great sound and feeling he got on the hi hat with brushes. Once again he said, "It was the 'onliest' way he knew how." Gus was real big and powerful and oh so gentle.
So long Gus, we will miss you.
Yours truly,
Benny Barth
February 22, 2000

The Bay Area lost a serious friend of Jazz with the sudden death of Henry Page on January 26, 2000, at the early age of fifty-one.
Henry and his friend, Herb Wong, founded the Palo Alto Jazz Alliance in 1992 to further the appreciation of Jazz and to support Jazz education in the Palo Alto, area. As a tribute to Henry, the Palo Alto Jazz Alliance will establish a Henry Page memorial fund to assist the Jazz education program at Cesar Chavez Academy in East Palo Alto, California. Contributions may be sent to PAJA-Henry Page Fund, Box 60397, Palo Alto, California 94306.
That tribute is appropriate because Henry was both an avid Jazz fan and an educator. He was a high school counselor and since 1982 served as principal of the Palo Alto Adult School where in 1988 he introduced a Jazz appreciation class taught by Herb Wong.
He worked tirelessly and received many awards for his community service including the YMCA, the Palo Alto Medical Foundation, Kiwanis, and the Cultural Diversity Network of the City of Palo Alto.
During his lifetime he was active in a variety of sports, held a Black Belt, and demonstrated and coached the sport of judo.
Michael Griffin in his Jazz Buff tribute summarizes the essence of this renaissance man in a quote from the 1997 Palo Alto Medical Foundation's annual report: "The notes that play through Page's life-a passion for Jazz, community service, mental and physical discipline, dedication to family and friends, and a sense of indebtedness to his ancestors-are interwoven with a dominant theme of education."
by John Tibbetts

---
Back to

Contents Page
Jazz Now Interactive

Copyright Jazz Now, March 2000 issue, all rights reserved
jazzinfo@jazznow.com