Good Time Clock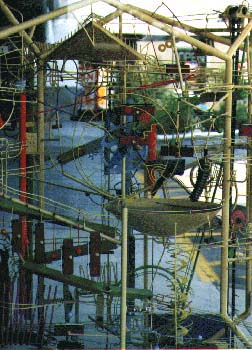 A smile is the most prevalent facial expression among viewers of Rhoads' sculptures. The "Clock" can be used as a psychological testing device -- if you don't smile when it tells you the time, seek out your nearest psychiatrist. You got problems.
Rhoades loves machines and feels they have been mistreated by society. "People generally have a cheerful response," he says, "and children stand for hours looking at them."
He was born in Chicago and graduated from the University of Chicago in 1945. Museums and galleries have exhibited his art internationally. His works are in the permanent collections of the Museum of Modern Art (New York), the Chicago Art Institute, and the Ruther Institute, among many.