Lunatics
by George Rhoads, 1988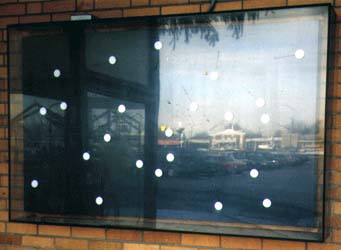 George, no one else, dreams up these titles!
Again, using ordinary everyday materials such as quartz clocks or AC clock motors and blue paint, the artist transforms them into a magic world of white moons on the move -- ticking and chattering away.
Rhoads was born in Chicago and graduated from the University of Chicago in 1945. Museums and galleries have exhibited his art internationally. His works are in the permanent collections of the Museum of Modern Art (New York), the Chicago Art Institute, and the Ruther Institute, among many.