Pinto Pelt
by Dustin Shuler, 1988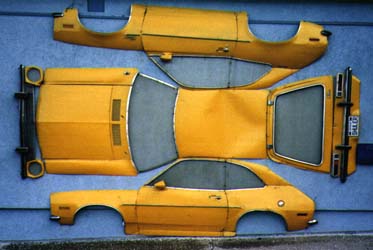 Dustin Shuler tracks automobiles in the hunting tradition of the old west displaying their flattened bodies as "Auto Pelts".
Dustin Shuler was born in 1948 in Pittsburgh, Pennsylvania and now lives and works in the Los Angeles area. He has auto works in the de Saisset Museum, Santa Clara, California; the Department of Motor Vehicles of the State of California in San Jose; and at the San Francisco Parking Authority in San Francisco, California.
Copyright held by Dustin Shuler. All copyright laws apply.