Windamajig
by George Rhoads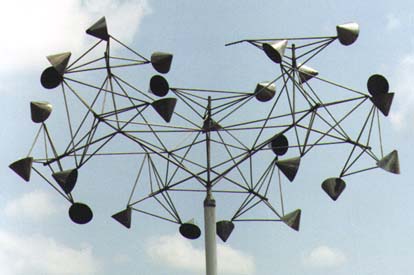 Following in the tradition of sculptures powered solely by the wind first created by the famous American artist Alexander Calder, George Rhoads also evokes humor and wit by the unusual and eccentric movements of his wind piece. The differing visual and sound aspects are at random.
No Wind -- No Movement -- No Sculpture
Rhoads was born in Chicago and graduated from the University of Chicago in 1945. Museums and galleries have exhibited his art internationally. His works are in the permanent collections of the Museum of Modern Art (New York), the Chicago Art Institute, and the Ruther Institute, among many.