Checking Out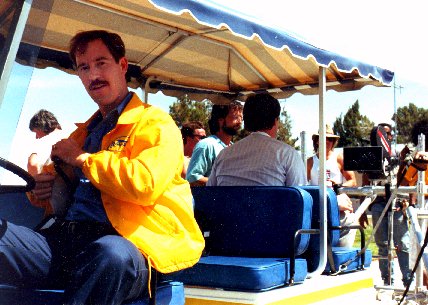 Here I am in costume on the set of Checking Out, preparing for the shot.
Jeff Daniels has his back to me; he's facing the camera which is mounted on the back of the golf cart I drove.
I had two lines which, although cut out of the movie, can be heard below:
My first line.
My second line.
Talented, huh?
If you're rushing out to the video store to rent Checking Out, good luck finding it.
Although it received two complete stars in most reviews, it's hard to find these days.
If you do manage to find it, please let me know where, because I never even made a copy for my mom.
Perhaps this is because, along with my lines, most of my scene is cut out.
You can catch a glimpse of me toward the end of the film as I drive Jeff out to the plane.
My mom would recognize me, but I don't know if you would.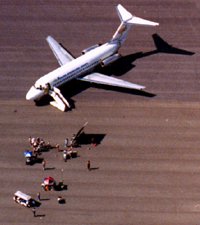 After my scene was shot, I rented a plane and flew over the set
(we were shooting the scene at an airport out in the California desert).
To date, I think this is the last time I piloted a plane.
(See my Crashed an Airplane page.)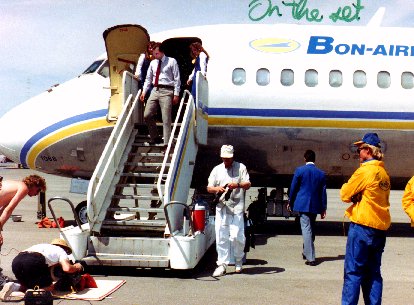 Here's another shot of the set.
Jeff is rehearsing an exit from the plane.
Camera is being set up in lower left.