Copyright &copy 1999 by John T. Crawford.
---
---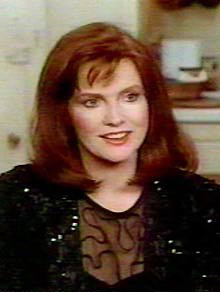 Molly Catherine Bickford Dodd
(Blair Brown -- IMDB <-- click to go to her listing on the Internet Movie DataBase)
TBD
Molly, of course, appears in every episode (65 of them); in fact, she is in almost every scene, with the exception of her baby shower -- probably because Blair Brown directed that episode.
---

Davey McQuinn
(James Greene -- IMDB)
The elevator man in Molly's building, who seems to be completely incapable of landing within a foot of any given floor. Later, after "old Bessie" is replaced with an automatic elevator, he becomes the doorman.
TBD
Davey tells Molly that he has previously worked, at various times in his life, as a pugilist (i.e. boxer), acrobat (one of the "Flying McQuinns"), aviator, wing-walker, crop-duster, salmon fisherman, lumberjack, and "private dick." However, that should probably be taken with a grain of salt, given how inaccurate some of his other tales turn out to be, about his son Jimmy, for example.
Davey appears in every episode (65), the only character besides Molly to do so.
---

Florence Bickford
(Allyn Ann McLerie -- IMDB)

Molly's mother, TBD

Florence appears in every episode (59) except:

Also, she is heard but not seen in:
---

Fred Dodd
(William Converse-Roberts -- IMDB)
TBD
Fred is in too many episodes to list by name (31, roughly half), so here they are by number:
---

Nina Beth Shapiro
(Maureen Anderman -- IMDB)
TBD
Nina appears in the following episodes (14, surprisingly few considering her importance in Molly's life, but she is always there for the milestones -- birthdays, funerals, baby showers):
---

Detective Nathaniel (Nate) Hawthorne
(Richard Lawson -- IMDB)
TBD
Nate appears in the following episodes (22):
---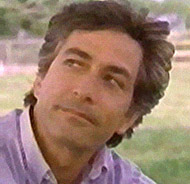 Moss Goodman
(David Strathairn -- IMDB)

TBD

Moss appears in the following episodes (20):

Even in the company of the amazing cast of actors listed above and below, David Strathairn shines. Any episode in which he appears is guaranteed to have at least one interesting element.
---
---

Edgar Bickford
(Richard Venture -- IMDB)

Molly's father, TBD

Edgar appears in the following episodes (8 total):

then we just hear his voice in:
---

Maimie Bickford Grulnick
(Sandy Faison -- IMDB)

Molly's younger sister (by four years), and Dwight's twin. She is married to Len Grulnick, who is much-discussed but never seen; he is, as Maimie always insists, not merely a dentist but an endodontist. Maimie is a flighty ... TBD

Maimie appears in the following episodes (8):

Her two children, Jason and Tiffany, are also seen briefly in two of those episodes (205 and 210), and heard but not seen in the last one (212). Unfortunately, Maimie disappears after the second season, either because she moves to Vermont or because the actress was no longer available, depending on how you look at it. (Sandy Faison appeared instead in the first season of Anything But Love, starring Jaimie Lee Curtis and Richard Lewis, a moderately good show but certainly not in the same league with Molly Dodd.)
---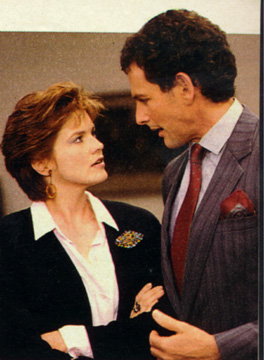 Dennis Widmer
(Victor Garber -- IMDB)

TBD

Dennis appears in the following episodes (10):

Victor Garber is one of those superb New York character actors, like Nathan Lane, John Glover, John Pankow and J. Smith-Cameron, not to mention Blair Brown, who is always excellent in whatever role he performs.
---

Nick Donnatello
(Jay Tarses -- IMDB)

TBD

Jay Tarses not only plays Nick, he is also the creator of The Days and Nights of Molly Dodd, and wrote and directed many of the episodes; he is clearly a major talent!

Nick appears in the following episodes (10 total):

Jay Tarses also shows up, presumably because Molly has dredged Nick's image up out of her subconcious, as Gary, the gay football player who is one of the "fantasy children" that she imagines in:
---

Arthur Feldman
(George Gaynes -- IMDB)
TBD
Arthur appears in the following episodes (17):
---


Mike & Bonnie Sayles
(John Glover & Constance Shulman -- IMDB; IMDB)

Mike is Molly's 2nd cousin from Baltimore, which he pronounces in the native dialect as something like "Baldimer." He is always telling embarrassing stories about Molly's childhood visits with him and "Aunt Mim;" of which Molly has no recollection whatsoever. In fact, Molly has no idea who he is when she first runs into him at Edgar's funeral; but this does not deter him from inviting himself to stay at Molly's place whenever he is in town. On his second visit, he brings along his wife Bonnie, a West Virginian; their relationship is very intense and quite volatile. Molly has to absent herself from her own apartment several times because they are either fighting or "making up."

Cousin Mike appears on his own in (3??, 5 total):

and with Cousin Bonnie in (2??):
---
Sarah Reddick
(Jennifer van Dyck -- IMDB)

Molly's young, enthusiastic boss at her publishing job. Molly is initially reluctant to even go on the interview, especially since it was set-up by Arthur, who as a theatrical producer has connections in the publishing world. (Sarah even tells Molly that Arthur is the godfather of "Zacharino," Sarah's baby son.) Sarah mostly treats Molly pretty well, and is remarkably tolerant of Molly's many delays in starting work, but she has a very brusque manner and bosses Bryce around mercilessly, at least until she gets her comeuppance.

Sarah appears in (6):

Incidentally, Jennifer van Dyck attended Brown University, where she acted with my brother Jim in Steven Sondheim's A Little Night Music and a musical version of P.G. Wodehouse's Code of the Woosters; she was very talented even back then.
---
Bryce
(Drew McVety -- not found in the IMDB)
Bryce starts out in publishing as just a temp working for Sarah; but, aided by the Yale old-boy network (he is a former Whiffenpoof), he rises rapidly. Bryce is very ambitious, rather devious, and a bit mysterious; fortunately, he likes Molly. He is aparently gay and dating Trent, though this is never stated explicitly.
Bryce appears in (10):
---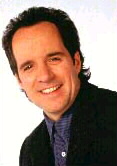 Ron & Ramona Locasey
(John Pankow & J. Smith-Cameron -- IMDB; IMDB)

Molly's new neighbors, who move in after the death of Ron's mother, Mrs. Locasey, who appears twice in the second season. Molly is initially put off by having neighbors who actually want to socialize (they are from a remote land known as Queens, and do not understand the customs of Manhattan life); but she gradually grows quite fond of them. They are an infertile couple, so they have profoundly ambivalent feelings about Molly's situation, mixing great joy with envy.

Ron and Ramona appear together in (7, 13 total):

Ron appears without Ramona in (1):
---

Jimmy McQuinn
(James Gleason -- IMDB)
Davey's son, an out-of-work actor who finds work in his father's current profession, as a doorman. (Finally, Davey does not have to work 24 hours a day!) He bears almost no resemblance to the tall tales that Davey tells Molly about him before they meet. Jimmy appears in (8):
---

Detective Urib&eacute
(Shawn Elliott -- IMDB)
Nate's partner, who becomes rather protective of Molly. Detective Urib&eacute appears in (4):
---
---

Dwight Bickford
(Darrell Larson -- IMDB)
Molly younger brother (by four years); he is Maimie's twin, but also her polar opposite, even more so than Molly. Whereas Maimie's life is stable and settled and reliable but superficial (at least when we first meet her), Dwight's is unstable and unsettled and unreliable but deeply committed to helping humanity. He has a long, braided pony tail and lives on an Indian reservation in Arizona (??), where he works as a paralegal. Though he rarely sees her, he seems to have a good relationship with Molly, and also with ex-brother-in-law Fred. It seems that Dwight and Gail and Molly and Fred, and probably also Nina and Robin, used to hang out together a lot, back in the "good old days."
The only reason Dwight returns to New York is for his father's funeral (for which he is late), so he unfortunately appears only in (2):
---
"The Guys:" Larry, Sherman, Chuck, and John B.
(Larry Farrow, Sherman Ferguson, Chuck Findley, and John B. Williams)

The former members of Fred's old band, "The Fred Dodd Quintet." Alex is the white guy playing the trumpet in one episode:

John B., the black string-bass player with the shaved head, is missing from the last of these: instead we see a white guy playing bass, who is not named or credited. Larry is the tall black piano player, and Sherman is the bearded black drummer. Given their comfort with their instruments and their relative awkwardness with their few lines, I have long suspected that the guys are the actual musicians used by composer Patrick Williams to produce Fred's music (and perhaps other incidental music as well), but that is just speculation on my part.
---
Birmanyi, aka "Bill"
(Kabir Bedi -- IMDB)
A wealthy Indian man who is initially a Real Estate customer of Molly's, and later goes on a couple of dates with her. Molly has difficulty pronouncing "Birmanyi," so he suggests that she call him "Bill," which she does. Birmanyi appears in (3):
---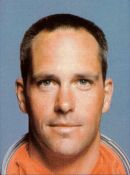 Blake Novak
(Charles Frank -- IMDB)

A pilot that Molly dates briefly, including a couple of awkward run-ins with her father. Blake appears in (2):

Charles Frank is perhaps best known for his role as Scott Carpenter in The Right Stuff (he looks much younger in that picture than he did on Molly Dodd).
---

Dr. Judith Lichfield
(Christine Healy -- IMDB)
Molly's psychotherapist, recommended to her by Nina. Molly's sessions with her are frequently interrupted by phone calls from her friends Kenny and Sally. She seems to have ample problems of her own. (I won't spoil it by being specific, so that you can enjoy it for yourself.) Dr. Lichfield appears in (3):
---
Robin
(Robin Pearson Rose -- IMDB)

Molly's and Nina's old friend, who has settled down, gotten married (to Russ), had kids, and moved to New Jersey. Not to be confused with Gail, another old friend. Robin appears in (2):

Like Maimie, she disappears after the second season, though she is not as sorely missed as Maimie.
---
Kirsten Haaken
(Mary Stavin -- IMDB)
Fred's fianc&eacute, the Swedish cross-country skier. She appears in (2):
---

Randy
(Gina Gershon -- IMDB)
Fred's girlfriend, and the guitar player in his new band, "New York Subway System," as Molly dubs it (not to be confused with Fred's old band, "The Fred Dodd Quintet"). Randy, played by a young Gina Gershon, appears in (3):
---

Bing Shalimar
(Nathan Lane -- IMDB)

Bing Shalimar, "like the crooner and the perfume," owner of the "It Would Be Our Pleasure [To Do It For You] Agency", where Molly interviews for a job. Just to prove that he really does do everything, later in the series, he even takes on the dreaded task of... babysitting! Very humorously played by Nathan Lane before he hit it big in The Bird Cage, Bing regrettably appears only in (3):

Nathan Lane also shows up, presumably because Molly has dredged Bing's image up out of her subconcious, as Herman, one of the "fantasy children" that she imagines in:
---
Sylvia & Bernie
(Mary Joy & Lewis Black -- IMDB; IMDB)
Molly's coworkers in publishing, who constantly bicker but are actually, without even realizing it themselves, in love; this is perhaps the only really lame story lines in the series, but it is mercifully brief. Sylvia and Bernie appear only in (5):
---

Dr. Kim Rosenthal
(Mia Korf -- IMDB)
Molly's obstetrician. When they first meet, Molly tells the very young, pretty doctor that she expected someone named "Dr. Rosenthal" to be an older Jewish man; Dr. Rosenthal replies that this sounds rather like her husband, however, "he would not be much help in this situation, since he's a dentist." She appears in (2):
---
Emily (Dodd?)


Molly's baby girl, whose paternity is such a vital question throughout season four; it is not clear whether her last name is Dodd or Bickford or that of her father (I won't give away whether that is Goodman or Hawthorne). Molly does not mention where the first name came from, but given Molly's interest in poetry it seems a reasonable guess that she is named after Emily Dickinson. She finally makes an appearance in:

conception, if you are going by airdates (which are evidently not a good measure of the passage of time in Molly's universe). Emily is much-discussed in the few remaining episodes, and is actually seen in (4):
---
---
Guest Characters
What follows is a list of minor characters that appear briefly in 1 or 2 episodes, listed more-or-less in chronological order. Needless to say, certain incidental characters have been omitted, including various waiters, waitresses, cab drivers, porters, customers (at Goodman Books or in various restaurants), pregnant women, and "clients" of Davey (i.e., people riding the elevator). But I have tried to include anyone who is at all memorable or significant.
---
---
Unseen Characters
The following "characters" never actually appear on the show, but are discussed, in some cases enough so that we almost feel that we know them.
Heather and Tiffany, Dennis and Claire Widmer's children. (Not to be confused with Maimie's children, Jason and Tiffany, who are seen.)
Len Grulnick, Maimie's husband, the endodontist.
Donny Donaldson, Len's new dental partner, who is never seen but is heard.
Molly's piano students: the Adelman twins, Kimmy Wagner, and Jason Keller, whom she jokingly describes to Martin as "neighborhood prodigies." (It is possible that Jason was the unnamed student who was so fascinated with Molly's cleavage.)
Russ, Terry, and Terry's little league coach: Robin's husband, son, and lover, respectively.
Sally and especially Kenny: friends of Dr. Lichfield who telephone her frequently, interrupting her sessions with Molly.
Randolyn, Moss's ex-wife, a young dancer.
Cousin Mike's Aunt Mim, who is frequently featured in his embarrassing stories about Molly's childhood.
Seth, Gail's significant other, who is supposed to meet Gail and Molly for dinner on New Year's Eve, along with Trevor, Seth's friend and Molly's blind date; but neither one shows. Gail also mentions an ex-boyfriend of hers named Harry; this could conceivably be the same Harry we meet later in the final episode, but probably not, since Gail's is a librarian, whereas the other is a jazz musician and teacher.
Hoffman Kent, Nina's "geek" boyfriend; Molly asks, "shouldn't it be Hoffman comma Kent?" Nina's reply: "Yes, it should be, but he's a geek!"
Molly's 6th grade boyfriend, Malcolm Frish, whose name she has so much difficulty remembering; he "got shot in Vietnam."
Keith, Sarah Reddick's "significant other" (not husband, as Molly mistakenly assumes); and their son Zachary, better known as Zacharino.