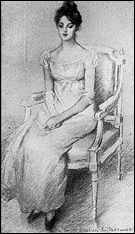 Hello. I'm romance author Kate Moore and I would like to welcome you to my Web site—Reading and Writing the Romance.
"When a young lady is to be a heroine, the perverseness of forty surrounding families cannot prevent her. Something must and will happen to throw a hero in her way."
—Northanger Abbey, Jane Austen
What could be more pleasing than a book which embraces you with love, wit, sensuality and a sense of decency? A romance novel combining those elements captivates from the first chapter to the last, leaving you satisfied, but wanting more. Writers of the best romance novels know how to seduce both the heroine and the reader.
This site aims to develop an understanding of and appreciation for current work in the romance field. Here you'll find information about me, my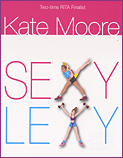 Regency Romance novels, writing romance fiction, and links to other sites about writing, the English Regency period, and teaching English.
Whether you come as a reader, writer, scholar, or friend, I hope you enjoy your visit. I love to hear your comments; you can email me at kmoore.dnai@rcn.com.
"Sexy, fast-paced fun. You won't be able to put it down.
Sam and Lexy will steal your heart!"
—USA Today Bestselling Author Barbara Freethy