Foxglove Talamar Hat Trick ("Cam")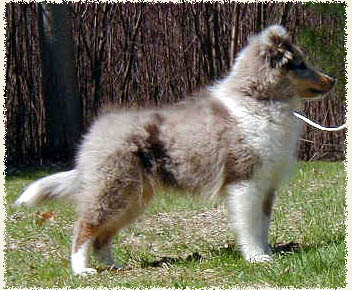 Cam was born 30 November 2001 and is pictured at four months of age at left and nine weeks of age below. Cam is one of two puppies from his litter of three growing up here at Foxglove. He is a litter brother to Foxglove Talamar Temptation. We love Cam's beautiful head and eye and his very solid little body. We look forward to showing Cam and his sister at selected specialty shows later this year.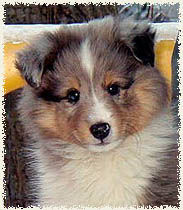 Cam was co-bred by Foxglove and Talamar. Pedigree below.
CH Sunnybrook's Matchmaker

CH Sunnybrook's Heritage Spirit, ROM

Romayne's Close Encounter

Am./Can. CH Alfenloch Ryan O'Neil, ROM

CH Sunnybrook's Heritage Spirit, ROM

Am./Can. CH Alfenloch Brooke Shields

Alfenloch Take Notice

CH Sunnybrook's Heritage Spirit, ROM

Am./Can. CH Alfenloch Ryan O'Neil, ROM

Am./Can. CH Alfenloch Brooke Shields

CH Mainstay Cameo Farms Model, ROM (dam of 8 CHs)

CH Lakehill King O' The Road

Mainstay Never Mind (dam of 4 CHs)

CH Westwood's Malpsh Cherry Flan (dam of 3 CHs)
Foxglove Talamar Hat Trick ("Cam")
Can. CH Fairfax Stand And Deliver, ROMC (Ryan O'Neil)

Can. CH Shadlers Highway One O One, ROMC

Am./Can. CH Fairfax Shadlers Obsession, ROMC

Am/Can CH Shadlers Highway Heartbreaker

Am./Can. CH Trevanne's Windswept, ROM (Whirlwind)

Can. CH Shadlars Colormebad At Talamar

Can. CH Shay-Dee's Once In A Blue Moon (Ryan O'Neil)

Am./Can. CH Talamar's Indigo Shadows

CH Cameo Farms Purple Rain

Liska Starry Starry Night

Can. CH Meridan's Night Flight, CDX, ROMC

Can. CH Mudels Silver Threads

Can. CH Madselin's X'Tra Special, CD, ROMC (Formal Notice)

Can CH Liska Flight Of Fancy

Can. CH Meridan's Night Flight, CDX, ROMC